TikTok's food critic Keith Lee responds to uproar, threats after Atlanta restaurant reviews
ATLANTA - After the uproar over his TikTok reviews of Atlanta restaurants over the weekend, TikTok's favorite food critic Keith Lee felt the need to respond in a new video that he posted on Tuesday.
Lee says in the video that his opinions are asked for and all the narratives that are being pushed are "insane." Lee says that if he is too nice, then he is accused of lying. But if he says anything that is negative, he is being mean and needs to mind his own business and shut up. He also indicates that his family's safety and the safety of restaurant employees have been threatened as a result of his Atlanta restaurant reviews.
"I can't win for losing. I understand everybody gonna have an opinion on the situation. You can disagree with me. You can like what I say. Completely understand. I'm ok with that. But when my safety and my family safety are coming into play, that's where I draw the line at."
Lee says that he means no harm and he is not malicious. He also tells people, once again, to form their own opinions and not to direct hate at any particular restaurant based on his personal experience.
He ends the video by saying, "I understand with great power comes great responsibility. God made me for this. I'm built for this. At the end of the day, I just want to eat food, walking my path. If you want to be on a journey with me, you are more than welcome." 
He also says, "Nobody's safety should be on the line. Not mine, not my family, not the restaurants that we go to. Relax. Like relax, bro. Like I understand, I get it. I get it. But at the end of the day, what you want me to do, you want me to lie? I can't do that. I'll walk away from everything before I lie. I'm telling you that right now. On 10 toes, everything. God bless me."
Additionally, The Real Milk & Honey restaurant has released a statement after Lee's unfortunate experience at the restaurant. This is after they reportedly posted a video claiming not to know anything about Keith Lee. That video has since been deleted. 
As of Tuesday, Lee's Atlanta videos have racked up more than 82 million views. And, videos posted in response to his reviews have also resulted in millions of video views. 
Even singer Cardi B has weighed in on dining in Atlanta, saying that she has to name-drop to get into most Atlanta restaurants and calling Lee's videos a "delightful adventure to watch."
ORIGINAL STORY
TikTok food critic Keith Lee recently spent a few days in Atlanta and visited 9 restaurants.
Lee, who is from Las Vegas, became a TikTok star because of his food reviews. He has more than 14 million followers and over 600 million video views. Lee became a favorite because of his down-to-earth, honest reviews and his unique style of delivery. He almost always purchases the food anonymously and most of his reviews are done in his car outside the restaurant, which means that the restaurants have no idea that they are about to be reviewed. 
The local foodie community began freaking out as soon as they learned that Lee was planning to visit Atlanta. Many local food influencers and a few restaurants sent him suggestions on restaurants to visit before his arrival.
Based on those suggestions and a couple of his own discoveries, Lee visited The Atlanta Breakfast Club, The Seafood Menu, Juci Jerk, The Real Milk and Honey, The Dining Experience Atlanta, The Bodega, Jamaican Jerk Biz, Old Lady Gang and Toast on Lenox.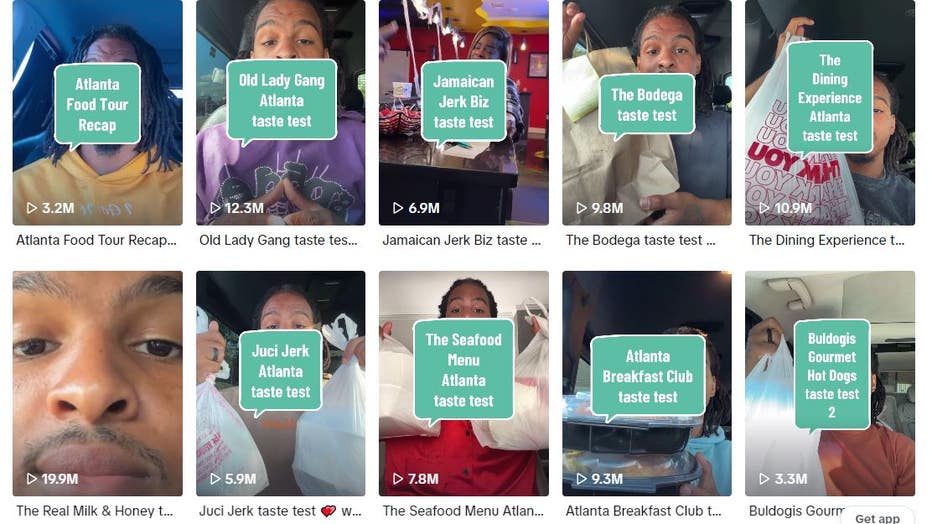 During his review of The Atlanta Breakfast Club, which was the first restaurant he visited, Lee was surprised by several of their rules, saying they were "unique" to him.
That wasn't the only restaurant where he ran into rules.
When he attempted to obtain food from The Real Milk and Honey, the rules prevented him from being able to place an order. The restaurant requires all to-go orders to be placed through DoorDash. But, DoorDash said the restaurant was closed. Since Lee was physically outside the restaurant, his wife attempted to go inside and place a to-go order. However, she was told that they were closed for a deep cleaning despite the door being open and other people picking up food.
"If you don't like they rules, they not for you. For me and my family, the rules just weren't for us," Lee said in his video.
Lee and his family didn't have the best experience when visiting the Old Lady Gang either.
According to Lee, he was told that they do not accept to-go orders on the weekend. When Lee's family tried to get a table, they were told the wait would be an hour and a half and reservations were not allowed.
When Lee went into the restaurant, he was immediately recognized and offered a table after the staff took photos with him. However, he told them he did not want any special treatment.
"Real Housewives" star Kandi Burruss, who owns Old Lady Gang, responded by making her own TikTok video, explaining the rules at the restaurant and saying that she hopes they will be able to serve him and his family the next time. She also said that she appreciated his attempt to try their food. 
Apparently, a similar situation happened at Toast on Lenox. When they arrived, they were told there was a 2-and-1/2 hour wait. However, the staff must have recognized Lee because they were soon told they could be seated immediately. Once again, Lee declined the offer. Instead, he insisted that the table that was suddenly available be given to someone who was waiting and another person waiting for food to be helped before he was. 
Lee's videos prompted a huge response on TikTok and other social media platforms about the rules and treatment he received with some people saying they would not patronize restaurants with too many restrictions. Lee, on the other hand, says that he does not want potential customers to bash restaurants based on his experiences and encourages diners to form their own opinions. In other words, he wasn't in Atlanta to hate on anyone. 
Lee's favorite restaurant he visited during his time in Atlanta appears to have been Juci Jerk. He appeared to be truly amazed by the taste of the food and the amazing customer service he received. He was also touched by the owner's story.
He was also extremely impressed by Jamaican Jerk Biz. Lee and his family stopped at the restaurant near closing time or right after closing. Without knowing who Lee was, they agreed to put together an order of food. Lee was so impressed that he matched their sales for the day.
Additionally, another restaurant named The Dining Experience Atlanta received high marks from Lee. Since his review, the restaurant, which has faced some hard times, reports that they have literally had people lining up outside to try their food. When Lee visited, the parking lot was practically empty. 
 
RECAP VIDEO