Transcript: Sit down interview with John Cox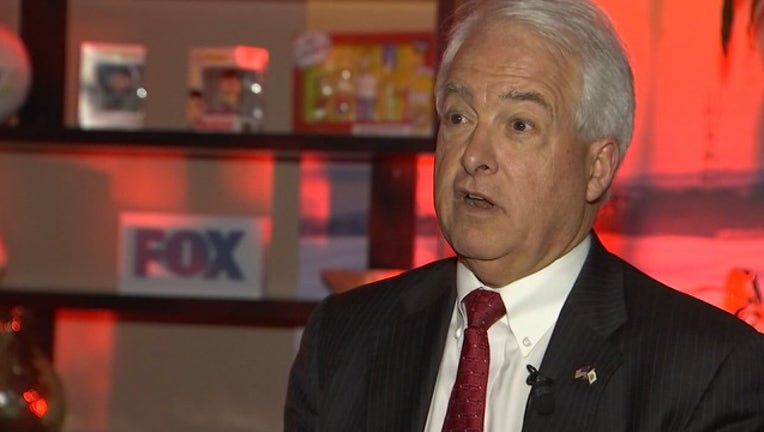 article
OAKLAND, Calif. (KTVU) - Partial transcript of KTVU's interview with California gubernatorial candidate John Cox.
WHAT IS YOUR PLAN TO MAKE SURE PEOPLE HAVE A PLACE TO LIVE WITHIN A REASONABLE COMMUTE OF A JOB?
"Well, the big issue is obviously not enough supply. We've been building 80,000 to 100,000 homes or apartments a year and the demand has been more like 150,000 a year. So we need to build a lot more. But we need to build them in an affordable way. We need to make sure that we don't have the regulations that we do, we kind of streamline things a good amount. I've called for the replacement and reform of the California Environmental Quality Act, which is now being used by lawyers to create a huge cost. The litigation is also driving up the cost, and the delays of building. I think it requires leadership because we want to make sure there is still local input but we don't want it to be a top down thing from the state in Sacramento. I'm going to inject a lot of leadership. I'm in the housing industry so I know what I'm talking about.
ANY TIME THERE IS A DEVELOPMENT, FOR DEVELOPERS, FOR BUILDERS, FOR CONDOS, HOMES, EVEN BUSINESSES. IN THAT PERMITTING PROCESS, YOU REQUIRE A CERTAIN AMOUNT OF AFFORDABLE HOUSING.
"There's too many layers of approval and sometimes those requirements drive up the cost for everybody else. We've got to make sure that we cut the cost, we streamline the process. I've talked to a lot of builders here and of course I build other places in the country and the cost to build here is just so much more. I think we can do a much better job with bringing down costs. My opponent, his answer is housing bonds and handing out subsidies to a few people and that may only temporarily help a few people. It's not going to broadly increase the housing stock and result in prices coming down."
HOW DO WE BRING THE COST DOWN?
"Less regulation, streamline regulation, streamlined approval processes and the litigation. That is the only way to do it. "
HOW ABOUT TEACHERS, POLICE, AND FIREFIGHTERS. SOME CITIES ARE TRYING TO MITIGATION THAT THEMSELVES. THERE ARE POLICE DEPARTMENTS ACROSS THE STATE THAT SAY THEY ARE SHORTHANDED BECAUSE THEY DON'T HAVE OFFICERS THAT CAN AFFORD TO LIVE IN THE CITY WHERE THEY SERVE. SAME WITH TEACHERS, HOW DO WE FIX THAT?
"A lot of them are moving out. A lot of them are going to Texas or Nevada where they can buy twice the house for half the money. You can't blame them. And again that is all part of the housing crunch. It's also part of the general un-affordability in California, when gasoline is four dollars a gallon and it's $2.50 in Nevada or Arizona, people look at all those things and of course, that cost of gasoline is in the cost of a restaurant meal, it's in the price of a dozen eggs. A dozen eggs is something like $3.50 a dozen in San Francisco. It's $2.10 in Phoenix. How can you have such big differences? It's the cost of the building that they're doing, it's the cost of the gasoline and delivering the products to the stores. It all works itself into the cost of living in this state and people just can't make it anymore.
HOW DO WE KEEP BUSINESSES FROM MOVING OUT?
"Regulation. It's taxes too, but regulation is like a tax. When you are filling out forms and you are dealing with multiple bureaucracies, you are not making your product and devoting time to your customers. You are devoting time to a bureaucracy and it's that kind of regulation that is really killing the business climate. It's ridiculous that this state, this beautiful golden state, continually is at the bottom of every business index and I think we can change that."
THERE ARE MANY PEOPLE WHO CAN'T AFFORD A PLACE TO LIVE, BUT MANY MORE WHO ARE DEALING WITH SUBSTANCE ABUSE AND MENTAL HEALTH ISSUES. HOW DO WE ADDRESS THIS?
"This is a tragedy and my opponent spent a billion and a half dollars in san Francisco during his term as mayor and the number of homeless went up. We have got to be compassionate with people but I don't think it's compassionate to let people live on the street. We've got to get them help. We've got to treat mental illness. We've got to treat substance abuse. Giving people clear needles and a secure room to shoot up in sounds compassionate but it's continuing the process. Washing off the streets is a good thing, you can't walk in san Francisco but they'll get dirty again if you don't solve the problem. Solve the problem. Let's dedicate some resources to mental health, dedicate resources to getting people off of drugs and alcohol so they can live productive lives. These are illnesses. Now the other big thing is building affordable housing, which is certainly something.. I'm in the housing industry, I'm certainly going to devote myself to that as well."
HOW DO WE PAY FOR ALL OF THIS? WHERE DO THE RESOURCES COME FROM TO GET THESE PEOPLE INTO HOMES?
"We've got a lot of waste. California spend twice what Texas does to build a mile of road. There is a lot of waste. We are spending three times what Nevada spends on each of our prisoners in our prisons. Last year, California spent $6 billion in overtime for its state employees. There's a lot of things that could be tightened up in this budget that need to be tightened up and I think they need someone…… I've spent a career as a CPA, as a businessman, honing budgets, making sure we meet budgets, making sure we get the results, but live within our means. That attitude has to be done in state government and that's what I'm dedicated to.
IS THERE A SOLUTION TO TENT CITIES, WHERE PEOPLE ARE CHOOSING TO LIVE THERE? 
"I don't think that's appropriate. You've already seen it hurt tourism in san Francisco. We are already losing conventions that are coming there. And people who live in a tent aren't going to have running water or a bathroom facility. You can see they are defecating and urinating in the streets. This can't go on.
HOW DO YOU CLEAR THEM OUT AND KEEP THEM FROM COMING BACK?
"You've got to get them cured, and get them productive and get them back into society. Handing them clean needles and encouraging this behavior isn't going to get the job done. I don't think we can continue to let any of these people live in this fashion. I don't think it's humane.
WHAT HAVE YOU DONE IN SAN DIEGO THAT'S WORKING?
"We are literally forcing people to get into shelters and get into programs where they can get cured. There is one in Carlsbad. There's a group called Solutions for Change. It's a public-private partnership where people have residency but they have a timetable and they have to get cured. And they are getting cured. They've got a tremendous success rate in doing that. I think these could be done all over the state, we need to do it. And you know what, we will save money in the long run because we will establish our place in tourism again, we will make this a much nicer place to live and I think that is going to improve the overall economy.
YOU HAVE SOME VERY STRONG OPINIONS ABOUT WATER IN CALIFORNIA. WHAT ARE WE DOING RIGHT AND WHAT ARE WE DOING WRONG?
"The state legislature, people don't know this very much, but they enacted a water rationing bill at the end of May. You are going to be limited to 50 gallons a day in a few years. The point is we have tons of rain and snow melt in the northern part of the state. I'm in San Diego, which is a coastal desert so obviously we've got to get water there because it doesn't rain all the time. That is one of the reasons we like it. So we've got to balance these things. We've got to make sure we protect fish, but we've also got to make sure we've got water for our own use and farmers. It's an all of the above. Build storage. Absolutely build storage, make sure we maintain the storage. It's outrageous that we allowed the Oroville Dam to get so badly maintained and that's on the political class that allowed that to happen. And we are now paying for it, it's going to be over a billion dollars to fix that Oroville Dam. So, we've got to maintain and build reservoirs. We've got to build recycling and yes, we can do desalination. There's a plant in Carlsbad that took too long to build, too much litigation but we can do it less expensively. We can also do it with coexisting in the environment. Not hurt the environment. I don't want to hurt the oceans, and at the same time provide water. Israel has done it. They turned a desert into an agricultural producer and I believe we can do that as well.
OFF SHORE DRILLING?
"I'm opposed. Our shoreline is an allure and our tourism. We've got plenty of other places to drill, by the way. The central valley, there is tons of natural gas and oil if we can get it out of the ground. I would fight against offshore drilling, for sure."
HIGH SPEED RAIL. DO YOU FIND IT COMPLETELY UNNECESSARY?
"It's obsolete. It's 30-year-old technology. I'll talk to Elon Musk and we'll build a tunnel underneath the five. It should have been done along the five anyway. The five has all the overpasses. It has all the rights of way. We wouldn't have an environmental issue. Where they are building it now, they have to build all the overpasses, they've got to get all the environmental permits and everything and it's going from Merced to Bakersfield. I'm sorry, those are wonderful areas, but there's not many people going in between there. I'm sorry. I think we should be building it where it's economically viable and where we can build it in a way that it's not going to be obsolete. I've heard of the hyper loop, where is this vacuum tunnel. A thousand miles an hour or something like this to get from San Francisco to Los Angeles. How about that in 20 minute, wouldn't that be interesting? Would that get used? Right now,
they are up to almost three hours, this high speed rail would take. It's a boondoggle or all boondoggles.
SO YOU WOULD BE IN FAVOR OF SOMETHING - SACRAMENTO TO SAN FRANCISCO TO LOS ANGELES TO SAN DIEGO, MORE OF A THOROUGHFARE?
"There are places where mass transit certainly would be huge. How about Los Angeles to Las Vegas? I have a friend of mine on the airlines that go there. There is never an empty seat going from Los Angeles to Las Vegas. So, a high speed rail through there, a tunnel, you could probably do that in 20 minutes or something like that. Just imagine that. It would just be incredible in terms of opening up opportunities, but let's do it intelligently.
THE DMV. YOU'VE CALLED FOR THE DIRECTOR TO STEP DOWN. HOUSECLEANING NEEDS TO BE DONE. WHAT DID YOU MEAN BY THAT?
"A huge example of incompetence. I've made this a big chunk of my campaign. It so wonderfully illustrates how mismanaged this government is. Let me tell you, it's in the schools, it's in the Caltrans, it's in the business climate, it's everywhere. The DMV really impacts everybody because we all have to get this new real ID, this driver's license. I've been visiting these and talking to people who have been waiting four or five, six, eight hours. A TV producer down in San Diego at one of the stations told me he was at one for eight hours and still didn't get it done, had to come back the next day. And why? We don't know because they refuse an audit. They won't even show us the books, they won't even tell us where they are spending their money. This is with an appointment, but it shouldn't happen at all. They've had ten years to plan for this. It was 2005 when this edict came down from the federal government so they've known about this for a long time. Other states have been handling this very well, even big states like Texas. We are using 30 year-old computer systems. Don't you find that a little bit funny that California, the home of personal computer and the technology revolution has a DMV that is using 30-year-old equipment. It's a sad commentary on the fact that we just need better management and as a businessman I'm going to make sure we get the management we deserve."
YOU'VE BEEN HIGHLY CRITICIZED FOR ONE OF THE COMMENTS YOU MADE IN THE DMV, COMPARING THE LINES TO THE HOLOCAUST. DO YOU REGRET THAT?
"I misspoke at a press conference outside. I met a guy who was from Latvia, 90 years old, who had waited four hours. He had waited four hours in line. 90 year old. He described to me how he was waiting in line before the war in Latvia, and then he had been in a concentration camp and he had survived the war and got freed and came to America and he said waiting in line at the DMV was worse than what it was in pre-war Latvia. Now, I didn't give all those details, I just said there was a guy who survived the Holocaust or survived concentration camps and he compared waiting in line at the DMV to waiting in line."
YOU CAN UNDERSTAND HOW UPSETTING THIS IS?
"And I would have never have said that. This is the trouble with politics today. You make a statement and people immediately jump to conclusions. It would be stupid and ridiculous for me to compare waiting in line at the DMV to surviving the horrible occurrence."
WHO WOULD YOU VOTE FOR FOR SENATE? WE HAVE AN IMPORTANT RACE FOR SENATOR. FEINSTEIN/DE LEON.
"That's a tough choice for a Republican, although Dianne Feinstein was for a border wall and immigration security at one point and time for people coming to this country legally instead of illegally. No question. I'll either abstain or I'll vote for Sen. Feinstein just because she is far for realistic and rationale than Mr. De Leon, unfortunately.
YOU'D LIKE TO HAVE A FEW DEBATES WITH GAVIN NEWSOM?
'I should. The voters of this state deserve to have an airing of the issues. I understand why Mr. Newsom doesn't want a debate. He wants to talk about the president. He wants to talk about social issues, which I don't have any interest in changing. I'm talking about the quality of life, the affordability of this state, the housing crisis, the water shortage, the roads that are full of potholes and are crowded. The fires that are threatening people. And he's been in politics 16 years and we've barely heard a peep out of him on any of these issues and he doesn't have any solutions for them. So, of course, he doesn't want to debate. But I think the people of this state deserve to have these issues aired and deserve to have what we are going to do about them.
AS YOU MENTIONED, YOU ARE NOT A LONGTIME POLITICIAN. YOU ARE A BUSINESSMAN. WHY DO YOU WANT TO BE GOVERNOR?
"I joke that my wife told me to stop yelling at the television and go do something. I could be doing a lot of things in my life. I've done a lot of charitable endeavors as well and the number of people that I can help if I can truly make a difference in this government. Think about this for a second: we are spending almost a hundred billion dollars on education and we are now 45th or 46th in the nation. Three million of our six million students aren't reading to grade level. If I can get into office and make a difference in our education and improve those numbers, that would have a far greater impact that billions of dollars given to charity. I want to foster charter schools, increase the choices and the options of parents. My opponent wants to limit the options. He sold himself to the special interests and the teachers unions and the other groups that basically fund Sacramento. I want to get real solutions and solve the problems of this state and that's why I'm running for governor. And I'm committed to making this state a whole lot better than it is."
YOUR OPPONENT'S CRITICISM WOULD BE YOU HAVEN'T BEEN IN POLITICS LONG ENOUGH AND YOU ARE NOT BORN AND RAISED IN CALIFORNIA. YOU CAME FROM CHICAGO AND YOU ARE COMING FROM MAYBE NOT AS MUCH EXPERIENCE. WHAT WOULD YOU SAY?
"There's a lot of people who have moved from other places from around the country. Jerry Brown is the only governor in the last 50 years who was actually born in California. I'm in good company with a lot of people who came here to live the California dream. I love this state. I have a 13 year-old daughter who has been raised here and I want her to live in an economically viable state. I don't see that happening under the current political class. I don't see that happening with Mr. Newsom. He's going to be the status quo. I'm going to represent positive change. Help is truly on the way for beleaguered Californians who are trying to make a go of it in this state and that's my message and I think that is why I'm resonating in the polls right now. I'm only five points down in the last poll and that's with people only starting to pay attention to this race."
WHAT DO YOU THINK IS THE BIGGEST MISCONCEPTION ABOUT YOU?
"That I am some wealthy businessman. I started at the bottom. I struggled. I had a single mom. My real father left when I was a baby. I had to pay for my own education. I had to struggle through a business and build it, year after year working real hard to make a go of it. I've had that American dream. My opponent, Mr. Newsom has had a charmed life. He was basically raised by a billionaire, Mr. Getty and was bankrolled by Mr. Getty and a lot of the billionaires in San Francisco. He's not had to worry about getting capital for his businesses. I've had to worry about those things and I think that's something that gives me more of a way of identifying with the way the people have had to live in this state."
WE'VE HAD OTHER TOP OFFICERS HERE IN THE STATE AND THE COUNTRY WHO STARTED OUT NOT SO MEAGERLY WHO PROVIDE, WHAT THEY SAY, IS A GOOD BACKGROUND FOR RUNNING OUR COUNTRY OR RUNNING OUR STATE. SO HOW DOES IT COMPARE, STARTING WITH NOTHING AND STARTING WITH AN ADVANTAGE.
"I know what it's like to struggle. I know what it's like to figure out how I'm going to feed my family or how I'm going to pay the mortgage. My success wasn't overnight. It's happened over 40 years, so in the first 10 or 15, 20 years, I had to really, really struggle. My opponent talks about the inequality in this state, you know what, all these regulations and all these government roadblocks contribute to that inequality. I want to make sure every Californian has the same opportunities that I've had. I don't see that happening right now. I don't see that happening with the status quo and the political class and Mr. Newsom. I'm dedicated to making sure that opportunities exist for everyone in this state and to do that we have to make sure we have water, we have to cut regulations, cut the tax burden, the gas tax, a regressive tax that is hurting the middle class. These are the substantial things that I'm talking about and that I've put my time and money behind. I don't just talk about them, I've actually lived them and done them and that's what I intend to do as the governor."
ANYTHING YOU'D LIKE TO ADD?
"I just hope people pay attention. This is a status quo vs. change. There is an article today in a paper down in Southern California that talks about a whole generation of Californians leaving this beautiful state. Well, I don't want to leave. People have been making that decision to leave and businesses have been leaving. I want people to stay here. I want to see a California that grows and is viable and sustainable for the future and that's why I'm running for governor."