Trump would accept House speakership for a 'short period' while Republicans decide on a permanent replacement
EXCLUSIVE: Former President Trump told Fox News Digital that he would accept a short-term role as speaker of the House of Representatives to serve as a "unifier" for the Republican Party until lawmakers reach a decision on who should take on the post.
Rep. Kevin McCarthy, R-Calif., was removed as speaker of the House Tuesday after Rep. Matt Gaetz, R-Fla., introduced a measure against him known as a motion to vacate, accusing him of breaking promises he made to win the speaker's gavel in January.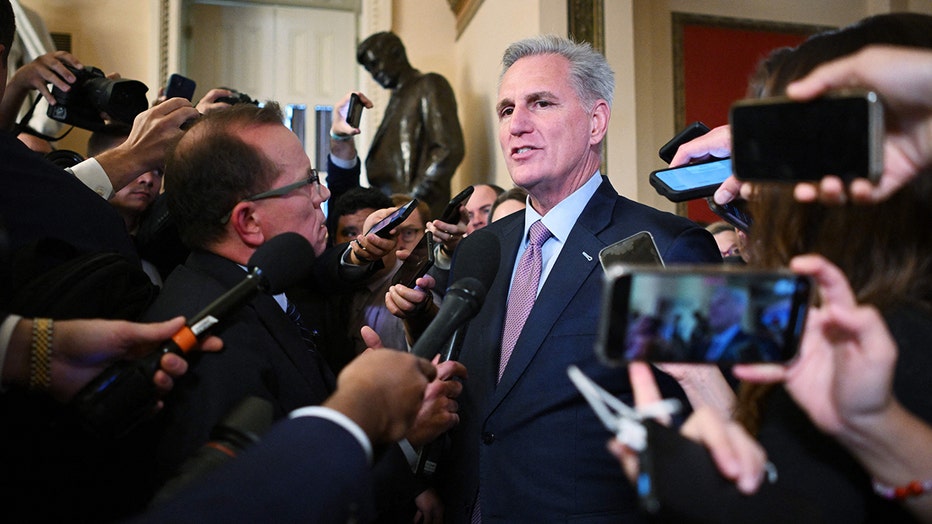 Speaker of the House Kevin McCarthy, Republican of California, talks to reporters, outside his office at the US Capitol in Washington, DC on October 3, 2023. McCarthy was fighting for his political life ahead of a vote expected Tuesday on whether to
GAETZ 'OPEN-MINDED' ON RULES CHANGE TO ELIMINATE MOTION TO VACATE, WOULD SUPPORT JORDAN OR SCALISE AS SPEAKER
"I have been asked to speak as a unifier because I have so many friends in Congress," Trump told Fox News Digital. "If they don't get the vote, they have asked me if I would consider taking the speakership until they get somebody longer-term because I am running for president." 
"They have asked me if I would take it for a short period of time for the party, until they come to a conclusion—I'm not doing it because I want to—I will do it if necessary, should they not be able to make their decision," Trump said.
Trump did not specify who had asked him, although a number of GOP lawmakers have said he is their preference for speaker.
Since McCarthy's ouster, both House Judiciary Committee Chairman Jordan and House Majority Whip Scalise have announced bids to run for speaker.
Trump stressed that if Republicans cannot come to a consensus, he would take the speakership for a short "30, 60, or 90-day period." 
"I would only do it for the party," he said, stressing that his focus is on his presidential campaign. 
Back in January, as the House considered who should become the speaker after Republicans took the majority of the chamber, Gaetz opted not to vote for McCarthy or Rep. Byron Donalds, who was floated as an option, and instead, for Trump.
FLASHBACK: MATT GAETZ VOTES FOR TRUMP AS HOUSE SPEAKER IN SLIGHT TO MCCARTHY
When Gaetz's name was called during the seventh round of voting, he responded: "Donald John Trump." 
Meanwhile, Trump told Fox News Digital that he will visit Washington, D.C., Tuesday and plans to be on Capitol Hill to speak with members of the House Republican Conference as they consider who will become the next speaker. 
As for whom he would support for speaker, the former president did not comment. 
HOUSE VOTES TO REMOVE KEVIN MCCARTHY AS SPEAKER IN HISTORIC FIRST
A source familiar, though, told Fox News Digital that Trump is very close to Jordan and has always had a great relationship with him. The source said Trump also has a great relationship with Scalise. 
Trump is leading the 2024 Republican presidential primary field by a massive margin.
The most recent Fox News poll shows 60% of Republican primary voters supporting Trump for the GOP nomination, up from 53% in the last survey in August. 
HOUSE REPUBLICANS MOVE 'FULL STEAM AHEAD' ON IMPEACHMENT INQUIRY EVEN AMID SPEAKER UNCERTAINTY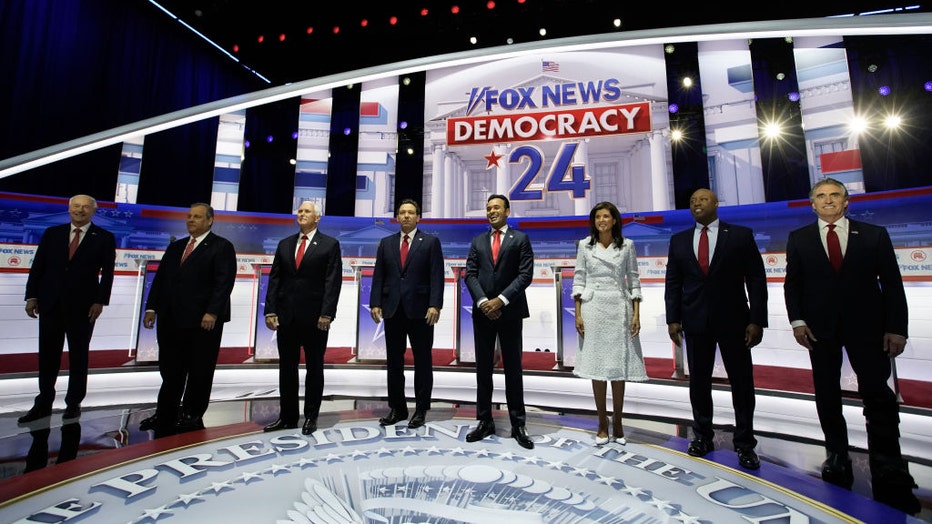 2024 Republican presidential candidates Asa Hutchinson, from left, Chris Christie, former Vice President Mike Pence, Ron DeSantis, Vivek Ramaswamy, Nikki Haley, Senator Tim Scott and Doug Burgum during the Republican primary presidential debate hoste
The only other candidates to receive double-digit support in that poll are Florida Gov. Ron DeSantis at 13% and businessman Vivek Ramaswamy at 11%.
Former South Carolina Gov. Nikki Haley sits at 5%, with former Vice President Mike Pence and South Carolina Sen. Tim Scott at 3% each. Former New Jersey Gov. Chris Christie is polling at 2%, with the remaining GOP candidates receiving less than 1%.
Brooke Singman is a Fox News Digital politics reporter. You can reach her at Brooke.Singman@Fox.com or @BrookeSingman on Twitter.