Two adults arrested for allegedly jumping in fight at East Bay middle school
SAN PABLO, Calif. - Two adults were arrested Monday for allegedly jumping into a fight involving students at a San Pablo middle school.
Keiry Huezo told KTVU that her daughter, a 7th grader at Helms Middle School, was seen on video being pounded by four people inside a girl's restroom.
Huezo said on the day of the incident, her daughter was trying to defend a classmate and friend against another student.
The woman said her daughter went into the restroom to confront the student when a fight broke out. Another student ended up jumping in, Huezo said.
Video of the incident shows Huezo's daughter in a physical altercation with two students. Two adults then rush past a group of watchful students and jump in the fight.
Huezo said the adults were able to bypass security guards and make their way toward the bathroom area.
"Security was right there, and they did nothing," Huezo told KTVU. "She saw them running straight to the bathroom. From then, they were able to go into there (bathroom) and attack my daughter."
Huezo said the two adults are the parents of the girls involved in the fight with her daughter.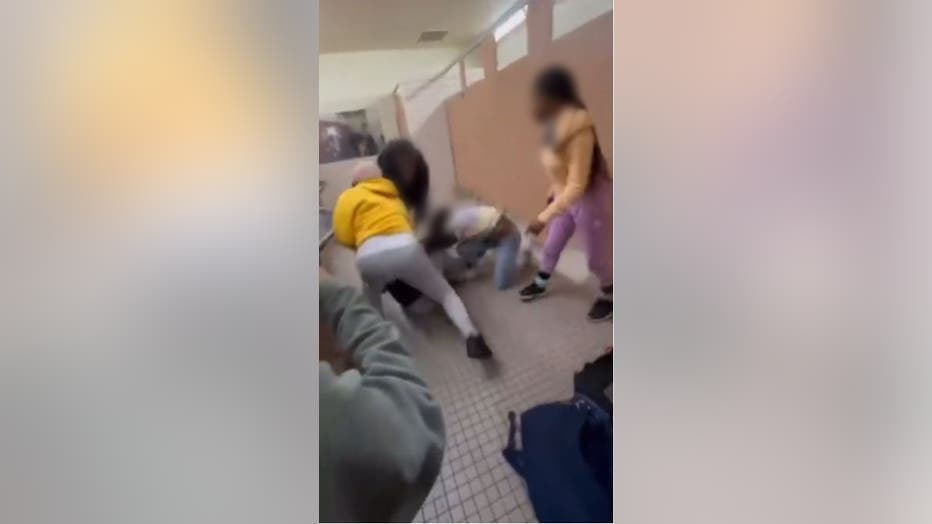 SEE ALSO: Report of bomb threat triggers lockdown of Pittsburg High
The West Contra Costa Unified School District confirmed the incident to KTVU, but did not disclose the relationship between the adults and the students involved.
"This incident was a disturbing violation of our students' safety on campus, and the actions of the adults involved are not representative of our parent community," the district said. "Our schools must be safe in order for students to learn and staff to teach." The district did not indicate whether the students involved are facing disciplinary measures. 
San Pablo police responded to the Helms Middle School campus Monday where they arrested two women on charges of battery on a school official and child cruelty.
Both women were booked into the county jail and released on bond, authorities said.
Police said an investigation into the incident is ongoing. Officers said part of that investigation is determining the two women's relation to the students involved in the fight. 
Authorities said when the initial report came in it was of physical fight involving female students and a parent.