Two Oakland men convicted of murder for death of 15-year-old girl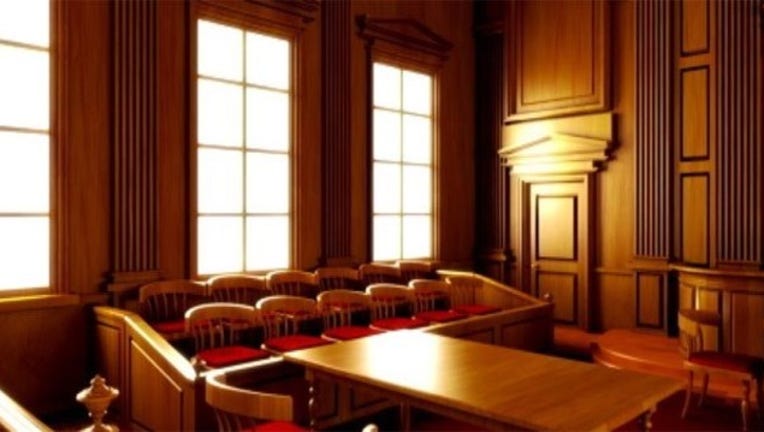 article
OAKLAND, Calif. (KTVU and wires) -- Two young men were convicted of first-degree murder Monday for the shooting death of a 15-year-old girl in East Oakland two years ago in what a prosecutor said was an act of revenge that went awry.
Jurors deliberated for only three hours before returning their verdicts against 19-year-old Lilron Jones and 22-year-old Vijay Bhushan for the fatal shooting of Jubrille Jordan in the 6600 block of Lion Way, near the Lion Creek Crossings apartment complex at about 3:40 p.m. on Dec. 30, 2012.
Jones and Bhushan also were convicted of attempted murder for the shooting and wounding of a 14-year-old boy who prosecutor Glenn Kim said was the target in the shooting.
Kim told jurors in his closing argument last Thursday that Jones, Bhushan and a third suspect, 25-year-old Marquise Thompson, had "a plan of action," which was to kill the 14-year-old boy because they thought he had killed their 15-year-old friend Hadari Askari five months earlier.
The 14-year-old boy was shot in the leg and survived the shooting, but Jubrille, who attended Melrose School, was an innocent victim who was in the wrong place at the wrong time and was hit in the head and killed by one of the 20 bullets that were fired in the incident, Kim said.
The prosecutor said Jones, Bhushan and Thompson were close to Hadari, who wanted to become an Oakland firefighter and was in a summer work program with the Oakland Fire Department but was fatally shot in the 6700 block of Leona Creek Drive at about 8 p.m. on July 10, 2012.
No one has been arrested or charged for Hadari's death.
The word on the street was that the 14-year-old boy had killed Hadari but he hadn't been seen much in public until a friend of Jones, Bhushan and Thompson spotted him at the 69th Avenue Village housing project in East Oakland on Dec. 30, 2012, Kim said.
Hadari, Jones, Bhushan and Thompson lived in the Lower Bottoms neighborhood in West Oakland but the 14-year-old was associated with the 69th Avenue Village, according to Kim.
Jubrille, her sister and several close girlfriends walked through the 69th Avenue Village on Dec. 30, 2012, on their way to the Coliseum BART station to take a train to go to the Bayfair Center shopping mall in San Leandro to buy clothes, Kim said.
The girls stopped to talk to a boy one of them knew. That boy was with the suspects' intended target when they approached him and opened fire, Kim said.
The prosecutor alleged that Jones and Thompson were the shooters in the incident but he said Bhushan is equally guilty because he gave Thompson the gun that he used and the gun that he believes Jones used was later found at Bhushan's house.
Thompson will be prosecuted in a separate trial that's scheduled to start soon.
Video surveillance footage, letters, cellphone records, text messages and ballistics evidence ties all three men to the shooting, Kim said.
But Bhushan's lawyer, Ernie Castillo, told jurors that Bhushan should be found not guilty because he made a decision not to participate in the shooting after he noticed that the 14-year-old boy was near to Jubrille and the other girls as well as a baby and concluded that it was too dangerous to open fire.
Castillo admitted that Bhushan "made some bad choices earlier that day" when the three men began looking for the 14-year-old boy and had gotten caught up "in the emotion of revenge" but he ultimately decided he "didn't want to go through with it" and cellphone records indicate that he wasn't at the scene of the shooting.
Castillo said Monday that he's "disappointed" by the jury's verdict because he thinks it held Bhushan "accountable" for the decisions and actions of other people.
Castillo also said he believes the jury's quick verdict in the case "is insulting to the entire process."
Jones' attorney, Darryl Stallworth, argued on Thursday that Jones should be found not guilty because none of the prosecution's witnesses identified him as one of the shooters and there isn't any evidence that ties him to the crime.
Stallworth told jurors that they should view with suspicion the only circumstantial evidence tying Jones to the shooting because it came from Marquesha Ruth, who he said "is part of the crime and started the whole process."
Kim said in his opening statement last week that Ruth was a cousin of Hadari, wanted "revenge" for his death and pushed Jones, Bhushan and Thompson, who she knew well, to track down the 14-year-old boy and kill him.
Kim said Ruth "is just as culpable" for the shooting as are Jones, Bhushan and Thompson because she aided and abetted them but prosecutors decided not to file charges against her after she agreed to testify against the three men.
Stallworth said that he's also disappointed by the jury's verdict and is "a little surprised" at how quickly it arrived at its decision.
Kim couldn't immediately be reached for comment.
Jones and Bhushan face lengthy state prison terms when they're sentenced by Alameda County Superior Court Judge C. Don Clay on May 22.