UC Berkeley's Black Grad, a space to celebrate 'achievements, resilience' draws backlash from some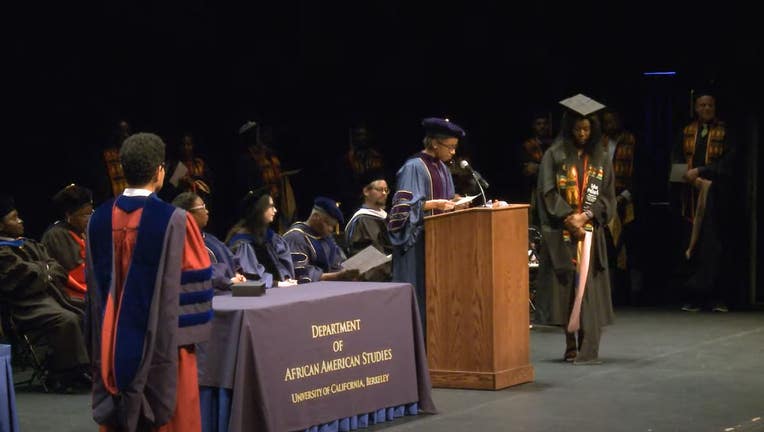 article
BERKELEY, Calif. - Hundreds gathered this month for a long-held tradition on the UC Berkeley campus honoring African American graduates and their accomplishments in a celebration known as Black Graduation. 
It's an event lauded by many as a culturally rich, necessary, and deserving celebration, while it also drew backlash from some who said it was exclusionary and discriminatory against other races.   
SEE ALSO: UC Berkeley to add new college to campus
SEE ALSO: New college graduates worried about job prospects with shaky market
On May 20, some 125 students donned cap and gown, many proudly wearing a bright and colorful kente graduation stole around their neck gathered for the celebration. Some of those being specially honored walked-- though many danced-- across the stage at Zellerbach Hall in a ceremony put on by UC Berkeley's Department of African American Studies.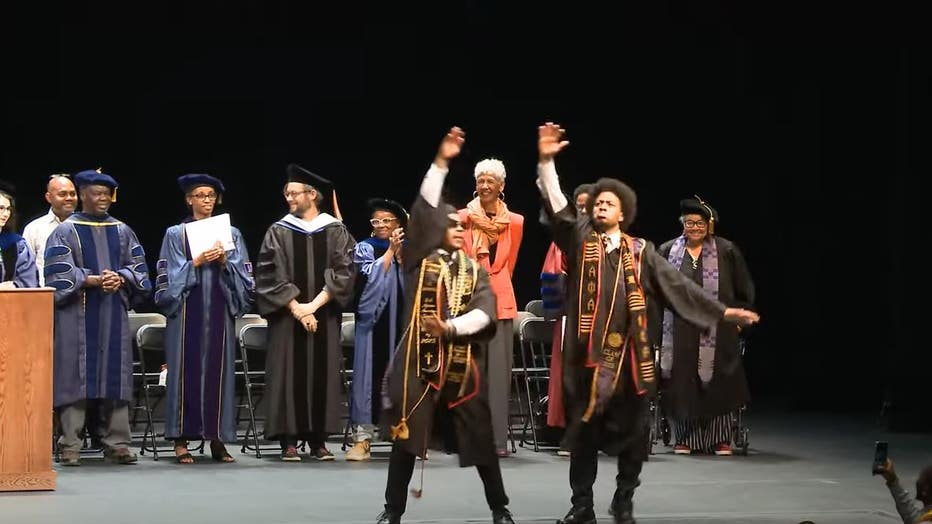 Graduates celebrate during UC Berkeley's Black Graduation ceremony on Saturday, May 2023. 
The graduates came from a wide range of studies and disciplines from across the campus, representing 46 departments and/or programs. They included all levels of degree achievers: from those completing their undergraduate to those receiving their master's degree to those who have earned their PhD.
The event honored the students' hard work while allowing them to celebrate in a space where they can showcase and commemorate their cultural roots and history.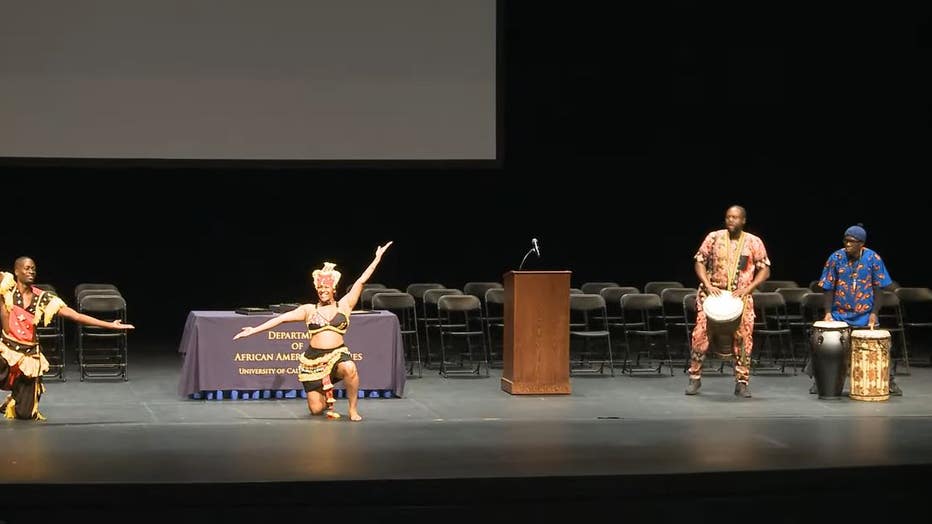 African drummers and dancers greeted attendees of UC Berkeley's Black Graduation on Saturday, May 20, 2023 at Zellerbach Hall in Berkeley, Calif.  (UC Berkeley African American Studies Department)
The ceremony began with African drummers and dancers on stage greeting guests as they filled Zellerbach. The history of the event was highlighted with archival footage of past Black Graduations on the campus, a tradition that has dated back to the 1970's.   
Last fall, the department created the Black Graduation Fund to bring in donations to help offset the rising cost of the event, organizers said.
As video of the annual event circulated on social media, the event faced criticism from those who claimed the ceremony promoted segregation and violated civil rights laws prohibiting discrimination. 
The university disputed those claims. In a statement to KTVU, Kenny Ma, Social Sciences communications director said, "UC Berkeley is committed to diversity, equity, inclusion and belonging among all members of our community. As such, Berkeley's Black Graduation serves as a celebration of our Black students' achievements, their resilience and the rich cultural heritage they bring to our community."
Ma called it a joyous occasion and stressed it did not seek to exclude any person or group. "Instead, it seeks to create an environment where unique individual experiences and accomplishments are acknowledged and celebrated - especially among communities in our country who have been, for far too long, marginalized and excluded," the spokesperson said.
The university said the ceremony was a demonstration of its ongoing commitment to offer an environment of inclusion and belonging to its entire community. "Berkeley will continue, without apology, to do what we can to uphold that commitment in order to meet the needs and interests of all of our students," Ma said.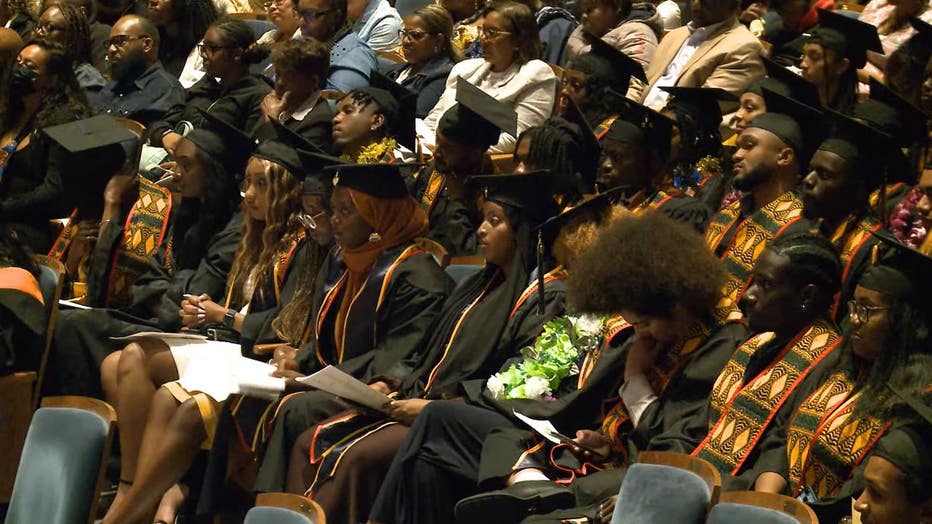 The graduates of UC Berkeley's 2023 Black Grad ceremony represented 46 departments and/or programs and all levels of degrees. 
This year's theme was "Reclaiming Our Time."
Human rights activist and former Black Panther Ericka Huggins was the Black Graduation keynote speaker.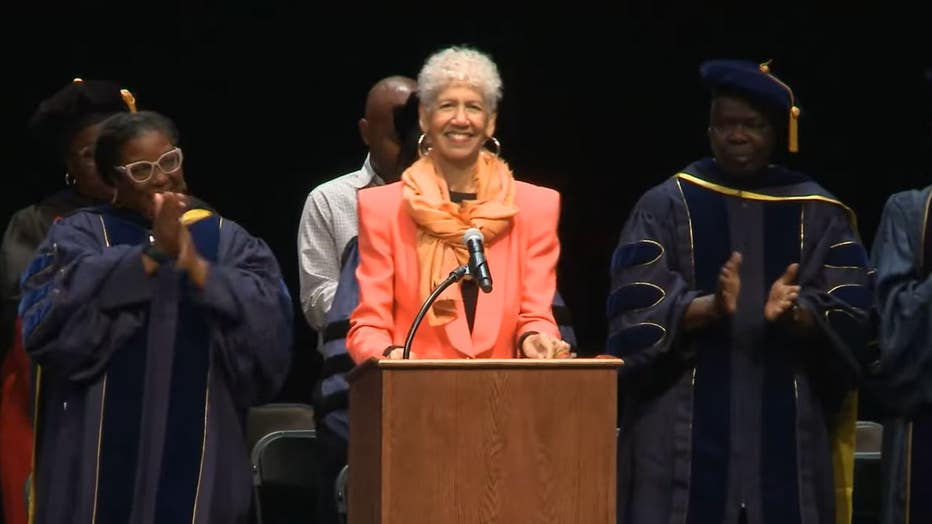 Human rights activist and former Black Panther Ericka Huggins was the 2023 Black Graduation keynote speaker at UC Berkeley on Saturday, May 20, 2023. 
She took to the podium and looked out at the graduates and said, "I see you, and I know how good it is to be seen." 
She uttered words of gratitude. "Thank you to the generations of ancestors and family who dreamed of this day for you long ago," she said, adding, "Graduates, this is your day. This is your time to shine, your time belongs to no one."
Huggins said that the work these students accomplished was both achieved individually and with the support of their peers and community. "You are family to one another," she declared.
This year's theme of reclamation echoed through Zellerbach with words from UC Berkeley African American Studies Professor Nikki Jones who chairs the department.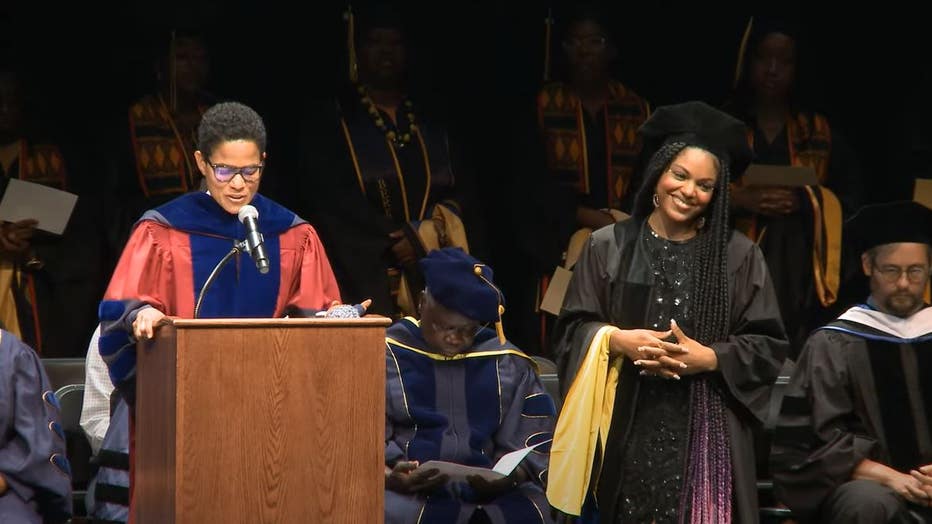 Professor Nikki Jones from the African American Studies Department on stage with a PhD graduate during Berkeley's Black Graduation on Saturday, May 20, 2023. (UC Berkeley African American Studies Department)
The professor told the graduates it was a time to reclaim all that's been lost, including the time the world suffered through a pandemic, what has been lost in the face of gun violence and police violence and the time that's been lost defending attacks on African American Studies.
And Jones said, "We reclaim time lost to the unrelenting distraction of racism." 
She also looked ahead to what reclamation of the past loss would lead to and achieve. 
"In reclaiming our time, we claim again and again our right to dream, to imagine a new world and new ways of being that will sustain us now and well into the future," the professor said.
And she challenged the graduates with this: "I hope that you will be bold enough to reclaim your time to dream and to build space for yourself and others that are rooted in an unapologetic insistence on the value of Black life, the value of Black love, and the necessity of Black joy."