Union workers protest 'poverty' wages at SFO airport, want better health care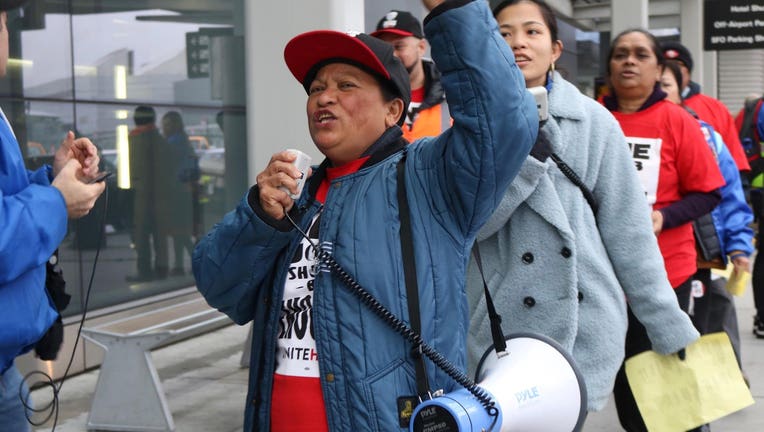 article
SAN FRANCISCO - Hundreds of catering workers staged a protest Tuesday at SFO International Airport. Union employees and supporters of UNITE HERE Local 2 timed their demonstration with the busy Thanksgiving travel season to demonstrate that the holiday is about family and said they were fighting for a living wage and affordable health care. 
The union said American Airlines could fix the labor dispute affecting thousands of catering workers and that the airline, which generated $1.9 billion in profits in 2018, still allows its workers to live in poverty without access to medical care. 
"We are the lifeline of your food service travel experience - shouldn't we be able to live healthy lives, without insurmountable medical debt or doubts about paying for our kids' care?" the union wrote on Twitter. 
American Airlines in a statement said UNITE HERE Local 2 members do not work for them, but are subcontractors for catering companies LG Sky Chefs and Gate Gourmet. 
The airline said they were confident that federal mediators, the catering companies and the union would negotiate new nationwide agreements that would increase pay and benefits.  
"We understand that new labor contracts between Unite Here and LSG Sky Chefs and Gate Gourmet will result in increased costs for their many airline customers, including American. We are not in a position to control the outcome of their negotiations or dictate what wages or benefits are agreed upon between the catering companies and their employees," the airline said. 
LSG Sky Chefs said negotiations have been going on since May. "Our company has offered improvements in wages and is discussing numerous other issues covered by our collective bargaining agreement," the company said. 
Airport officials said while they did not expect any impact to passengers, they did suggest arriving at least two hours prior to domestic flights and three hours for international.  
"Our goal this afternoon is two-fold," SFO spokesperson Doug Yakel said. "To ensure the union can get their message out, and to ensure that our travelers can go about their business without impediment." 
The union shared a photo of their president, Anand Singh being arrested at the protest. San Francisco Supervisors Matt Haney, Gordon Mar, and Ahsha Safai, who attended the the sit-in in solidarity with the workers were escorted and cited for trespassing at SFO. San Francisco Police Department said a total of 50 people received citations. 
The sit-in followed a protest by more than 350 workers and supporters in front of the terminal. The 350 included cabin cleaners, wheelchair attendants, luggage handlers and other airport service workers, all who supported the caterers. 
"I load beverage carts for American Airlines, but my health care is so unaffordable that I'm in thousands of dollars of medical debt," said Melieni Cruz, an airline catering worker serving American and others. "When the doctor found cysts on my ovaries, I had to save for a year to afford the procedure, and my cysts got bigger and more painful the whole time. 
The protest is part of the 'One Job Should Be enough' campaign, which is staging events nationwide at airports during Thanksgiving week. Tuesday's event included 17 airports nationwide. The campaign is sharing a petition online aimed at American Airlines CEO Doug Parker. 
Protest organizers said the action is not meant to disrupt travel, but to generate awareness. 
The number of protesters had dwindled to about 50 by the time our news crew had arrived. 
KTVU's Azenith Smith and Bay City News' Keith Burbank contributed to this report.