United Airlines workers picket outside SFO airport terminal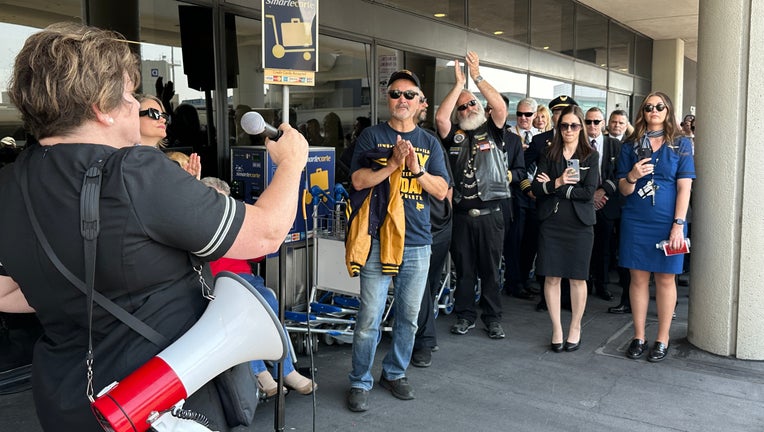 article
SAN FRANCISCO - Hundreds of United Airlines staff picketed outside of San Francisco International Airport's Terminal 3 on Thursday morning as negotiations between labor unions representing the workers and the airline have stalled. 
Airline staff, joined by members from other Bay Area unions, carried red signs and marched outside the terminal as part of a nationwide picket by the Association of Flight Attendants-Communications Workers of America, the union representing the United Airlines employees.
Kristie Rivera, the president of the Association of Flight Attendants Council 11, the union representing United employees in San Francisco, said that one of the major issues for the union is lodging for airline staff who have had flights delayed or canceled. She says that when flights are delayed or canceled and airline workers need to find a place to stay for the night, the airline is supposed to help them find a hotel room.
However, United staff say that they often have to stay on hold for several hours before they find out where they are staying for the night. Other times, the flight attendants are left to find a hotel room for themselves and pay out of pocket. Sometimes, this results in airlines staff not getting enough rest, resulting in further delays or cancellations.
"United Airlines tells our passengers immediately when their flights are canceled, so they have an idea of what's going on," Rivera said. "We on the other hand, as flight attendants operating the flight have no idea where we are supposed to be."
Rivera says they have been involved in months of contract negotiations with United Airlines management.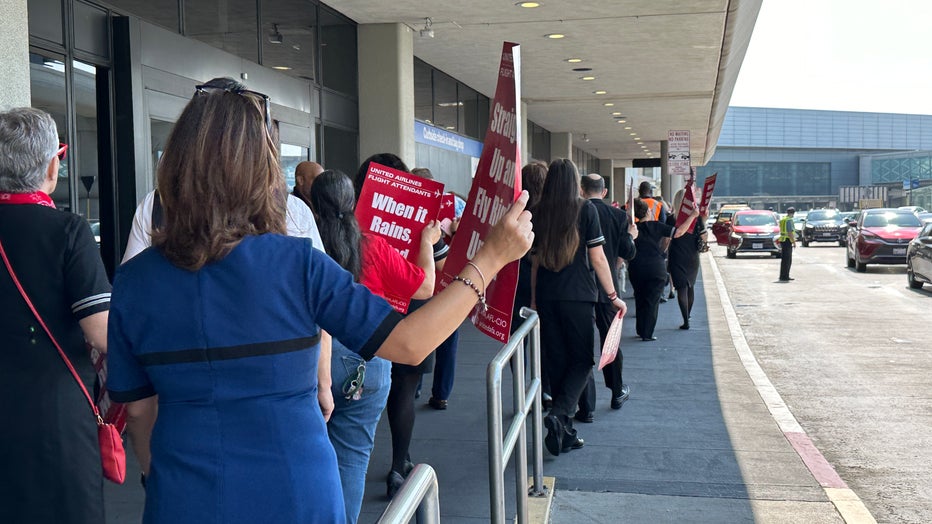 United Airlines employees picketed outside San Francisco International Airports Terminal 3 on Thursday. (Spencer Otte/Bay City News)
"United Airlines has been making quite a bit of money. We're definitely in a position where flight attendants have been the backbone of this airline, we've got them through the COVID era, to be able to be in a position to move forward," Rivera said. "But now we don't get the tools to be able to do our jobs correctly."
The union is also seeking higher wages for airline staff in negotiations, said Rivera. She said Thursday's picket was the first of many planned actions by the union. 
"We're continuing to work with the Association of Flight Attendants toward an industry-leading agreement," a United Airlines statement said. "All United flights will operate as planned while our flight attendants exercise their right to distribute information and picket while off-duty."