Vacaville PD identify 'Jane Doe' 28 years after body discovered at construction site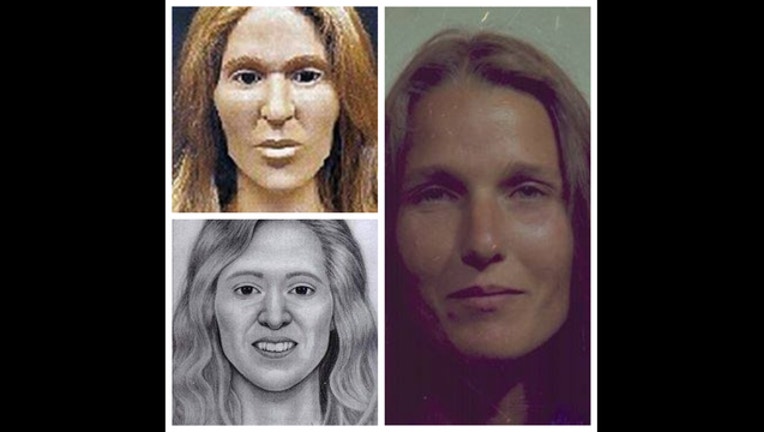 article
VACAVILLE, Calif. (KTVU) - It took almost 28 years but detectives with the Vacaville Police Department say they never gave up hope that one day they would find the identity of a woman whose body was found at a construction site.
Her name was Cynthia Merkley. She was a mother. She was 38 years old when her body was discovered in 1991, as contractors were grading a field off Nut Tree Road where the Vacaville Premium Outlets are now standing.
When she was found, investigators determined she had been dead for two to three weeks and because of the decomposed condition of her body coroner's officials were unable to identify her. 
So she simply became to be known as "Jane Doe." 
"There were no obvious signs of foul play or trauma, and her cause of death was undetermined," the Vacaville Police Department wrote in a Facebook post on Monday. 
Then in 1998, detectives and coroner's officials had her body exhumed, so "Jane Doe" could undergo a facial reconstruction process in their ongoing efforts to keep the case alive. 
The process led to both a forensic artist's sketch of what she would have looked like, as well as a sculpted clay model of the victim. 
Once complete, investigators released the images to the public with hopes for some answers. Detectives said they received many leads but nothing significant enough to help solve the case. 
It wasn't until late last year that investigators got a major break that provided "Jane Doe" with a name.
Detectives were notified by the fingerprint unit of the State of California Department of Justice Office that their "Jane Doe" had been identified as Cynthia Merkley, also known as Cynthia Bilardi. 
She was never reported missing, according to police. So it was the latest breakthroughs in fingerprint technology and the dedication of Vacaville police detectives that led to the break in the case. 
It was the department's only Jane Doe or John Doe case that remained unsolved and investigators were determined not to let it go.
"Detectives rotate in and out and... when a detective rotates out, a new detective was always assigned this in their case load," Lt. Chris Polen explained to KTVU. 
Through interviews with Merkley's family members, investigators also learned that she had been living between Santa Cruz and Santa Rosa when she died. She had two children with her ex-husband and investigators believe she may have four other kids. 
"She had been estranged from her family for several years before her death," police said.
But the fact that she was never reported missing at any point, leads to more questions. 
"What we think happened is that because she was estranged from her family no one really knew where she went or where she was traveling," Polen said, "But it's just odd. Even if you were estranged at some point in time the question is asked, 'Where is my mother, where is my daughter?'" 
While detectives now have a name to give their Jane Doe, there are still many questions that have not been answered. 
And police are still not giving up. They remain committed to the case and are again turning to the public for help. 
"These types of cases really impact the community," Polen said. "Detectives put their heart and soul into them," he added, saying in finding answers, they seek to bring closure for themselves, the families who are affected, and the community as a whole.  
Polen said after receiving word of Merkley's identity, the department reached out to one of the lead detectives in the case, who has since retired. 
Det. Kim Humburt is now living out of the state and was grateful for the news. "It really impacted her. She's really excited about the new development," Polen said, adding that Humburt is now following the case closely for any new information.  
"Even after 28 years, Detectives never gave up hope that our only "Jane Doe" case would one day be identified," police wrote on Facebook. "Our hope is that this post will generate new leads for Detectives to look into, to help determine what happened to Cynthia that fateful night back in 1991 that led to her untimely death."