Vigil for earthquake victims and pleas for relief
SAN FRANCISCO - A candlelight vigil at San Francisco's Union Square honored the victims of the devastating earthquake in Turkiye and Syria. 
"Time is really urgent now to help survivors and people who are still in the rubble. But also aid is really needed to those who are injured," said Anas Abou-Ismail with the American Coalition for Syria. 
"They actually just dug out my uncle yesterday and his wife," said Heba Masri. "It's still really, really hard seeing the pictures now knowing some people are still down there."
Maya Fallaha shared a picture of her 10-year-old cousin who was killed when his home collapsed. Fallaha said the boy's father, who is also her cousin, was able to get the younger children out of the home. His wife also died in the collapse.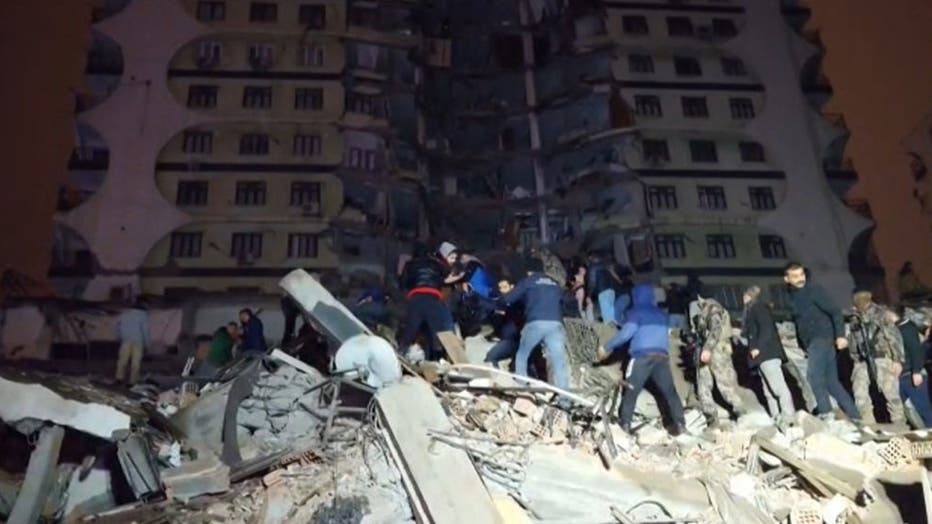 In this video grab from AFP TV taken on February 6, 2023, rescuers search for victims of a 7.8-magnitude earthquake that hit Diyarbakir, in southeastern Turkey. (Photo by MAHMUT BOZARSLAN/AFPTV/AFP via Getty Images)
"The 10-year-old son was still behind him as the building was collapsing.  So they were still under the rubble. He was hopeful that rescue workers would be able to get to them, but that didn't happen."
Fallaha said her family members have been displaced numerous times, and people have been left without shelter in sub-freezing conditions. She urged people to support the White Helmets, who are on the frontlines of earthquake disaster relief in Syria. 
PREVIOUS COVERAGE: 
"They were the first responders in northwestern Syria. They saved lives from under the rubble. If they had more machinery and more resources to reach more people, I think more people would be alive today," said Fallaha. 
The death toll from the 7.8 quake has now risen to more than 28,000 in Turkiye and Syria. Volunteers say they hope the international community will step up. They encourage donating to crisis support on the ground and want the U.S. to organize deliveries of medical and warm shelter equipment for those who have lost their homes. 
"We are talking about people who have lost everything. From their homes to their family members to their entire livelihoods," said Fallaha.
They call the situation in Northwestern Syria a long-term crisis - one that started even before the earthquake. 
"This community was already ravished by 12 years of war and continued bombings by both Russia and the Assad regime, and now this completely annihilated whatever infrastructure was left," said Abou-Ismail.