Vintage fire hat given to the late Mayor Ed Lee's widow in honor of 112th earthquake anniversary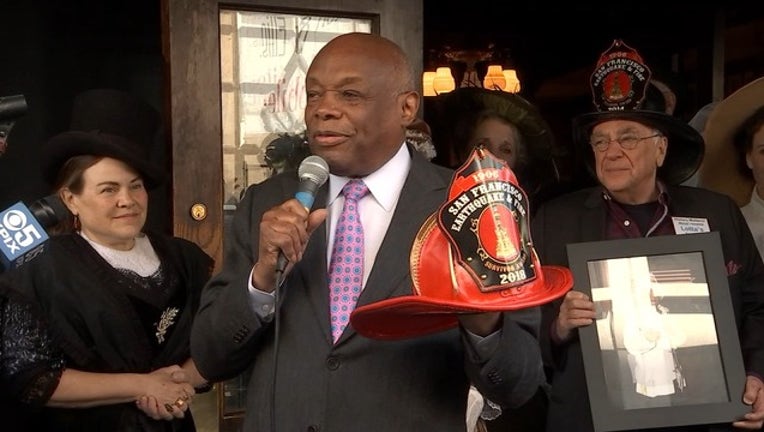 article
SAN FRANCISCO - San Francisco city leaders on Wednesday commemorated 112 years since the 1906 earthquake and destructive fires that burned for several days and decimated huge portions of the city. 
Crowds gathered at 4:30 a.m. at Lotta's Fountain on Kearny and Market streets to mark the moment the earthquake struck the city at 5:12 a.m. The gathering will honor the lives lost with a moment of silence and speeches and the late Mayor Ed Lee will be honored with a wreath placed on the city 
landmark.
A day earlier, former San Francisco Mayor Willie Brown presented a special vintage fire helmet to the late Mayor Ed Lee's widow, Anita Lee in honor of her husband's contribution to the annual ceremony before he died of a heart attack earlier this year.
After the morning moment of silent, people walked from the fountain to a golden fire hydrant at 20th and Church streets believed to be the sole source of water during the fire that enabled thousands of volunteers to save the south side of the Mission District, San Francisco fire officials said.  
 
 Up to 3,000 people died in the aftermath of the 7.9-magnitude earthquake, according to a National Oceanic and Atmospheric Administration report.