Violence hits Mexico cartel stronghold after son of 'El Chapo' arrested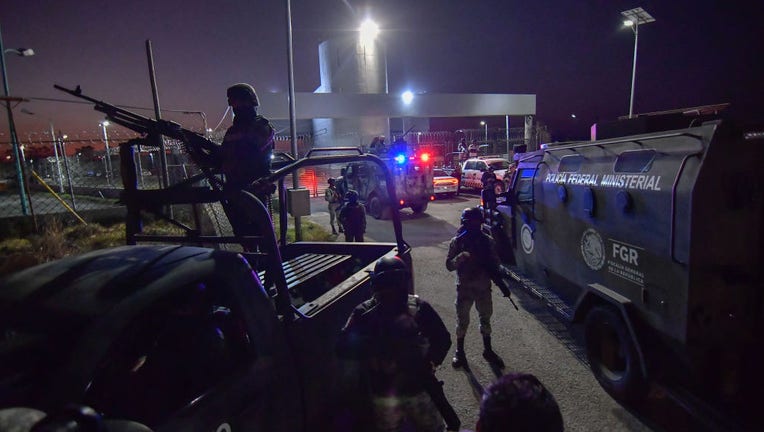 article
MEXICO CITY - The sun wasn't yet up in Culiacan when David Téllez and his family began making their way to the city's airport for a return flight to Mexico City after their vacation. But not long after they set out they encountered the first crude roadblock, an abandoned vehicle obstructing their way.
Téllez turned to social media to find out what was going on and saw that Sinaloa's state capital, a stronghold of the cartel by the same name, was filled with roadblocks and gunfire.
It would be hours before Mexico's defense secretary would confirm that the military had captured Ovidio Guzmán, a son of the notorious former Sinaloa cartel boss Joaquín "El Chapo" Guzmán, on Thursday in a pre-dawn operation north of the city.
Just like that, Culiacan was thrust into a day of terror unlike any its residents had experienced since October 2019 — the last time authorities tried to capture the young Guzmán.
Mexican President Andrés Manuel López Obrador has railed against his predecessors' aggressive efforts to capture drug lords, but his administration bagged the high-profile cartel figure just days before hosting U.S. President Joe Biden, and at least in the short term locals were paying the price.
Culiacan residents posted video on social media showing convoys of gunmen in pickup trucks and SUVs rolling down boulevards in the city. At least one convoy included a flatbed truck with a mounted gun in the back, the same kind of vehicle that caused chaos and mayhem in the 2019 unrest.
All entrances to the city were blocked, and similar acts were playing out in other parts of Sinaloa.
Rev. Esteban Robles, spokesman for the Roman Catholic diocese in Culiacan, said that "there is an atmosphere of uncertainty, tension," and that those who could were staying inside their homes.
"A lot of the streets are still blocked by the cars that were burned," Robles said.
The Culiacan municipal government warned: "Don't leave home! The safety of Culiacan's citizens is the most important." Schools, local government and many private businesses closed.
Oscar Loza, a human rights activist in Culiacan, described the situation as tense, with some looting at stores. On the south side of the city, where Loza lives, people reported convoys of gunmen moving toward a military base, but Loza said streets around his house were eerily quiet. "You don't hear any traffic," he said.
Téllez pressed on trying to get his family back to Mexico City, circumventing several more abandoned vehicles blocking roads and eventually making it to the airport.
There the family hurriedly checked in for their flight before employees of an airport restaurant urged them to shelter in a bathroom. Gunmen were arriving at the airport to prevent authorities from flying Guzmán out.
Juan Carlos Ayala, a Culiacan resident and Sinaloa University professor who studies the sociology of drug trafficking, said Ovidio Guzmán was an obvious target at least since 2019.
"Ovidio's fate had been decided. Moreover, he was identified as the biggest trafficker of fentanyl and the most visible Chapos leader." Asked how locals were reacting to the arrest, Ayala said "People have differing views, but I think the majority are with them" — the Sinaloa cartel.
That may be because of the money the cartel brings to the region, but also because locals know that even after federal troops withdraw, the cartel will still be there. As bad as it is, the cartel has ensured relative stability, if not peace.
Guzmán was indicted by the United States on drug trafficking charges in 2018. According to both governments, he had assumed a growing role among his brothers in carrying on their father's business, along with long- time cartel boss Ismael "El Mayo" Zambada.
Foreign Affairs Secretary Marcelo Ebrard confirmed that the government had received a request in 2019 from the United States for Guzmán's arrest for purposes of extradition. He said that request would have to be updated and processed, but he added that first an open case in Mexico awaits Guzmán.
Ismael Bojorquez, director of the local news outlet Riodoce, which specializes in coverage of the area's drug trafficking, said the violent reaction had to do with the president's less aggressive stance toward organized crime.
"They (cartels) have taken advantage of these four years to organize themselves, arm themselves, strengthen their structures, their finances," he said. "I believe there are more weapons than three years ago. All of organized crime's armies have strengthened, not just the Chapitos, and this is the price that society is paying for this strategy of the federal government."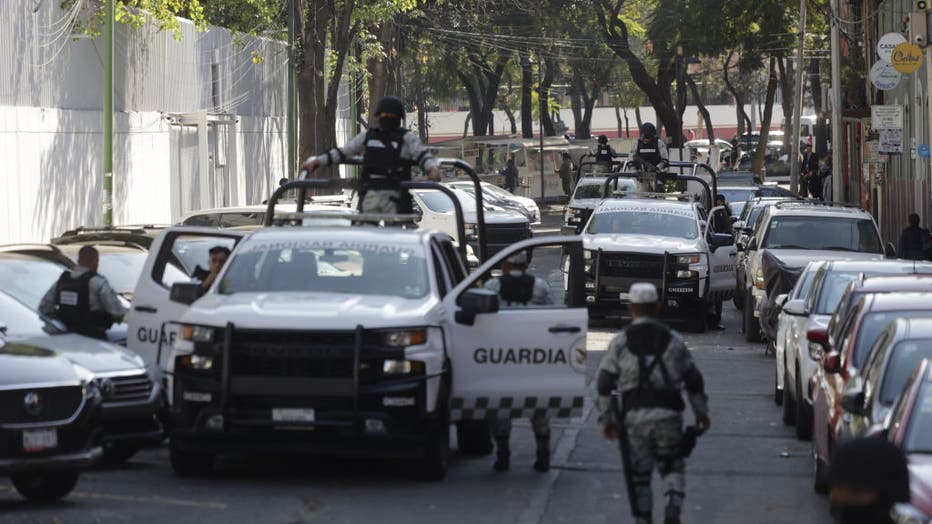 Members of the National Guard protect the facilities of the Specialized Prosecutor for Organized Crime (FEMDO) where Sinaloa Cartel kingpin Ovidio Guzmán Lopez, son of former drug lord Joaquín Guzmán Loera (alias El Chapo) is being held. On Jan. 5, 2
At Culiacan's airport, a Mexican military flight was able to spirit Guzmán away to Mexico City. Téllez's commercial flight waited for its chance to take off as two large military planes landed with troops as did three or four military helicopters, and marines and soldiers began deploying along the perimeter of the runway.
When the airline flight was finally preparing to accelerate, Téllez heard gunshots in the distance. Within 15 seconds the sound was suddenly more intense and much closer, and passengers threw themselves to the floor, he said.
He did not know the plane had been hit by gunfire until a flight attendant told them. No one was injured, but the plane hastily retreated to the terminal.
Samuel González, who founded Mexico's special prosecutor's office for organized crime in the 1990s, said Guzmán's capture was a "gift" ahead of Biden's visit. The Mexican government "is working to have a calm visit," he said.
He called the shots that hit the commercial airliner "without a doubt an act of international terrorism" and suggested it could lead to very serious discussions between the two governments about the implications of these actions.
By evening, Téllez remained in the terminal. The government had shut down the airport, as well as airports in Los Mochis and Mazatlan for security reasons.
Asked if the attempt to capture Guzmán was worth another day of tension and uncertainty in Culiacan, Téllez said, "If they caught him, it was worth it."
___
Associated Press writers Fabiola Sánchez and Christopher Sherman contributed to this report.