Couple's viral 'Taylor Swift Jar' has wife paying a quarter whenever she mentions the star
Taylor Swift has been in the spotlight and on people's minds recently — but saying her name in the Rice family's home may cost you.
Dana Rice, a realtor in the Bethseda, Maryland, and Washington, D.C. area, has gone viral, garnering over 9.8 million views on Instagram, after capturing the comical moment her husband created a "Taylor Swift jar."
The mom of three boys has considered herself a fan of the pop star but didn't find a place in the "Swiftie" club until recently, Dana Rice told Fox News Digital.
MOM'S CREEPY-COOL TAYLOR SWIFT HALLOWEEN DISPLAY GOES VIRAL ON TIKTOK
It wasn't until Taylor Swift's Eras tour launched that Rice's fascination with the singer really started to take off, Rice said.
"I started seeing reports and things from other people and other industries talking about her from a business perspective — from a force-of-nature perspective when she first started this tour," Rice said.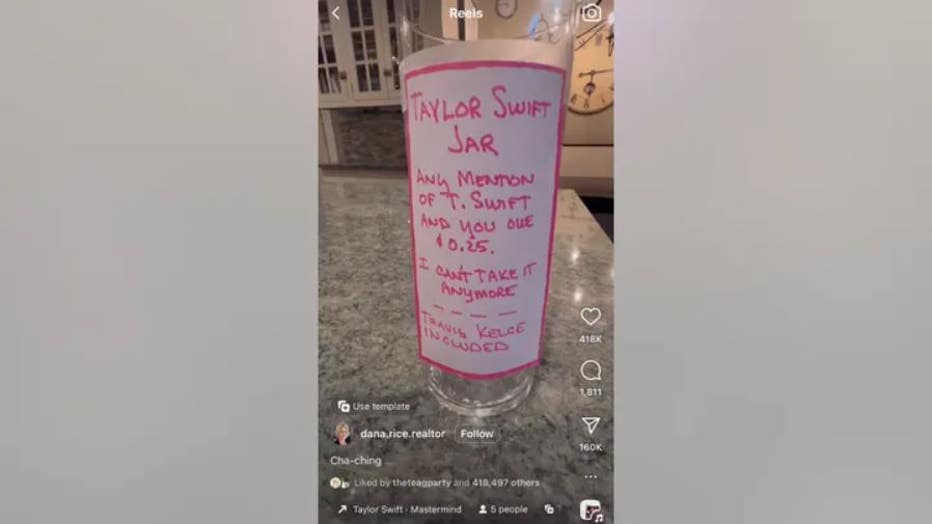 A Maryland husband has gone viral after making his Taylor Swift-loving wife, Dana Rice, a "Taylor Swift Jar." Rice has to place a quarter inside the jar whenever she utters Taylor Swift's name. (Dana Rice)
"It just sort of arrived in my consciousness and became something that I wanted to look into because I'm a business person and I wanted to learn," she added.
Her admiration for Swift exploded when she got her hands on a coveted ticket to the Eras tour.
TAYLOR SWIFT SUPERFAN SPENT NEARLY $9K TO ATTEND 12 ERAS TOUR CONCERTS: 'A BIG DEAL'
One morning, Rice was in the kitchen talking with her husband, Dan Rice, and realized he was on the verge of creating the jar — but unbeknownst to her, she was the target.
"Without fanfare, without notice, I just came around the corner and I asked him, 'What are you doing?'" she recalled.
The video captured Rice's genuine reaction to seeing her very own "Taylor Swift Jar," which requires her to pay a quarter any time she mentions the A-list celeb — or Swift's new beau, Travis Kelce.
TAYLOR SWIFT'S EXES: BABY NAMES INSPIRED BY THE SINGER'S FORMER FLAMES REVEALED
The jar reads, "Taylor Swift Jar - Any mention of T. Swift and you owe $0.25. I can't take it anymore — Travis Kelce included."
"When I came around the corner, not only did he have the jar, but he had rolls of quarters, so he set me up with the rolls of quarters and the jar," the Maryland resident added.
The jar is a spin on the commonly used "swear jar" — which requires anyone to pay a fee to the jar after using profanity in an effort to discourage the use of foul language.
Rice said this video perfectly encompasses her husband's humor.
THE TAYLOR SWIFT OBSESSION: PSYCHOLOGIST WEIGHS IN ON WHY FANS WORSHIP CELEBRITIES
"I have to put up with that all the time," she joked.
Taylor Swift and Travis Kelce have been an enjoyable topic of conversation in the Rice household, but one of the stars seems to get more of the credit.
TAYLOR SWIFT QUIZ! HOW WELL DO YOU KNOW THE FAMOUS POP MUSICIAN?
"I don't ask who's playing, I ask, 'When is the Taylor Swift game?' That's how it's now framed in my house," Rice shared.
While Rice said she's a fan of the Washington Commanders, she has found herself falling prey to the "Taylor Swift" effect — and is now showing interest in the Kansas City Chiefs.
Rice now has officially joined the "Swifties" and continues to be amazed by the artist.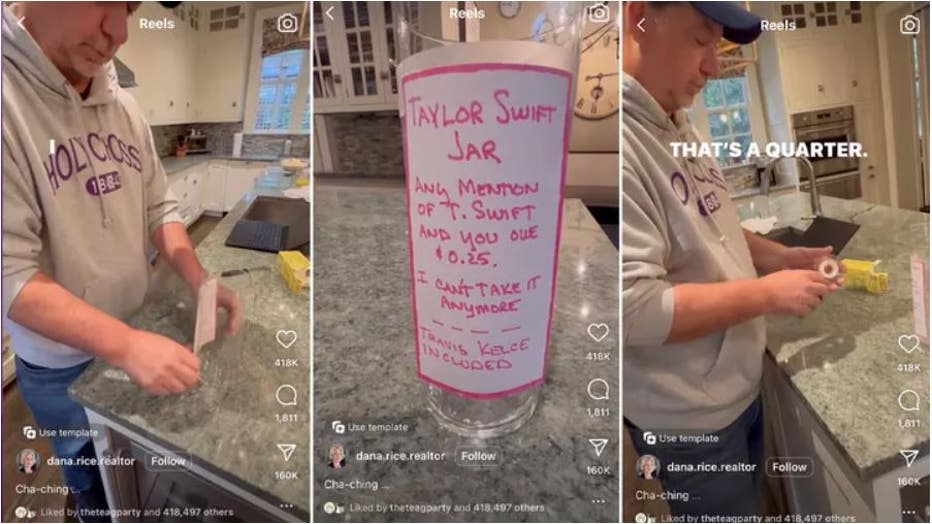 Rice has used up all of her quarters already — and will be putting the jar payment toward future Taylor Swift tickets. (Dana Rice)
"Bruce Springstein and Taylor Swift [are the best] in terms of poetry through songwriting and art. You can't stop somebody like that," she said.
The "Taylor Swift Jar" was made following Swift and Kelce's appearance at "Saturday Night Live."
Rice put the jar to good use once her husband introduced it to her.
CLICK HERE TO GET THE FOX NEWS APP
"Since he supplied me with all the quarters, I absolutely have put all the quarters in there," Rice said.
"And I will be using them for Taylor Swift tickets in the future — that is for sure. I have to, right?"