Warriors beat Bucks 108-95, clinch top seed in West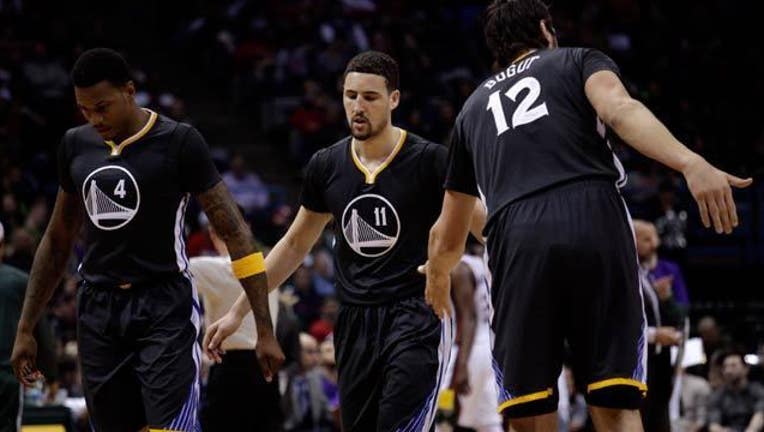 article
MILWAUKEE (AP) — The Golden State Warriors achieved two impressive milestones with another double-digit win on the road.
Now it's a matter of staying healthy and feeling good going into the postseason for the team with the best record in the NBA.
Stephen Curry scored 25 points, and the Warriors clinched the top seed in the Western Conference by pulling away in the second half of a 108-95 victory on Saturday night over the Milwaukee Bucks.
Klay Thompson added 21 for Golden State, which also set a franchise record with its 60th victory of the season. The Warriors hold a 10-game lead over second-place Memphis in the West with nine games left in the regular season.
"Wins and losses might not matter when it comes to the standings but we want to win as many games as possible and we want to feel good about how we're going into the playoffs," Curry said. "That's the test for us over these next nine games."
Khris Middleton had 14 points for Milwaukee, which fell back under .500 at 36-37 after winning two straight.
The young Bucks forced 22 turnovers. But they don't have sweet-shooting difference-makers like Thompson and Curry in the backcourt.
"You can see how they have a feel for one another. They both can shoot the ball extremely well. One is in foul trouble and the other one picks it up," Bucks coach Jason Kidd said. "You always have to be concerned with those two on the floor."
The smooth Thompson scored 17 in the third quarter to help the Warriors pull away after the Bucks got within 57-50 on Middleton's jumper with 8:25 left in the period.
Thompson followed with a 3 from the left wing. The guard turned with a stoic face as he walked slowly back to the bench after the Bucks called timeout.
The Warriors won their 10th straight with another impressive performance on defense and from behind the arc. They finished 12 of 25 from 3-point range, including 6 of 9 from Curry.
"With their commitment to each other, and to the work, enjoy, and it's been so much fun," coach Steve Kerr said. "It's great to kind of rack up these milestones as we go."
Milwaukee did manage to slice a 19-point deficit to 11 a few times in the fourth quarter. John Henson's bucket with 8:06 left got Milwaukee within 84-73.
But Curry followed with a long 3 that had fans at the Bradley Center sighing. Once again, Curry's range helped put a game out of reach for a Golden State opponent.
TIP-INS
Warriors: With his team playing the second of back-to-back road games, Kerr rested forwards Draymond Green and Andre Iguodala. ... Justin Holiday's 3-pointer with 4:05 left in the first quarter gave the Warriors 775 3s with nine games left, breaking their record of 774 set last season. ... Golden State became just the 13th team in NBA history to reach 60 wins in their first 73 games.
Bucks: Milwaukee trailed 48-38 at the half after shooting 12 of 45 (26 percent) in the first half, a season low in the opening half for the Bucks. Fifteen first-half turnovers by Golden State, including four for Curry, helped keep things close. ... Two days after getting a career-best 34 points in a 111-107 win over Indiana, forward Ersan Ilyasova finished with eight.
LOOKING AHEAD
Kerr said he wanted his team to keep getting better and stay healthy the rest of the regular season. He said it was important to spread around minutes, and 10 players played at least 13 minutes against Milwaukee.
"We've got huge goals as a team this year to be a championship-level team. This is a step along the way," forward David Lee said.
BUCKS BENCH
Milwaukee did get a boost from the bench with forward Jared Dudley (13 points) and guard O.J. Mayo (eight points, five assists) each playing at least 20 minutes. It was the first extended action for the veterans since they returned from injuries this week.
"It's our second unit. We're getting banged up a little bit, it's now the second part of the season, so it's important for us" to get the extended time, Mayo said.
UP NEXT
Warriors: At Los Angeles Clippers on Tuesday.
Bucks: At Atlanta on Monday.