Warriors whip Grizzlies 98-78, take 3-2 series lead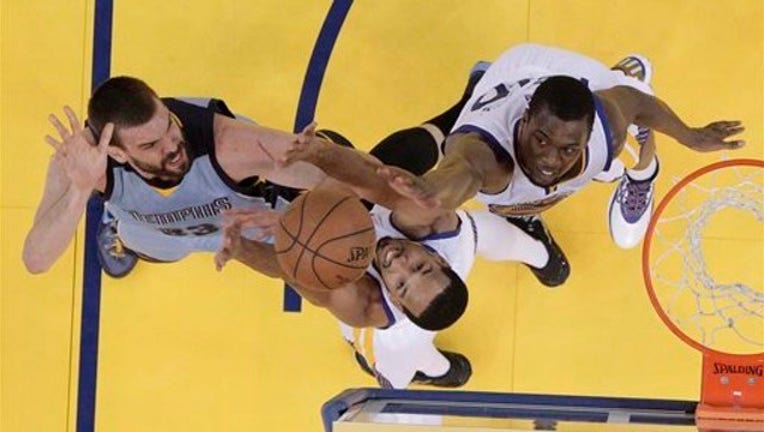 article
OAKLAND, Calif. (AP) — Stephen Curry turned in an MVP-worthy performance, Klay Thompson snapped out of his shooting funk and the Golden State Warriors rolled past the Memphis Grizzlies 98-78 on Wednesday night to take a 3-2 lead in their Western Conference semifinal series.
Curry scored 18 points on six 3-pointers and added a career-playoff high six steals to go with seven rebounds and five assists. Thompson scored 21 points, and Harrison Barnes had 14 as the Warriors won their second straight game in impressive fashion.
Golden State can close out the Grizzlies in Game 6 on Friday night in Memphis.
With defensive stopper Tony Allen sidelined with a left hamstring injury, the Grizzlies struggled to contain Golden State's streaky shooters. The Warriors made 14 of 30 shots from 3-point range, while Memphis made just four of 15 from long distance.
Marc Gasol had 18 points and 12 rebounds, and Zach Randolph had 13 points and 10 boards for a Grizzlies team suddenly on the brink of elimination.
Since going down 2-1 in the series, the top-seeded Warriors have rediscovered their regular-season form — swarming defense, pace-and-space offense and lots of long-range swishes.
And for the second time in three nights, Memphis had no answer for them.
Grizzlies coach Dave Joerger had hoped his team could find an offensive rhythm to match Golden State's scoring punch. Instead, Jeff Green and veteran Vince Carter struggled to supply the same energy and intensity on defense as Allen, who wore a suit on the bench and often waved instructions to his teammates.
Curry carried the Warriors back from an early 13-point deficit, connecting on four 3-pointers to give Golden State a 26-25 lead at the end of the first quarter. He motioned his hands wildly to the roaring, golden-yellow-shirt-wearing sellout crowd following the fourth make just before the buzzer, showing as much emotion as he ever has at home.
Barnes helped the Warriors carry the momentum with several big plays in the second quarter, and Curry came back with another from long distance to put Golden State up 49-41 at the half.
The Warriors wore down the shorthanded Grizzlies following the break with a fast-pace tempo that never relented.
They led 74-57 through three quarters and went ahead by 24 points early in the fourth on Thompson's four-point play, turning the game into the type of home wipeout that became routine in the regular season, when they rolled to a franchise-record 67 wins.
___
TIP-INS
Grizzlies: Memphis has yet to score 100 points in any game this series. ... The Grizzlies dropped to 2-3 on the road in these playoffs.
Warriors: Curry became the fastest player to make 100 3-pointers in the playoffs, reaching the milestone in 28 games. Ray Allen held the previous record at 35. ... The Warriors avoided losing consecutive home games for the first time this season.
NO MO SPEIGHTS
Warriors coach Steve Kerr confirmed what most had already expected: reserve big man Marreese Speights will not play the rest of the series. Speights hasn't returned since straining his right calf in Game 3.
MAYWEATHER BOOED
Undefeated boxer Floyd Mayweather Jr. sat in a seat at the scorer's table. He was showered with boos when he was shown on the videoboards before the fourth quarter. Mayweather smiled, stood up and clapped.