Watch: Youngest woman elected to Congress responds to dance video haters by dancing more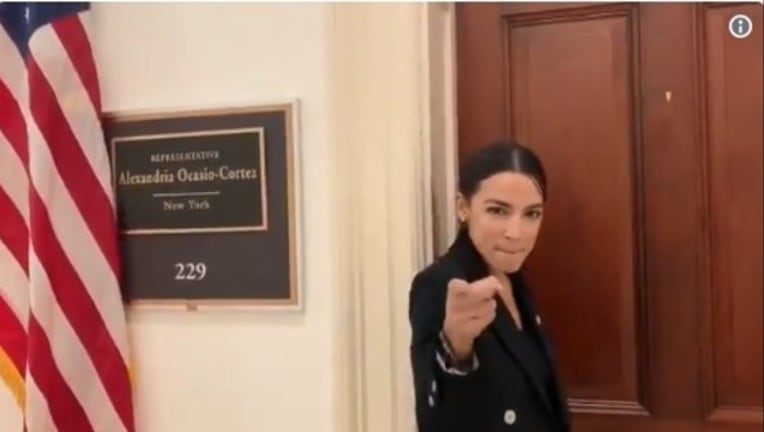 article
(KTVU) - The youngest woman ever to be sworn into Congress attracted some haters this week after a Twitter troll shared a video of her gleefully dancing on the roof of a building when she was in college. In response, Rep. Alexandria Ocasio-Cortez shared a video of her dancing more. 
"I hear the GOP thinks women dancing are scandalous. Wait till they find out Congresswomen dance too! Have a great weekend everyone," Rep. Alexandria Ocasio-Cortez wrote in a tweet Friday that included a video of her dancing outside her new office on Capitol Hill.
Friday's tweet, which featured a giggling Ocasio-Cortez dancing to the beat of the Temptations' "War," was in response to the rooftop dance video that was widely shared after it hit the internet Wednesday, a day before she was sworn in. The troll account that shared it, Twitter user @AnonymousQ1776, who called the Congresswoman "America's new favorite commie" and a "clueless nitwit," has since been deleted. But the 30-second clip, a snippet of a 4-minute, 20-second video published to YouTube eight years ago, was shared on other accounts. 
In the full video, the new Democratic representative from New York is among a group of students at Boston University, where Ocasio-Cortez earned a degree in economics and international relations, who were imitating classic scenes from 1980s films. The internet act was popular at the time. It was called the "Brat Pack Mashup" and went along with the song "Lisztomania" by the band Phoenix. 
And while plenty of Twitter users sarcastically bashed Ocasio-Cortez, many publicly defended her as "dancing adorably." Molly Ringwald, star actress of timeless classic "The Breakfast Club," which was featured in the original viral smear attempt, tweeted her support for the congresswoman's moves on Thursday.
"That's it, Alexandria you're in the club," she said. 
Ocasio-Cortez has increasingly gained popularity since the November election. That same month, she said she couldn't afford an apartment in Washington D.C. until her congressional salary kicked in. A reporter from The Washington Examiner tweeted a photo of Ocasio-Cortez walking. He wrote in the caption that the "jacket and coat don't look like a girl who struggles." It was criticized as being sexist and wrong. 
As of early Friday afternoon, the new dance video had been viewed nearly 5 million times and liked by 330,000 users in its first four hours online.