'We're moving in:' State AG Rob Bonta launches civil rights investigation in Antioch Police Department
OAKLAND, Calif. - California Attorney General Rob Bonta on Wednesday announced the launch of a civil rights investigation into the scandal-scarred Antioch Police Department. 
He referenced the racist text scandal among police officers, the excessive force complaints disproportionately affecting communities of color and the use of K-9s to bite civilians, especially Black and brown residents, as examples of why his investigators are stepping in.  
"It's very disturbing, very concerning," he said. "We're moving in. We're going to get to the bottom of what's happening in the Antioch Police Department." 
Bonta said there has been a breach of trust by Antioch police and so, his team is going to begin a civil "pattern and practice" investigation, alongside the criminal probe concurrently being conducted by the FBI and the Contra Costa County District Attorney into the officers' behavior. 
So far, 38 Antioch police officers are on leave because of the ongoing probe.
Antioch Police Department's text message scandal: here's what to know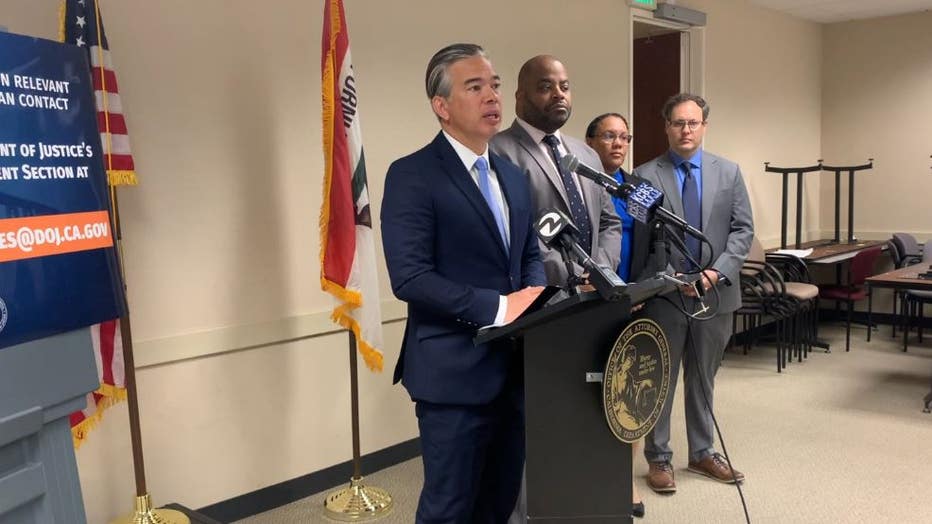 Antioch's Police Chief Steven Ford told KTVU last week that he welcomed any outside oversight, though Bonta said no one from the department asked his office for this investigation. 
In an interview Thursday after the AG's announcement, Mayor Lamar Thorpe, who is Black and has been a target of the text scandal, said that he wants the chief to fire all the officers who wrote and sent the racist messages. 
Bonta took extra time to address the texts sent between officers, first revealed by the East Bay Times, that were racist, homophobic and misogynistic. 
In one text, Officer Eric Rombough sent a photo of a "large African American male, with his penis exposed, sitting on the neck of George Floyd," to an unnamed citizen. 
"We've all looked and read with pain and concern those racist text exchanges that have occurred in the Antioch police department," Bonta said. "And those texts are hard to read."
Bonta brought up the idea that a consent decree or a court-monitored independent monitor might be appropriate for overseeing reforms. He said his office will determine what's happening and if any action should take place going forward. 
"We are at a place where we have no patience for violations of civil rights, of constitutional rights, of the habitual and consistent violation of community members rights based on race, based on gender, based on sexual orientation," Bonta said. "It's unacceptable." 
Bonta has launched similar investigations before.
In 2021, he launched an independent review of the Torrance Police Department. 
In January 2022, his office began looking into whether the Santa Clara County Sheriff's Office engaged in a pattern or practice of unconstitutional conduct relating to conditions of confinement in its jail facilities, resistance to lawful oversight, and other misconduct. He also took over responsibility of the Los Angeles County Sheriff's Department's inquiry related to contracts awarded to a nonprofit.
And in February, Bonta opened a civil rights investigation into the Riverside County Sheriff's Office, over deaths and excessive force allegations in the jail 
Those probes are ongoing.