West Coast Port slowdown continues despite contract agreement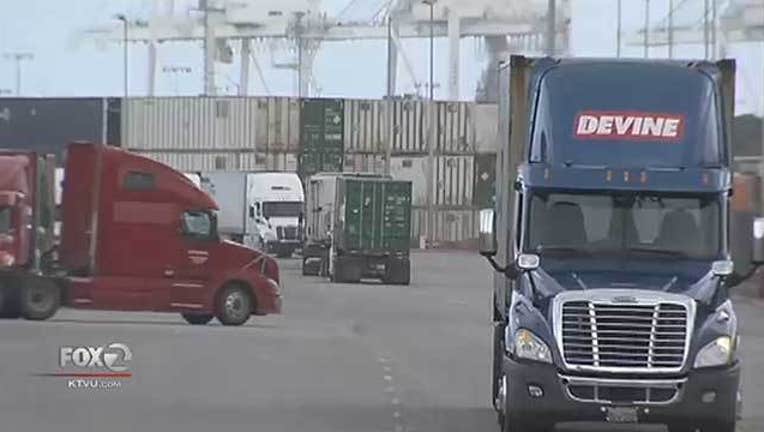 article
OAKLAND, Calif. (KTVU) - If you think that the West Coast port slowdown is over, months after the longshoremen and the terminals that employ them settled a bitter contract dispute, think again. There's plenty of space for the ships, but apparently not enough folks to handle them.
Cargo ships are sitting at anchor in the Bay, instead of sitting dockside, where they should be loading and unloading.
Inside the boxes there are all types of goods including products, parts and foods.
Scott Taylor runs the biggest receiving and distribution company at the port. Many of his clients are a veritable "who's who" of products you buy at places you shop.
"Normally, when the ship arrives, we usually pick up the containers within 24 hours or so. Now it's delayed at least two or three or maybe even four days," says Taylor.
Truckers KTVU met agreed. "They always claim that there's not enough labor and that's why they shutting down certain sections, changing game plans; we're not getting our containers," says Bill Aboudi.
Independent truck company owner Bill Aboudi says the port is, once again, in a mess with long lines and long waits to pick up cargo. "And our customers are paying a lot more money and they're getting the worst service ever since I've been on the water front since '88." he adds.
West Coast ports took a public relations battering and huge losses of business during the many months long slowdown that sent a lot of cargo to Gulf and East Coast ports as well as Canada and Mexico.
The delay could do further damage. "If it doesn't get to the stores on a timely basis, our customers will look for other alternatives," says Taylor. "And our customers are paying a lot more money and they're getting the worst service ever since I've been on the waterfront since '88," adds Aboudi.
At a truck workgroup meeting a letter, purportedly from the employers to the union, raised eyebrows. "There was an announcement that 17 percent of the longshoreman that are registered do not report to work; have not reported to work for the last 18 months," says Aboudi.
Many importers and exporters are hiring freight forwarding firms to find those alternatives
The port counters that it's handling record amounts of cargo and is busy trying to streamline its systems to be more efficient.
The union says the matter is being worked out and issued this statement. "The Port of Oakland recently experienced a spike in work. The PMA (employers) tried to blame others for the congestion, but the reality is that the increase in business apparently took the terminal operators and PMA by surprise, causing an acute shortage of workers, especially those trained to operate heavy machinery and cranes.
The Union has been asking employers to register new workers and provide more training for over a year. Only yesterday did the PMA finally agree to allow more hiring.
The new agreement means that 100 new full time workers will be registered and upwards of 300 part-time workers will be authorized." We could not reach the employers' spokesmen.