Wheelchair-bound Oakland student says security guard hit him four times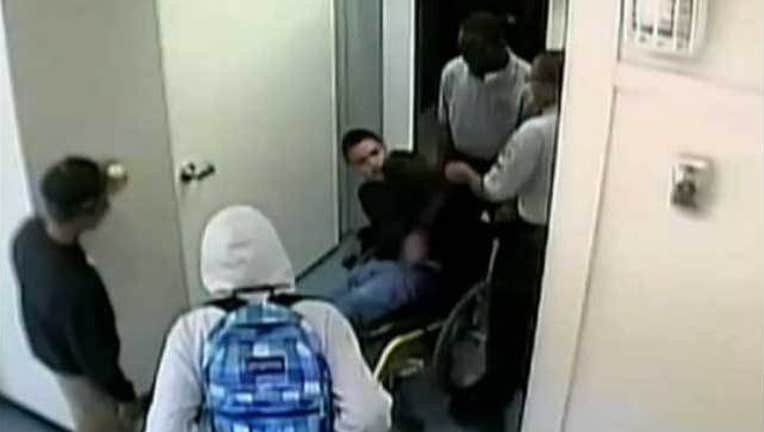 article
OAKLAND, Calif. (KTVU and wires) -- A wheelchair-bound student who has suffered from cerebral palsy since birth testified Tuesday that a security guard at Oakland High School dumped him out of his chair and punched him four times while he was handcuffed in an incident at the school last year.
Taking the witness stand on the first day of the trial of 24-year-old Marchell Mitchell on four felony counts, Francisco Martinez, who's now 19, said the confrontation occurred at about 9 a.m. on May 19, 2014, after Mitchell approached him in a school courtyard and said he and another guard needed to take him to a classroom.
Martinez admitted he got to school late that day but said he's late to school sometimes because some bus drivers don't stop for him since he's in a wheelchair and they don't want to take the time to use a ramp to help him board.
Martinez said he was waiting for his second period class to start but Mitchell, who was fired after the incident and faces two counts each of inflicting corporal injury to a child and assault with force likely to cause great bodily injury, insisted on pushing him in his wheelchair to his first class.
Martinez said the confrontation occurred inside the building after he told Mitchell to stop pushing his wheelchair, explaining that his wheelchair "is like an extension of me" and he doesn't like it when other people push him.
He said he tried to push his wheelchair on his own but Mitchell threw him out of his wheelchair and kicked him in his head with his boots.
Martinez said Mitchell handcuffed him but the struggle continued as Mitchell and the other security guard pushed him into an elevator to take him to an upper floor where the principal's office is located.
Martinez said Mitchell hit him a total of four times and "stomped all over my dignity."
He said the confrontation was finally stopped by the school's principal, Matin Abdel-Qawi, after he came out of his office.
Martinez said he's only 4-foot-5 and weighs only about 110 pounds and estimated that Mitchell is 5-foot-6 and weighs about 160 pounds.
Martinez said he was taken to USCF Benioff Children's Hospital Oakland to be treated for his injuries and he still suffers from back pain, neck pain and trauma he suffered in the incident.
Martinez said he filed a lawsuit against the Oakland Unified School District alleging that he was the victim of excessive force but his lawyers recently reached a settlement with the district for an undisclosed amount.
Mitchell's lawyer, Nabiel Ahmed, painted a different picture of the incident, alleging that Mitchell feared for his safety because Martinez is a gang member who was "making gang-related threats and calling for his friends to help him" in the incident.
Ahmed told jurors that when Mitchell takes the witness stand later in the trial "he will tell you he deeply regrets this action and he could have handled it better but he was in fear."
Ahmed alleged that Martinez "earned himself a reputation" for bad behavior in school and before the incident Mitchell "was familiar with his frequent outbursts and tardiness and unabashed disregard for authority."
Under questioning by prosecutor Gemma Daggs, Martinez, who is still a student at Oakland High School, admitted that he's been involved in several incidents at different schools over the years, including one in which he said he was being picked on by other students and he threatened to "come back" for them the next day.
Martinez said school officials alleged that he has gang tattoos on his arms and was making gang signs, but his tattoos don't have anything to do with gangs. Martinez said he's not a gang member and doesn't have friends who are in gangs.
Martinez will be cross-examined by Ahmed when Mitchell's trial resumes on Wednesday.