Winter storm slams the South; bitter cold freezes Northeast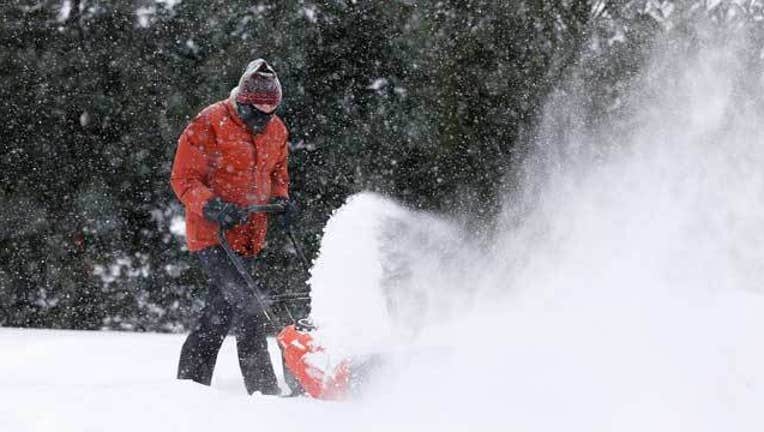 article
FRANKFORT, Ky. (AP) — Snow swirled sideways in Kentucky and the typically bustling state capital of Frankfort came to frozen halt Monday as a storm walloped parts of the South, which unlike the Northeast, had been mostly spared this winter.
That all changed with a mix of snow, sleet and freezing rain across the region, making roads treacherous and knocking out power to thousands of people. Luckily, the storm arrived on a holiday, Presidents Day, when many schools and businesses were already closed and the morning commute was not as busy.
Officials also made certain roads were prepared this year after Southern cities — most notably Atlanta — were caught off guard a year ago when a winter storm stranded thousands of people on interstates overnight. Raleigh suffered a similar fate last year.
Still, some weren't quite ready for the winter blast.
RL Doss said he had already used his 1987 GMC Suburban — which can haul up to three-quarters of a ton with ropes and chains — to rescue several people and their cars on the hills surrounding Frankfort. Cars were fishtailing and sliding off the slick roads.
"I look at it this way. Everybody is trying to get out, to get their last bit of food and stuff, getting home from work and people leaving for work and stuff, and it happens," he said, shivering in a pair of tan overalls pulled over a hooded sweat shirt.
And the truck, he said, glancing back at the burgundy behemoth, "I like to see what the truck can do and what it can't do. I push it to its limits."
In the Northeast, which has been slammed by seemingly endless snow, the white stuff had stopped falling but the temperatures were bitterly cold. New York City came close to breaking a 127-year-old record when the temperature in Central Park hit 3 degrees, just above the 1-degree record set in 1888, said Jeffrey Tongue, a National Weather Service meteorologist.
Boston Mayor Martin J. Walsh said the latest snow storm left one person dead, apparently due to a heart attack while shoveling snow. A partial roof collapse at an eight-building apartment complex in Portsmouth, New Hampshire, left 500 to 700 people looking for warmth. In New Jersey, a 66-year-old woman who had been drinking at a benefit was found dead in the snow, just two doors from her home. Firefighters working to extinguish a blaze in Philadelphia left behind a building coated in icicles. No one was hurt.
The winter storm was headed toward the Carolinas on Monday night and then expected to crawl along the East Coast toward the Mid-Atlantic and Northeast.
Kentucky Gov. Steve Beshear urged people to stay home if possible. The state was expecting anywhere from anywhere from 6 to 15 inches of snow by Monday evening.
Road crews struggled to make progress as the dry, powdery snow quickly piled up thanks to the frigid temperatures over the weekend that kept the ground and roads cold. Arkansas, where temperatures plummeted from the 70s on Saturday to highs in the 30s a day later, had nearly 30,000 people without power at the peak of the storm.
Back in Kentucky, Demario Toney was recently transferred for his job to Frankfort and was living in a hotel room with no microwave and no refrigerator, so he ventured out in the snow in a rental car to get some fast-food. On his way back, he got stuck trying to get back on a main road.
"I just got up and decided to go out and get something to eat," he said. "But I didn't know I was going to get stuck."
Roads were slushy and traffic was moving slowly in Tennessee. Justyn Jackson, a meteorologist with the National Weather Service in Nashville, said the last bad winter storm in the city was 2010 when up to 4 inches of snow fell.
"A lot of cities up North, they deal with this several times during the winter. It's really not uncommon for them at all," Jackson said. "Down here, especially in Nashville, although it's not rare, it certainly on average happens once or twice a winter."
Georgia officials were taking no chances, bringing in more personnel to the state operations center and pre-treating roads with a mixture of salt and water. Atlanta was expected to get rain, dodging any icy or snowy conditions, a welcome forecast for residents who remembered the thousands of cars stranded on the highways last year.
Up to a quarter of an inch of ice could accumulate in a handful mountainous northern counties.
Gov. Pat McCrory says he hopes North Carolina government is "over-prepared and underwhelmed." It's been almost a year since a winter storm dumped as much as 22 inches of snow in the North Carolina mountains and pelted the eastern part of the state with ice. In Raleigh, much like Atlanta, many abandoned their cars alongside the road or in parking lots — if they could navigate.
John Moore, a meteorologist with the National Weather Service in Memphis, said he believes Tennessee was prepared in part because of the embarrassing scene that paralyzed Atlanta last year.
"We got the word out ahead of time to let people know, that even if we're not expecting a lot, still check your forecast before you leave home in the morning because stuff can change so quickly," he said.