Witness describes night she claims San Jose officer raped her at hotel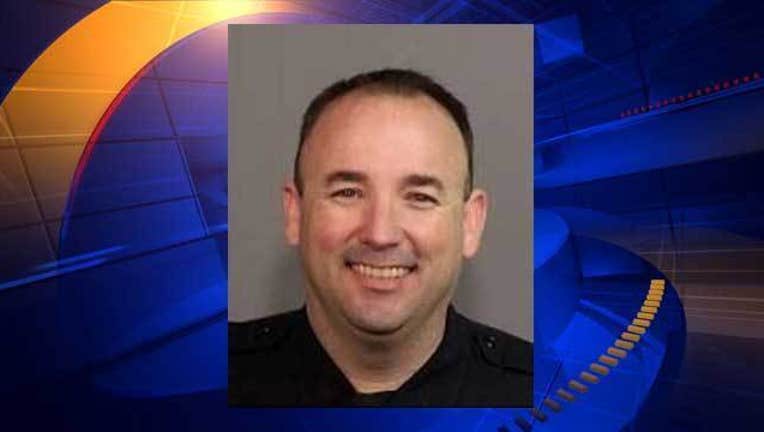 article
SAN JOSE, Calif. (KTVU and wires) -- A woman who has accused a San Jose police officer with raping her testified Tuesday that the officer knocked on her hotel room door in 2013, walked in and sexually assaulted her, but his defense lawyer claimed she made inconsistent statements.
The woman, in emotional testimony during a preliminary hearing in Santa Clara County Superior Court in San Jose, maintained that the officer took off his gun belt and would not tell her what he was doing in her room.
"He said to me, 'You crazy lady, you crazy lady,'" she said through a Spanish language interpreter.
"He threw me like this on the bed," the woman said, placing her hands on the front of her body. "He took his pants off and took advantage of me."
She testified that she did not report the incident to anyone until informing police three weeks later out of "a lot of fear because I asked an officer out to my house," she said. "He is supposedly there to protect you."
The woman, a hotel worker, mother of five and native of Mexico who does not speak English fluently, is the primary witness for the District Attorney's Office in the prosecution of San Jose police officer Geoffrey Evatt Graves.
Graves, 39, of Gilroy, who is free on bail, is charged with raping the woman while he was on duty after driving her to the TownePlace Suites by Marriot hotel at 440 Saratoga Ave. in San Jose following an early morning domestic dispute she had with her husband on Sept. 22, 2013.
He is also charged in the same case with two counts of felony assault on his one-time girlfriend, a San Jose police dispatcher, in 2012 and 2013. He has pleaded not guilty to all of the charges.
Tuesday was the second day of Graves' preliminary hearing after which Judge JoAnne McCracken will decide whether there is enough evidence for him to stand trial. The preliminary hearing will continue Wednesday at 1:30 p.m.
According to prosecutors, the scenario that led to the alleged rape began at about 2 a.m. on Sept. 22, 2013, when the woman's 11-year-old daughter called San Jose police while the woman was arguing with her husband at their home.
The witness, while being questioned Tuesday by Deputy District Attorney Carlos Vega, said that she, her husband and children on the previous day had driven to an afternoon party in Napa, where she said she drank some beers and they returned to San Jose later that night.
When they made it home, she said she and her husband had a verbal altercation regarding her son, during which she became upset and started crying. After her daughter phoned police, two officers arrived, one who spoke Spanish and interviewed her, she said.
She then told police she wanted to spend the night at the Marriott, where she used to work and knew the front desk clerk.
From the stand, she pointed at Graves, sitting next to his defense attorney Darlene Bagley Comstedt, as the officer who drove her the short distance to the hotel in his patrol car.
Graves followed her into the lobby where she used a credit card to pay for a hotel room, she said.
Dressed as she was when she left home, in exercise pants, a T-shirt and no shoes, she got into an elevator by herself, used the card key to get into her third-floor room and prepared to sleep when she heard a knock at the door minutes later.
She said that the person there was Graves, who went past her into the room and stood by a sofa. She asked him what he was doing there.
After taking off his gun belt, he removed her pants and his pants and assaulted her for about 10 minutes, stopping when something was broadcast on his police radio, she testified.
He then left without a word and she remained in bed for about 15 minutes, frightened that he might return. She then went downstairs to ask the desk clerk why she permitted the officer to go to her room, but she did not tell the clerk what happened or request a different room.
The witness said she returned to the room and stayed until 7 a.m., when she showered and left.
Upon returning home, she did not confide with anyone about what happened because she said she was scared and afraid her husband might reject her if he found out.
She finally did report the incident that Oct. 14, after the California Highway Patrol pulled her over for running a red light and arrested her on suspicion of DUI when she registered a blood-alcohol level more than twice the legal limit.
While in county jail, she told San Jose police about the alleged sexual assault, which would lead to a five-month investigation and a warrant for Graves' arrest. He surrendered to police on March 10, 2014 and is still out on $100,000 bail.
But during cross-examination, Graves' attorney Comstedt challenged the woman's testimony that Comstedt said conflicted with what she told police detectives after her 2013 DUI arrest.
The witness, who had declared to investigators earlier that Graves removed his shirt during the encounter, said today that his shirt was on and she could not recall if he removed his clothing.
"I don't remember him taking off anything," she said.
Comstedt said the witness admitted to investigators she drank three or four tequila shots prior to arguing with her husband the night of the alleged rape and the quarrel flared not because of her son, but due to the fact she "felt unloved" and "felt I didn't have anyone in America."
The witness said that she could not recall making those statements or what she drank, but conceded that perhaps it was five beers.
She also admitted during her DUI arrest on Oct. 14, her blood-alcohol level measured at 0.18, but she told Comstedt that she did not feel intoxicated during her police interview about the alleged rape.
The witness denied telling investigators earlier that after she answered the knock on her hotel room door, Graves told her he "came to see what you were doing and how you were."
Comstedt also entered as evidence the witness' hotel room receipt, showing her check out time at the Marriott was 1:58 p.m., not 7 a.m.