'Zero visibilty,' blizzard, avalanche warnings in Tahoe as another storm slams Sierra, closes ski resorts
SOUTH LAKE TAHOE, Calif. - The Sierra was getting hit with another flurry of snow on Tuesday as the region remained under avalanche and blizzard warnings with whiteout conditions and snow obstructed roads leading to road closures. 
The National Weather Service (NWS) placed the Greater Lake Tahoe Area under a blizzard warning until Wednesday and also warned that the area faced high risk of potentially large avalanches. 
"A winter storm with gale-force winds, high-intensity snowfall, and feet of new snow accumulation will cause widespread avalanche activity in the mountains. Large avalanches could occur in a variety of areas," the agency said in its alert, adding this warning: "Travel in, near, or below avalanche terrain is not recommended. Any steep slopes could be dangerous."
Heavy snow was expected through the evening and then after midnight and into the overnight hours. The NWS also forecasted gusts of up to 50 miles an hour with ridge gusts hitting up to 95 mph. 
There was a chance of more snow on Wednesday, with accumulations of up to two inches expected. 
SEE ALSO: Heavy rain and snow cause road closures in U.S., California
SEE ALSO: Bay Area gears up for another round of wet weather
On the roads, motorists faced whiteout conditions, and Interstate 80 remained closed on Tuesday. 
Caltrans shut down I-80 from Applegate in Placer County to the Nevada State Line, "due to zero visibility." 
As of Tuesday afternoon, traffic was being held on Highway 50 from Pollock Pines to Meyers in El Dorado County. Chain requirements were in place, and Caltrans advised drivers to check for chain control advisories before hitting the road.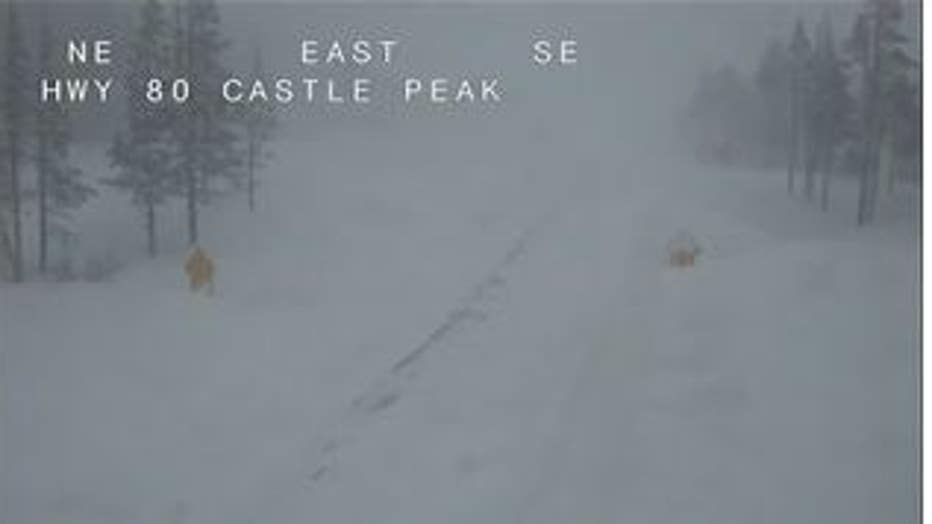 Screen grab of Caltrans' live traffic camera at Interstate 80 at Soda Springs and Highway 80 at Castle Peak on Tuesday, Feb. 28, 2023. (Caltrans)
With the closure of 80, many motorists traveling to the area were attempting to take backgrounds to skirt the closure, according to the Placer County Sheriff's Office, which warned that it's an extremely dangerous and ill-advised decision to do so.
"It has come to our attention there has been an increasing number of drivers using GPS to find their way around the Interstate 80 closures," the sheriff's office wrote on Facebook on Monday, with the post titled "WINTER SNOW STORM PSA!!"
Sheriff's officials noted that the heavy snow was going to be around for a while and warned, "Folks, the closures are put in place for your safety — backroads are not any safer, as evidenced by the multiple spin outs and crashes that have already occurred today. Please heed official warnings for your safety and the safety of others — the snow is not going away any time soon."
The UC Berkeley Central Sierra Snow Lab posted video of the snow coming down in the morning, noting it received three feet of new snow just in 24 hours, bringing the seven-day total to more than nine feet. 
"We are now within 6.5 feet of our 2016/2017 winter season (47.77 feet). Plenty more on the way!" the lab shared.
While the abundance of snow translated to a big boon for Tahoe ski and snowboarding resorts, the hazardous weather conditions prompted widespread closures of operations on Tuesday.
"Due to the extreme conditions, we have decided to keep the resort closed today," Sugar Bowl announced, adding, "A team will be onsite today digging out, so we can reopen tomorrow (3/1/23) for what promises to be an amazing pow day!"
Other resorts, including Kirkwood and Palisades Tahoe, also shut down due to the dangerous conditions.  
"Extremely low visibility and avalanche conditions exist," Palisades shared. "Both Palisades and Alpine will be closed today  to prioritize the safety of our employees and of our guests." 
At Heavenly Lake Tahoe, the ski resort closed its gondola and other lifts and facilities at the top of the gondola due to the extreme weather. 
Northstar California Resort in Truckee, which was also closed, reported more than 34 feet of snow so far this season. "Old Man Winter has returned to Tahoe," the resort shared on Twitter over the weekend, adding, "and it looks like he's sticking around awhile." 
This story was reported from Oakland, Calif.