49ers add cornerback in third round and make another trade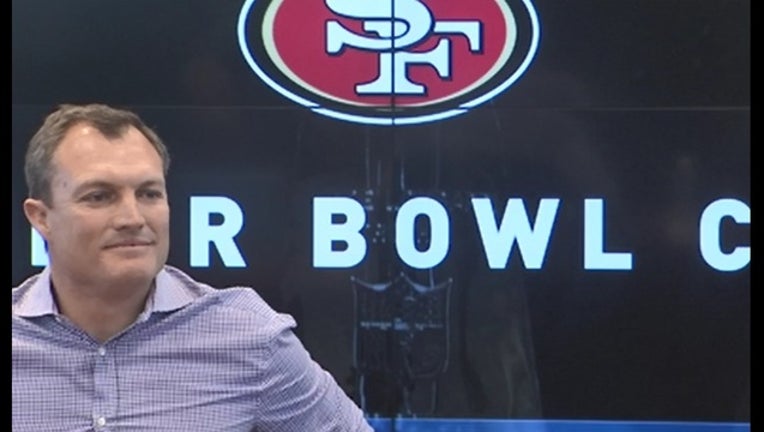 article
SANTA CLARA (AP) -- San Francisco 49ers general manager John Lynch continued to be a busy man on the second day of the draft, using a pair of third-round picks on Colorado cornerback Ahkello Witherspoon and Iowa quarterback C.J. Beathard while making two more trades Friday.
Witherspoon was taken with the 66th overall selection in the draft. San Francisco did not have a second-round pick after trading it to Seattle as part of a deal for the 31st overall pick on Thursday.
Beathard was taken 104th overall after Lynch's second trade of the day and fourth of the draft. San Francisco sent the 109th and 219th picks in this year's draft to get the selection from Minnesota.
The 49ers also owned the 67th pick from a trade with Chicago a day earlier but traded it to New Orleans in exchange for the Saints' seventh-round pick this year and a second-round selection in 2018.
MORE COVERAGE
Witherspoon's selection comes as San Francisco tries to revamp a defense that finished last in the NFL a year ago.
Lynch used the third overall pick on defensive lineman Solomon Thomas from Stanford then moved back into the first round to get Alabama linebacker Reuben Foster.
Adding Witherspoon addresses a pressing need in the 49ers secondary. Tramaine Brock, a starter in 2016, was released earlier this month after being arrested over an alleged domestic violence incident. Jimmie Ward is being moved to safety.
Witherspoon led the nation with 22 pass breakups in 2016 and had three interceptions in three seasons at Colorado while playing right cornerback. The 6-foot-3, 195-pound Witherspoon has played inside and outside, though in San Francisco he's likely to stay on the outside where his size can be an advantage.
Beathard, the grandson of former NFL general manager Bobby Beathard, passed for 1,929 yards and 17 touchdowns as a senior.
It was a much calmer day at 49ers headquarters after Lynch's busy debut 24 hours earlier.
Lynch used the third-overall pick on Thomas after moving down a spot in a trade with Chicago that also netted San Francisco additional lower-round picks, including the third-rounder that the 49ers later dealt to New Orleans.
San Francisco also made the deal with Seattle to move back into the first round to get Foster. As part of that deal, the 49ers sent their second-round pick this year to the Seahawks.
Thomas and Foster spent a few minutes getting acquainted before meeting with reporters at team headquarters Friday.
"It's going to be a lot of fun, and getting to play with a guy like Reuben, it's a dream come true," Thomas said. "I watched his highlight tape before and he can hit. I can't wait to see him hit someone."
Foster won't be hitting anyone for a while. The 2016 Butkus Award winner underwent right shoulder surgery and will be limited during OTAs, although Foster said he expects to be cleared in time for training camp.
The Alabama linebacker had been projected to go early in the first round but concerns over his shoulder -- along with being sent home from the scouting combine and a diluted urine test -- made teams leery.
"I don't look back at that," Foster said. "Since (San Francisco) picked me, there's a new leaf. There's a new journey for me. I'm just looking forward to becoming great."