Marin City native honors late friend as he leads San Diego State to Final Four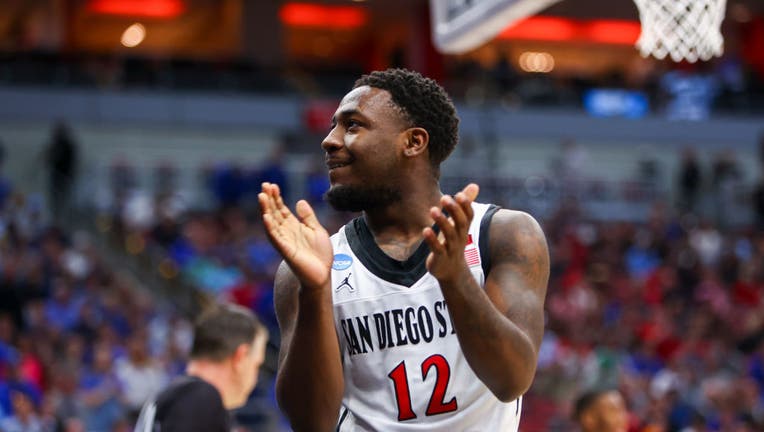 article
MARIN CITY, Calif. - When Darrion Trammell started walking at the precocious age of 7 months old, his dad knew he was different. 
But when Darrion started dribbling a basketball simultaneously, less than a month later, his dad knew his son may have a special talent. 
He was right. 
On Saturday, Darrion, who grew up in Marin City, will lead San Diego State as they take on Florida Atlantic in the school's first-ever Final Four appearance. 
"This is his dream," said Damien Tarmmell, Darrion's father. "It's been amazing to witness."
Trammell, a 5 '10 point guard, had anything but a linear route to San Diego. 
Coming out of St. Ignatious High School, Trammell had zero Division I scholarship offers. 
So, he started climbing the ladder. His first stop was at City College of San Francisco. Then he spent two seasons at Seattle University. 
During off-seasons, he would return to Marin City and practice every day.
"He would drive hours, to find an open gym in Oakland or Sacramento and San Jose," Damien said. 
Darrion thrived on the court at Seattle. 
But off the court, he was coping with the death of his childhood best friend, Jaquez Sweeney, who Darrion called a brother. 
The boys grew up playing just about every sport imaginable together. 
Jaquez was killed at the age of 22. 
Darrion flew home to be a pallbearer at Jaquez's funnel service in the Bay Area. 
Now Damien said Darrion uses it as motivation. 
Last Saturday, when San Diego State battled Creighton for a spot in the Final Four, it was evident Jaquez was on Darrion's mind. 
The Aztecs' last point, in the 57-56 win, came from Darrion. 
He put up a floater just inside the paint, in the final seconds. 
The shot was short, but the referees called a controversial foul. 
Darrion banked one of two free throws to seal the deal for San Diego State.
Then, as the buzzer blared throughout a packed Yum! KFC Center in Louisville, Kentucky, it all hit Darrion. 
He was living his dream. 
"It's just a game. I'm doing this for my family, I'm doing this for the people back home, my grandpa, my brother who I lost," he said. "It's my journey like what I've been through, it's just a blessing to be able to be here."
But, Damien is not surprised his son is on this stage.
"He had an acronym, EDWMTM: every dream is worth more than money," Damien said. "He came up with it when he was in third or fourth grade."
Darrion has it tattooed on his arm. He lives by those words. 
They've carried him far. And his dad is confident they'll carry him as far. 
"I'm confident we're going to win the national championship," Damien said. "We have to."