Pavelski's late goal gives Sharks 3-2 win over Predators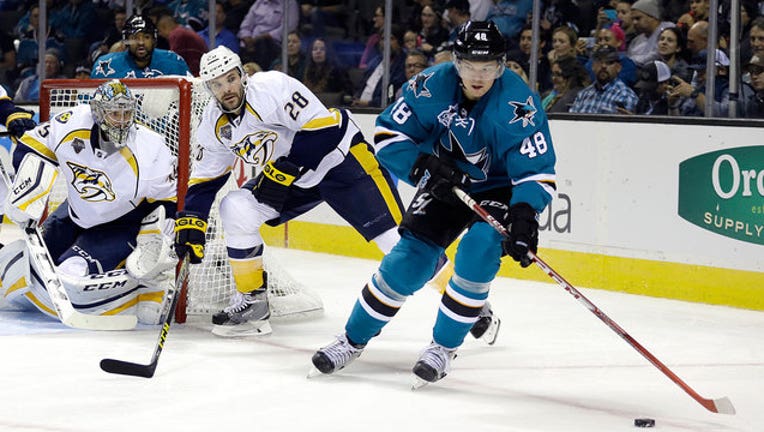 article
SAN JOSE, Calif. (AP) - The Nashville Predators frustrated Joe Pavelski and San Jose's top line for much of the night, forcing turnovers, blocking shots and limiting chances.
That all changed with one big shift late in the game that put the Sharks in control of their second-round series.
Pavelski scored the tiebreaking goal with 2:40 left in regulation and Martin Jones stopped 37 shots to lead San Jose to a 3-2 victory over the Nashville Predators on Sunday night and a 2-0 series lead.
"I don't think it was our line's best game, by any means," Pavelski said. "Our last shift, you take a look, there's three minutes left, it's tied, you hope for a chance."
He got one and San Jose's captain delivered just as he always seems to do in the biggest moments.
Joe Thornton started the sequence by sending a cross-ice pass to Matt Nieto, whose initial shot was stopped by Pekka Rinne. But Pavelski knocked the rebound in for his sixth goal of the playoffs to give the Sharks a lead they wouldn't relinquish.
"Those guys, I'm sure they'd be the first to tell you, they didn't spent a lot of time in the offensive zone tonight like we're used to," Sharks forward Logan Couture said. "But, when we needed a big goal, those guys stepped up and they did it for us."
Couture added a power-play goal and Thornton scored an empty-net goal that proved crucial when Ryan Johansen scored with 3.6 seconds left for the Predators.
Mattias Ekholm tied the game earlier in the third and Johansen scored late for Nashville, but the Predators head home from California in much worse shape than they did in the first round when they won the first two games in Anaheim on the way to taking the series in seven games. Pekka Rinne made 22 saves.
"I think we were better team out there tonight," Ekholm said. "We were just as good as they were tonight. They got a lucky bounce in the end and scored the game winner."
Game 3 is Tuesday night. San Jose won the most road games in the NHL this season and all three in Los Angeles in the first round.
Rinne had helped keep Nashville in the game long enough to get the equalizer midway through the third. With San Jose leading 1-0, Rinne robbed Nick Spaling with a pad save on a 2-on-1 with San Jose short-handed.
A few minutes later, Ekholm got the equalizer when his shot from the high slot got past a screened Jones to make it 1-1.
The Sharks scored first following an odd penalty late in the second period. Nashville defenseman Roman Josi tried to rush off the ice after a bad line change to avoid a too many men penalty, but jumped into the Sharks bench because he couldn't reach his own in time.
"I was trying to change, right when I was changing, the puck came up to our bench and came up to me," Josi said. "I tried to get off, but it was too late."
That move shocked the San Jose players but didn't avoid the penalty and the Sharks made Nashville pay for the mistake. Early on the ensuing power play, Brent Burns fired a point shot on net that Rinne stopped with his pads. But Couture jumped on the rebound and knocked it in with 1:24 left for his third goal of the series.
Burns and the rest of the Sharks had struggled to get shots on net before that with Nashville blocking five shots by Burns before he finally got one to Rinne off a deflection by Pavelski.
Even when they did manage to get shots through the defense, Rinne was there to stop them. His best sequence came early in the second period when Joonas Donskoi slid a pass to Couture, whose shot from the slot was stopped by Rinne. Donskoi got the rebound and appeared to have an empty net to shoot at but Rinne slid over to make another save.
The power-play goal by Couture was San Jose's third in its first five chances with the man advantage this series as special teams have played a major role in the Sharks' success the past two games
San Jose even killed a penalty for too many men in the ice shortly before Couture's goal as Nashville fell to 2-for-31 on the power play this postseason.
NOTES: The Predators have lost all six postseason games they have played in San Jose, getting outscored 23-12. ... F Craig Smith returned to the lineup for Nashville after missing Game 1 with a lower-body injury.