They're not just Logan Webb's grandmas, they're also roommates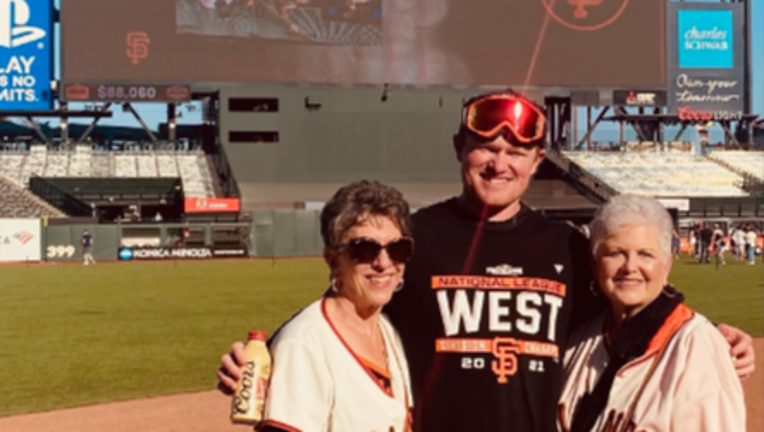 article
SAN FRANCISCO - Walking into Oracle Park on any given game day, there is no shortage of Giants jerseys with Webb stitched atop a No. 62. 
But beware, if Jan Webb or Patty Fecanin pass by someone wearing one, chances are they're going to start a conversation. 
The two women are Giants pitcher Logan Webb's grandmothers and they hope everyone knows it. 
"Jan and I are really naughty," Patty said. "Whenever someone is wearing a Giants hat or something, we say, 'Oh, are you a San Francisco fan?' and we say, 'Well, you know my grandson is Logan Webb.' This is usually their reaction." 
Patty's jaw dropped, her hands pressed to her cheeks and the words 'Are you serious' left her mouth as she reenacted the reaction.
Webb, who grew up in Rocklin, Calif., hasn't been shy about his close-knit relationship with his family. 
But he is especially close with Patty and Jan or as Logan calls them, "the grandmas."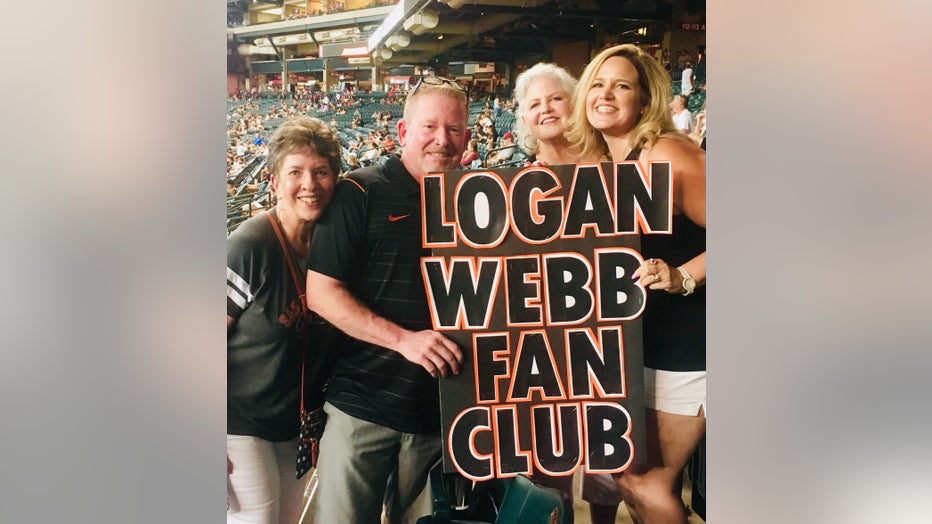 Logan Webb's family at a Giants game in San Francisco, Calfiornia. 
Both Patty and Jan watched Webb and his brother as kids. 
According to Webb, the two have been to nearly every one of his baseball games since he was 6 years old. 
You don't have to spend longer than a minute with either of them to know they would do anything to watch Webb play the game he's always loved.
Patty and Jan are die-hard Giants fans, travel partners and roommates. That's right, they live together
"I don't feel like in-laws are always the nicest to each other, and they are, it's a cool relationship," Webb said. "I guess it kind of is like a college roommate situation. They both have their own chores they do."
Jan and Patty moved in together following the deaths of their husbands which happened about a year apart and on the heels of Jan's cancer diagnosis. 
The two have been inseparable since. 
"It's like a roommate and a sister all rolled into one travel mate," Patty said. "She knows me about as deeply as my sister knows me."
The two created a bucket list of things they always wanted to do but never got around to, together they've been checking off boxes ever since.  
At the top of the list was traveling. 
"They went everywhere," Webb laughed. "Two grandmas and a Prius went to every spot in America, they went to Europe and they went on a cruise to Alaska. It's quite amazing."
Their adventures ranged from a helicopter ride over Niagara Falls, to going to the top of the Eiffel Tower in Paris and visiting Graceland in Tennessee.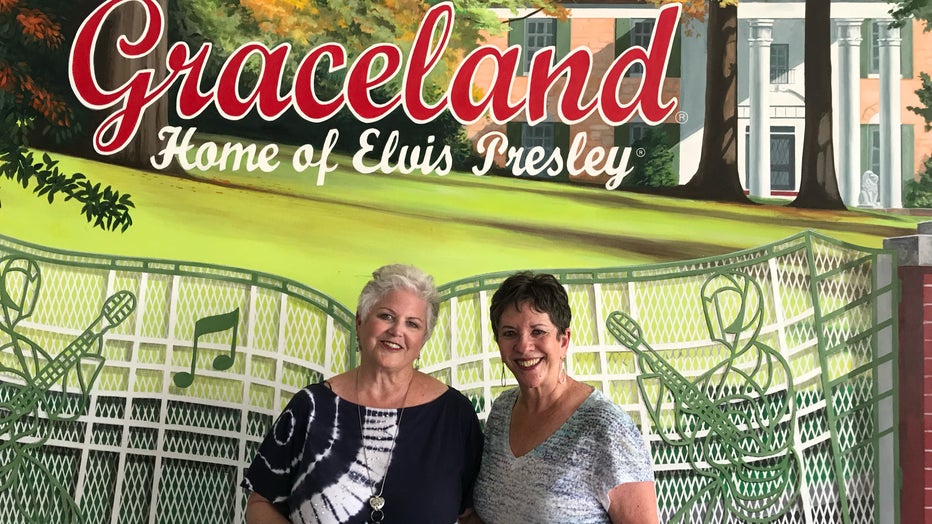 Jan Webb and Patty Fecanin at Graceland in Tennessee.
"I said how many people get to go on a helicopter-- grandmas, the elder ladies!" Jan said laughing. 
But their last stop, in Oregon, was their favorite and it should come as no surprise why. 
"We had to go to Oregon because that's where Logan was pitching in the minor leagues," Jan said. 
Soon after Webb got called up to the Major Leagues, which meant so did the grandmas. 
"They are the team grandmas," Webb said. "They love Sean Maneah. Patrick [Bailey] they love Patrick."
Patty admitted she's not shy and will stop the players and introduce herself. 
According to Webb, Patty's favorite Giant is Wilmer Flores. She even gifted Flores a shirt for his newborn son on opening day. 
"Wilmer was like 'Did your grandma give me a present' I'm like 'Yeah, she's amazing.' It was from the two grandmas," Webb said. 
The two haven't been able to meet Flores in person yet, but Webb said he's working on setting that up.  
The list of whom they have met is extensive – everyone from Bruce Bochy to Will Clark.
"Will Clark, he and I are really good friends," Patty said. "I really enjoy talking to him. He teaches me a lot about hitting when he has the time."
But after all these years it's safe to say, number 62 is their favorite.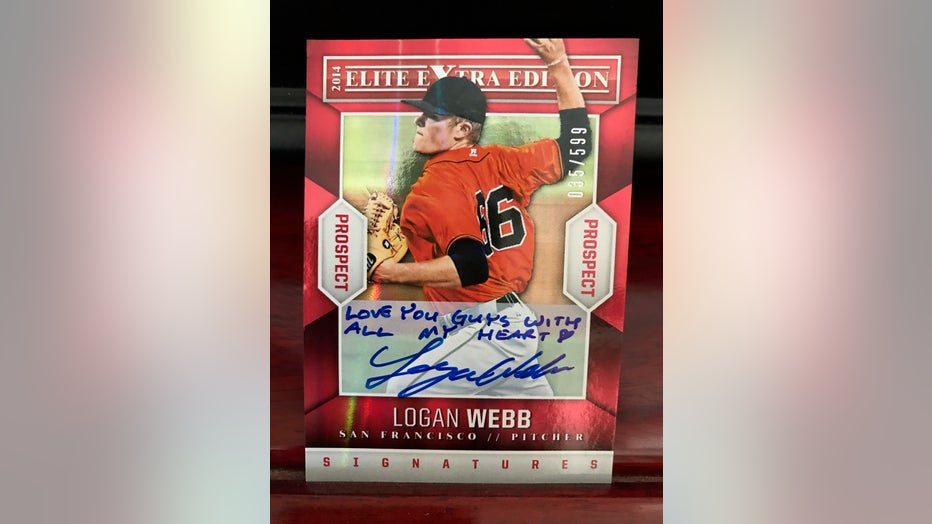 A card Giants pitcher Logan Webb signed for his grandmothers, Patty and Jan. 
"They're the first ones to text me before the game and the first ones to text me after the game," Webb said. 
Those texts have become a part of Webb's pregame routine. 
"My grandma Jan will send a long paragraph saying, 'Kick butt, I love you.'" Webb said. "My grandma Patty will send an emoji and if we're playing the Dodgers, 'You are going to kick some Dodger ass.' I'm like, 'Yeah, it gets me fired up a little.' "
Sending the texts is as much a part of the grandmas' pregame ritual as receiving them is for Webb. 
Once at the stadium, the grandmas are locked in, but not quiet about their feelings as the umpires call balls and strikes. 
"You have to jump up and down and scream about certain calls," Jan said. "But I don't swear or anything, but I do scream." 
Both Jan and Patty said they are having the time of their lives.
"How lucky are we, it's still surreal when you think how many boys want to do it and how few boys make it," Patty said. "When he was in Little League, he would not hesitate to yell at us grandmas and blow us a kiss," Jan said. "He still does it. Still throws us a kiss."