The Warriors' secret weapon is a woman you've likely never heard of
SAN FRANCISCO - If Steph Curry is the heart of the basketball dynasty that is the Golden State Warriors, then Nanea McGuigan is the backbone. 
But, if you've never heard McGuigan's name, that is certainly not by accident. 
McGuigan, who has been with the team for 19 seasons, is the director of basketball administration and player programs. 
The soft-spoken administrator is happiest the further she is from the spotlight.
She only agreed to sit down with KTVU, in her first on-camera interview, because of what it could do for the next generation of women, most importantly her daughter. She certainly didn't grant the request so that Warriors fans would know her name.
Just this week, as McGuigan was standing courtside ahead of the team's matchup with the Los Angeles Clippers in San Francisco, Warriors superstar Klay Thompson came up to her with a warm embrace.
He quipped: "I know you don't like the camera on you."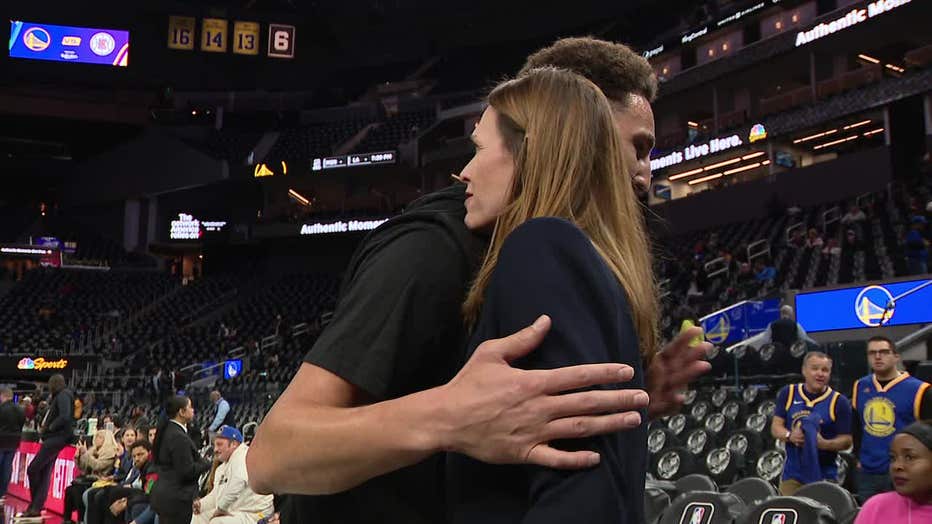 Warriors superstar Klay Thompson hugs Nanea McGuigan while warming up before a game against the Los Angeles Clipper on March 2, 2023.
McGuigan thrust into the spotlight
But, McGuigan couldn't stay unnoticed forever. 
She was thrust into the brightest of spotlights by none other than Curry on Oct. 18, 2022, when the team received their 2021-22 NBA championship rings. 
Ahead of the ceremony, McGuigan was told to be on the court for something unrelated -- she doesn't remember exactly what the reason was. 
Instead, Curry took the mic at center court and called out McGuigan. He gave her the larger-than-life gold ring in front of tens of thousands of fans, TV cameras, and her co-workers. 
"I want to bring you out Nanea, You are a special, special part of our organization," Curry said. "You deserve all the recognition for making things go."
McGuigan's jaw dropped. 
"I was completely caught off guard," McGuigan said. "When they called my name, my first instinct was to run back through the tunnel."
Months later, McGuigan is thankful that Curry recognized her publicly. 
Not because everyone in Chase Center knew her name, but rather because of what the moment meant to every woman young and old in the arena and watching at home that night. 
"Even if you're not wearing a jersey you can make a serious contribution and be a part of something great," McGuigan said. 
Her job description goes well beyond her title. 
McGuigan does pretty much everything
Ask anyone with the Warriors what she does, they'll all tell you the same thing. 
Everything. 
"A little bit of everything and whatever is needed," said Warriors Vice President of Basketball Operations Mike Dunleavy. "Nanea will always go the extra mile. If you have a rental car that needs to be returned. She will call a tow truck to get it returned."
McGuigan has gone to foreign consulates to ensure paperwork is processed for players and their families to travel abroad. She can help players find nutritionists, realtors and schools for their kids. 
She handled logistics for the 100-plus people traveling with the Warriors for their visit to the White House and for a team's pre-season trip to Japan. She arranged everything from team dinners to transportation and private security screenings to a samurai demonstration. 
Dunleavy said much of what McGuigan does goes unnoticed because she does it so well. 
SEE ALSO: Dual sport high school athlete makes comeback after being hit by a drunk driver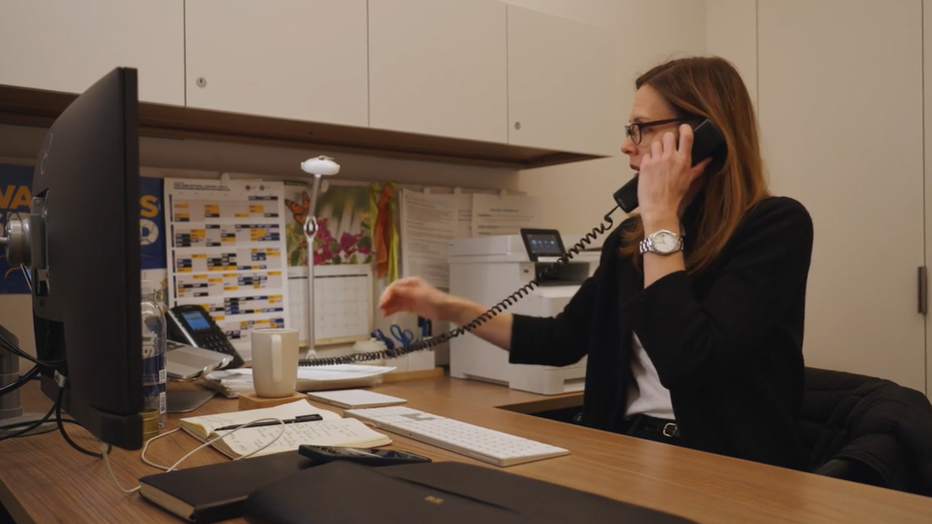 Nanea McGuigan works at her desk in San Francisco, California. 
McGuigan shrugs off the praise. 
"It's not really splashy or flashy," McGuigan said. "I just make sure everyone is at the right place at the right time and doing what they need to be doing."
Lifetime of memories with Warriors 
McGuigan has made a lifetime of memories with the Warriors. 
But she never imagined her life would play out like this.
McGuigan grew up on Oahu and loved playing volleyball. But her ultimate dream was to become an attorney, not a front office executive. 
She's glad her life did not turn out how she originally imagined. 
"I'm grateful I didn't go that path because [championship] parades are a lot more fun than court," McGuigan said. 
In 2004, everything changed when McGuigan landed an interview with Hall of Famer and former Warrior Chris Mullin through a connection with a family friend. 
Nanea McGuigan catches up with former Golden State Warrior Chris Mullin before a game on March 2, 2023. 
"I was invited to an interview and ended up becoming an administration assistant to Mike Montgomery when he was the head coach," McGuigan said. 
When she started her tenure with the Warriors, very few women had infiltrated the boys club that was men's professional sports. 
That's part of the reason McGuigan's mentor at the time cautioned her against taking the job.
"She said I wouldn't last, 'You're not going to make it, it's not for you'," McGuigan recalled.  
Her parents echoed that message. 
"They're like, 'Why would you do that?'" McGuigan said. "It was leaving a safe and stable job for something that might not be so stable. I think they came from a good place."
SEE ALSO: Steve Kerr's Doppelganger makes special visit to Warriors game
Four rings later 
Now, four NBA championship rings later, McGuigan is overjoyed that she landed with the Warriors nearly two decades ago. 
"My dad changed his mind as soon as we won our first championship," McGuigan said with a chuckle.  
As for what's next, McGuigan said she'll stay with the Warriors for as long as they'll let her.
McGuigan said she couldn't care less about her own personal legacy. 
She is looking forward to reaching down and giving a hand up to the next generation of women.
"I just want girls to know they can do this," she said. 
One of those girls is her daughter. 
McGuigan has balanced the Warriors and being a mother, her daughter has never known life without the team. 
"My kid thinks I have the coolest job in the world," McGuigan said. "So that's it. That's all that matters at the end of the day."
Bailey O'Carroll is a reporter for KTVU. Email Bailey at bailey.ocarroll@fox.com. Or follow her on Twitter @baileyocarroll.