Canadian wildfire smoke invades US again, impacts air quality for nearly 110 million Americans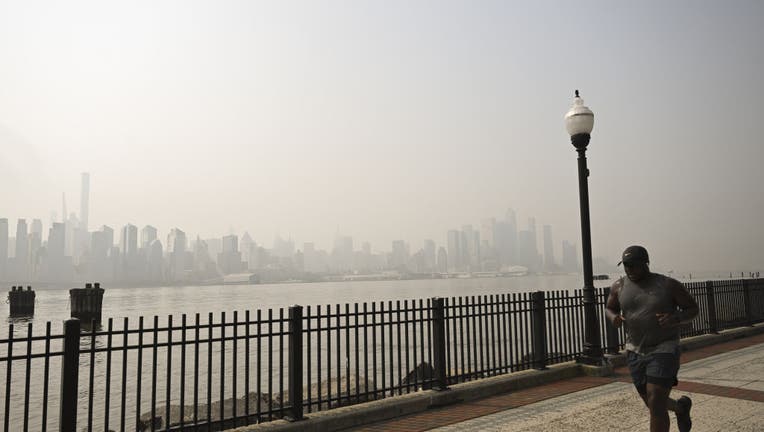 article
Air Quality Alerts are in place for nearly 110 million people as smoke from the Canadian wildfires returns through Monday evening. 
Montana through Indiana was reporting Unhealthy air quality levels pm Sunday. Additionally, air quality levels ranging from Moderate to Unhealthy for Sensitive Groups were being reported across the Northern Plains through parts of the Ohio Valley. 
Wildfire smoke forecast Monday
The majority of the wildfire smoke moved into the Ohio Valley on Sunday. This impacted major cities, such as Indianapolis, Indiana; Louisville, Kentucky; and Cleveland, Ohio. 
Air quality alerts were issued from Montana to Vermont as the smoke continued to filter into more parts of the U.S. 
Monday will bring some slight relief for residents in the Midwest as upper-level winds will continue to drift the smoke east, but the smoke will continue to track into the Northeast. 
The FOX Forecast Center noted that there are no indications that plumes of smoke will let up anytime soon. The source of the smoke, Canadian wildfires, continue to burn out of control. This will be especially prevalent when storm systems move through, as northerly winds will help to transport the smoke south. 
The status of wildfires burning in Canada
The number of forest fires continues to rise in Canada, climbing this week to more than 670 blazes – more than half of which are still out of control. 
As a long and difficult summer lies ahead, Canadian fire officials said 23.9 million acres have already gone up in smoke across the country this year. That is equal to about the size of Indiana. The staggering number of acres burned is 11 times the average for the last decade. 
Smoke from wildfires in June engulfed major cities along the Interstate 95 corridor, which made for hazy skies and reduced visibilities. Air quality readings reached hazardous levels in Philadelphia, New York and other communities downwind of fires burning in Quebec.
Read more of this story from FOX Weather.