16-year-old girl killed, second woman injured in Bayview shooting
SAN FRANCISCO - San Francisco police are hoping members of the public with information will come forth as they search for clues in the Friday night shooting they say claimed the life of a 16-year-old girl and put a 45-year-old woman in the hospital.
"We are still gathering evidence. We are seeking the public's help" to solve the case, SFPD Officer Adam Lobsinger said in an interview Saturday.
The shootings occurred in the 100 block of Bertha Lane just before 7 p.m., police said. The two shooting victims were taken to the hospital before the officers arrived, according to police.
The 45-year-old victim was treated for injuries that are not deemed to be life-threatening, and she is expected to survive, police said.
Despite life-saving efforts, the 16-year-old victim succumbed to her injuries, police said.
Officers from Bayview Station responded to the scene Friday night, interviewed witnesses and searched for evidence. No arrests have been made in connection with the shooting, and the department's homicide detail is now leading the investigation.
Investigators are seeking the public's assistance in locating the shooting suspect. Anyone with information is asked to contact the SFPD 24-hour-tip line at 1-415-575- 4444, or Text a Tip to TIP411 and begin the message with SFPD.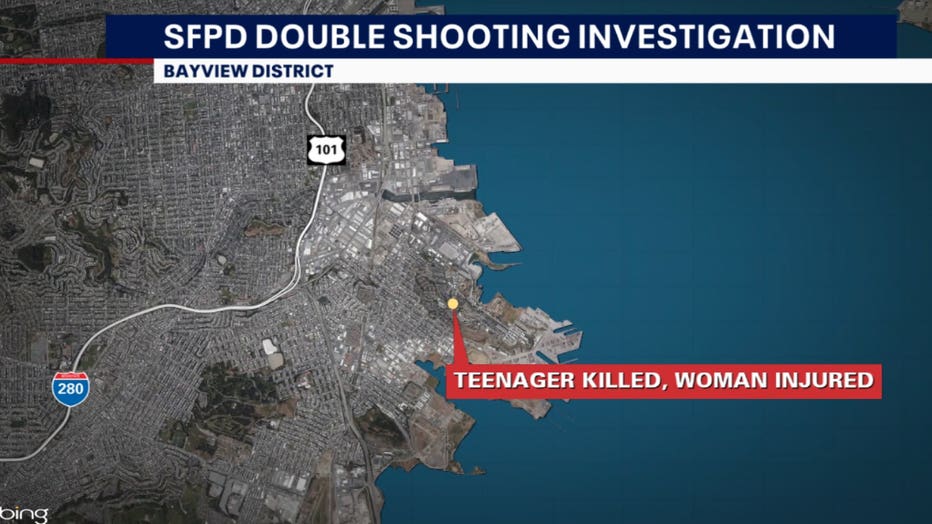 Rudy Valentino is the executive director of United Playaz, a nonprofit organization in San Francisco dedicated to supporting youth with programs on gun violence prevention. He says Bayview-Hunters Point is a neighborhood where shootings are frequent, adding that the work to help this community avoid and prevent gun violence is underway.
"We've got to continue to fight the good fight. Things like this are things that make me not want to do this work, but at the same time it makes me want to go even harder to continue to work and save lives, especially when you see little kids being buried," Valentino said.
He hopes to offer support to the family of the teenager if relatives choose to come forward.
"Somebody as young as 16 years old, it is so tragic," Valentino said. "To say somebody who hadn't even started their life already lost their life."