2 brothers accused of fatal stabbing at Hayward Target acted in self defense, lawyer says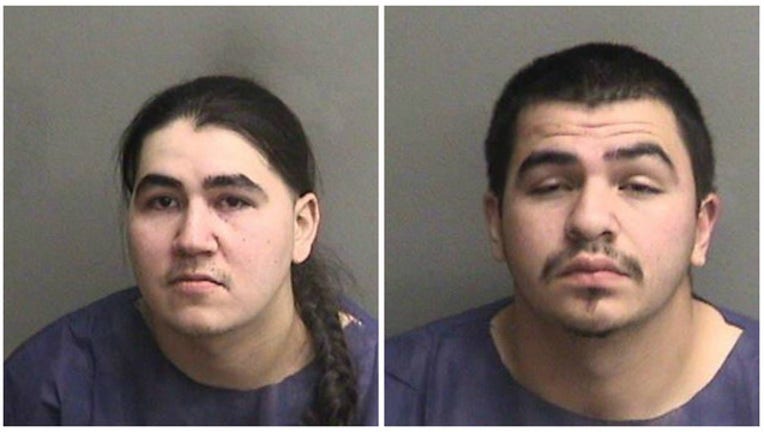 HAYWARD (BCN)-- The attorney for the man who's accused of fatally stabbing a 36-year-old man at a Target store in Hayward on Christmas Eve said today that he believes his client was acting in self-defense and will be fully exonerated.
Defense lawyer Daniel Shriro, who represents 25-year-old Jesse Archuleta, said the police report about the stabbing of Tyrone Griffin of Hayward in the toy aisle of the Target store at 2499 Whipple Road at about 8 p.m. on Saturday indicates that Griffin started the fight by hitting Archuleta's brother, 22-year-old Frankie Archuleta, over the head with a wine bottle.
Shriro said he hopes that the Target store's video surveillance cameras captured footage that will support his belief that Jesse Archuleta acted in self-defense but he hasn't seen any such footage so far.
After Griffin was stabbed, he was taken to Eden Medical Center in Castro Valley, where he was pronounced dead about two and a half hours later, according to police.
Hayward police Officer Justin Green wrote in a probable cause statement that Griffin got into an argument with the Archuleta brothers inside the store and it later turned into a physical altercation in which Griffin pulled a wine bottle off of a shelf and hit Frankie Archuleta with it.
Jesse Archuleta then stabbed Griffin three times in his upper torso and once in his left arm, Green wrote.
The Archuleta brothers fled the scene on foot but were later arrested by officers who found them hiding nearby behind a dumpster at the Motel 6 at 30155 Industrial Parkway Southwest, according to Green.
The Archuleta brothers were both positively identified as the suspects in the altercation with Griffin and Jessie Archuleta told police that he had carried out the stabbing and was defending himself, Green said.
The Archuleta brothers, who are both from Hayward, are both charged with murder and were arraigned on Wednesday. Jesse Archuleta is also charged with a use of a deadly weapon enhancement for allegedly using a knife to kill Griffin.
The brothers were scheduled to appear in court again on Thursday but Shriro and Frankie Archuleta's attorney, Richard Ortega, waived their appearances because they didn't want television cameras that were at the hearing to get footage of the brothers.
Griffin's widow, Nicole Simmons, the Archuleta's father and other family members of Griffin and the Archuleta brothers attended the brief hearing.
The Archuleta brothers are scheduled to return to court on Jan. 6 to possibly enter pleas.
RELATED COVERAGE