2 custodians found in Dublin school library with chemical smell - one dead, another hospitalized
DUBLIN, Calif. - One custodian is dead and another is in the hospital after the pair were found in the library at a Dublin middle school, possibly suffering from some sort of chemical reaction, two days before Christmas. 
And now the family is wondering if the bizarre tragedy could possibly be related to coronavirus cleaning solutions the two had been trained on in the last week or so. 
"He always had concerns," Tamara Covington-White said of her son, James Covington, 32, of Pittsburg, who was pronounced dead after being found in the school library. "He said he never had the right equipment. Why was he in there any way on Christmas week, cleaning, when no one was at the school?" 
Police found Covington and a 29-year-old woman in the library at Dublin's Fallon Middle School at 3601 Kohnen Way at around 7 a.m. on Wednesday. When they arrived, they detected an unknown chemical smell, police said. 
Covington-White identified the woman as her son's fiancee, Shameka Wilbon. The two had known each other since childhood and were supposed to have gotten married in June, but delayed the wedding because of coronavirus. Both had been trained on new coronavirus cleaning techniques, and both had been feeling sick for a while. 
The pair worked Tuesday from 3 p.m. to 8 p.m., Covington-White said. The babysitter, who watched their two children, ages 12 and 10, started getting worried when they hadn't returned from their shift about 8:30 p.m. She called Covington's mother, who then called police. 
"This wasn't like them," she said. 
Dublin Police Capt. Nate Schmidt said that police arrived at the school Wednesday at 2 a.m. and it was all locked up. They didn't go in and thought everything was fine.
But Covington's mother called police again, and officers went to the school for a second time at 7 a.m., Schmidt said. Another janitor was there and let them in. Officers didn't find anyone at first, but then they were able to find the couple in the library after they were able to ping Covington's phone and located his exact whereabouts, Schmidt said. 
Covington-White had already been there for half an hour and was sick with worry when she saw her son's car parked in back.
"I was screaming for him and Meka," Covington-White said.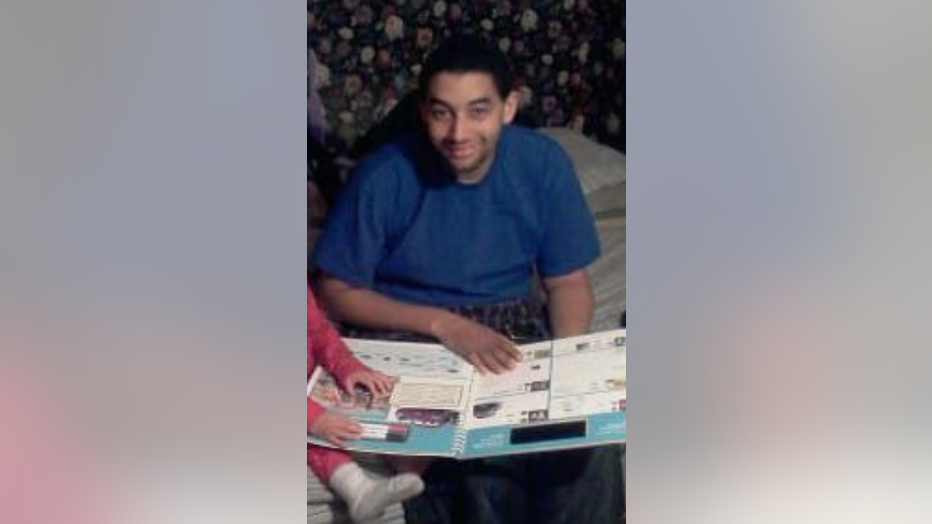 James Covington of Pittsburg. Photo: Erica Ray
After being taken out into the open air by the officers, Covington was pronounced dead and the Wilbon was taken to a hospital for treatment. 
Cousin Erica Ray said that Wilbon was "out cold" when police found her at the elementary school and she wasn't sure of her current condition at the hospital. 
Despite officers smelling something chemical when they entered the school, the Alameda County Fire Department's HazMat unit found nothing toxic and cleared the school for re-entry. 
Schmidt said that police are waiting for the toxicology reports to come back to find out what caused Covington's death. He said police are not ruling anything out in terms of what caused him to die and his fiancee to get sick. 
In a statement, Daniel Moirao, interim superintendent of the Dublin Unified School District, noted that there are likely several questions surrounding this unusual set of circumstances, but he asked the community to "avoid speculation" and allow police to do their jobs.
In general, Moirao said the district's deepest sympathies go out to the family and friends of our lost colleague and also to the students, staff and community of Fallon Middle School. No matter how strong the Fallon Mustang family is, losing a family member at any time is tragic, but during this time of year, it is devastating."
Carley Kennedy is a third-grade teacher at a nearby school who said that she and other support staff are working on campus, despite distance-learning for the majority of students because of coronavirus. She goes in, she said, because she has weak internet at home, even though her students are not physically on campus. Custodians often perform deep cleaning when no one is at school. She often bumped into Covington, even though they had different schedules when she worked at Fallon Middle School. She called him a "stellar" person. 
"He was one of the kindest people," she said. "We'd talk when he cleaned my room and I learned so much about his love for his family. I can't say I knew him well at all, but he was the type of person you felt an immediate friendship with."
Ray, his cousin, said that she and her family have been crying nonstop. 
She described Covington and Wilbon as the most "hardworking people I know. They were very loving and caring parents." 
Covington-White said that they want to know more, especially since janitors were told to be on campus and clean when it wasn't safe enough for students or teachers. She said her son had repeatedly complained to the union about what he felt were unsafe working conditions. 
As for her grandchildren, Covington-White said they are devastated at their father's death.
"They told me they don't want to celebrate Christmas," she said. 
Lisa Fernandez is a reporter for KTVU. Email Lisa at lisa.fernandez@foxtv.com or call her at 510-874-0139. Or follow her on Twitter @ljfernandez