2 Investigates: Berkeley building contractor has history of lawsuits, OSHA violations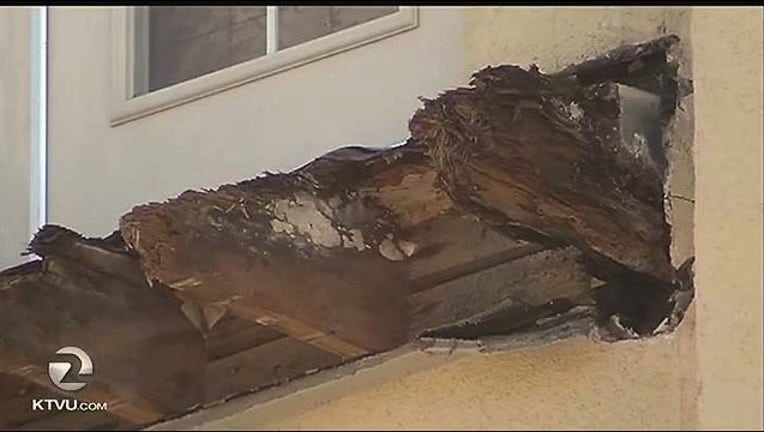 article
BERKELEY, Calif. (KTVU) -- The contractor that built the Berkeley apartment complex where a balcony collapsed early Tuesday morning, killing six people, has a history of being sued for construction defects. 
2 Investigates uncovered multiple lawsuits against Segue Construction, alleging problems with its work on other projects, including a large apartment complex in the South Bay.
Court documents show that Pleasanton-based Segue Construction was sued in 2010 by the Irvine Company LLC, the owner of North Park Apartments in San Jose. Among the complaints in that lawsuit, Irvine alleges that the contractor failed to follow proper building codes when it constructed the balconies at North Park's "Pines" apartments.
The lawsuit accused Segue of "failing to design the breezeways, private balconies and stairwells at the Project in substantial compliance with all applicable local and state codes and according to industry standard."
Segue agreed to a settlement in that case last year, according to court records.
Some North Park residents expressed concern when they were told about the 2010 lawsuit.
"If the Irvine Company is suing (Segue), that means they found something at fault with them, which means they weren't building (the balconies) correctly, which is… bad," said resident Sybra Dacey.
Segue Construction's spokesman, Sam Singer, told 2 Investigates that the balcony collapse in Berkeley was "an anomaly" and the Irvine lawsuit is not indicative of any issues with the company's construction record.
"Normally, in construction projects, many times, the developer and the construction company disagree, so you can't put too much weight on a lawsuit," he said. "To my knowledge there's been no incidences, no complaints, no issues with any of the balconies at the Berkeley property ever."
2 Investigates has also learned that Segue Construction has received a dozen OSHA violations over the last 10 years, including at least one "serious" violation. Since 2006, the company has incurred more than $10,000 in penalties for violations at its construction sites around the Bay Area.
"You can't make a whole lot of that because construction is litigious business," said Singer. "There may have been minor issues in the past but there hasn't been anything like this ever."
Berkeley fire and building officials are investigating the collapse at Library Gardens apartments to determine exactly what caused the balcony to split from the building, according to city officials. The apartment complex has three other similar balconies that have been red-tagged, city spokesman Matthai Chakko said.
When asked if Segue Construction believes there's a chance the balcony could have collapsed due to faulty construction, Singer said company leaders will wait for the results of the investigation.
"We have to wait and see what happened with everybody else. Right now our hearts go out to these kids, their families, to Ireland, to the Berkeley community."
Berkeley officials have ordered the property owners, Black Rock investment firm, to immediately remove the collapsed balcony and do a structural assessment of the remaining balconies within 48 hours, Chakko said.
"We need to make sure that new buildings, which this was, are built with qualified labor using the best materials and using strong safety standards," he said.
KTVU reached out to BlackRock for comment but did not receive a response. The property management company for the apartment complex, Greystar, e-mailed a written statement to KTVU.
"Our hearts go out to the families and friends of the deceased and those injured in this tragic accident. As the property management company, we have taken precautionary steps to limit access to other balconies at the apartment complex as law enforcement completes its investigation. The safety of our residents is our highest priority and we will be working with an independent structural engineer and local authorities to determine the cause of the accident. We will share more details as we have them," said a Greystar spokesperson.
Singer said that while the investigation proceeds, Segue Construction is cooperating with city and building officials.
"Segue has a very good reputation building quality apartments throughout Northern California. Never had an incident like this before and looking forward to being helpful in this tragedy to the investigating authorities."
Segue confirmed the balconies at the Library Gardens are 4 feet by 8 feet, 8 inches. Singer questioned whether the balcony that collapsed might have been overloaded.
"There were 13, 14 people at least on a balcony that probably wasn't designed for that many people," said Singer.
Other experts who inspect similar accidents suggested the weight of the crowd and the condition of the balcony may have both played a role in the collapse.
"If we had a little bit of an issue, structurally or architecturally, meaning water (penetration), we were really pushing that balcony to the limit," said Fari Barzegar of Habitat Engineering and Forensics.
Construction on the Library Gardens apartment building in Berkeley was completed in January 2007. That is also the date of the most recent construction inspection, according to city officials, who have yet to release detail