2 Investigates: Inmate's death at Santa Rita jail raises questions about private medical company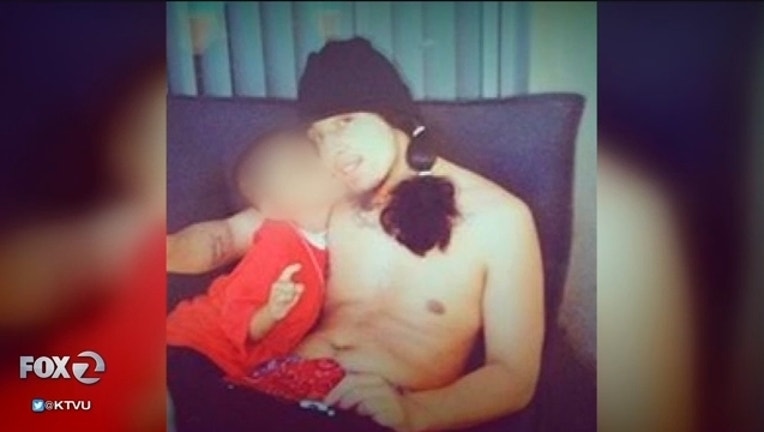 DUBLIN, Calif. - The private company that provides medical services to inmates at Santa Rita jail is under the microscope after an inmate died in custody, despite months of complaints about his persistent breathing problem.
2 Investigates also discovered that Corizon Correctional Healthcare has faced a string of lawsuits, canceled contracts, state investigations, and complaints from across the country in the last several years. The company's track record is now raising questions about the quality of care it provides at jail facilities in Alameda County and nationwide.
"A death sentence"
Mario Martinez, 29, wasn't a kid who grew up with asthma, but instead developed it as an adult in the past few years, according to his mother Tanti Martinez. She said her son used an inhaler more frequently in recent months, and that's why she was especially worried when he complained about a nasal polyp developing in his left nostril that kept getting bigger while he awaited trail on attempted murder charges in Santa Rita jail. The polyps obstruct breathing and can be an especially dangerous condition in combination with asthma.
2 Investigates uncovered at least two court orders issued by a judge in the last four months requiring Corizon to treat Martinez for the problem. Medical records show that jail doctors noted that the nasal polyps had grown to such severity that they obstructed Martinez's ability to breath and would require surgery to fix. But two days before his thirtieth birthday in mid-July, Martinez suffered an asthma attack in his cell, collapsed, and died in a common area of the jail.
Now Martinez's mother wants an investigation into the circumstances of his death and answers about why her son never received the surgery he needed.
"You go to jail, that should not mean you're going to die there," she said. "That should not be a death sentence on top of your sentence. And that's what happened to my son."
Waiting for help that never came
According to medical records from Santa Rita's clinic, Martinez complained to doctors about the polyps as early as December of last year, yet seven months later he died without the issue ever being remedied.
During an appointment on February 17, Martinez told a doctor he was "having a hard time the past 2 weeks" and struggling to breathe through his nose, according to the medical notes. The doctor prescribed a refill of his asthma inhaler and another round of nasal spray, despite notes showing that Martinez told medical staff "it did not help and actually made it worse."
He was back in the clinic nine days later complaining that the polyps had grown. Another prescription for nasal spray and Claritin was ordered. According to notes by Corizon staff, they also also sent a request to Highland Hospital's Ear Nose and Throat (ENT) clinic for a surgery consultation.
But a month later, Martinez was still waiting for relief and had yet to be seen for surgery preparations. His defense attorney Timothy Rien successfully sought a court order on March 24 requiring Corizon to treat the issue, and the next day Martinez was back in the Santa Rita clinic. He was still complaining that he couldn't breathe because of the polyps. Medical records show that jail medical staff sent a second request to the ENT clinic at Highland for an appointment, because "the first referral was denied by the site director," but there is not further explanation of why.
INTERACTIVE TIMELINE: See the timeline of events leading up to Mario Martinez's death
Three weeks later, Mario's nasal polyps were getting progressively worse and his attorney was demanding a second court order to require Corizon to treat the problem. The judge granted the order for an expedited medical referral, requiring "the defendant be taken forthwith for examination and treatment," then for Corizon to report back on his treatment or status to the court. The next day Mario was back in the Santa Rita clinic, receiving nasal spray and Claritin yet again.
Corizon's doctor signed the court order and faxed a response to the judge that said "patient's medical condition is being evaluated and treated." As far as the jail and medical staff was concerned, the court order was satisfied.
In the meantime, Tanti Martinez said her son continued to complain about his breathing problems and she was becoming increasingly worried.
"I was afraid that this would happen because too much time is going by," she said. "Three court orders.. it was not working. Corizon should have taken care of the problem immediately. One court order, to me, was enough."
During the following two months Martinez's lawyer pushed Corizon doctors for action, and threatened to take medical staff to court to have them held in contempt for failing to fulfill the requirements of the court order.
"It is clear that what may have begun as benign neglect of an inmate's medical care… has now four (4) months later, festered into a conscious disregard of the court's two (2) previous orders," he wrote in legal filings.
But attorneys for Corizon fought back, stating in court documents that Martinez was indeed seen in Santa Rita's clinic, given Claritin, nasal spray, and referrals to Highland Hospital, all of which satisfied the court order. Corizon also argued that an appointment with Highland Hospital could take months and was still pending.
When Martinez did finally see a doctor at Highland's ENT clinic on June 24, he had nasal polyps in both nostrils creating a "complete obstruction." He was referred to get a CT scan of his sinuses in preparation for surgery.
But that surgery never came. Three weeks after he was evaluated at Highland and recommended to undergo surgery, Martinez had an asthma attack in his cell at Santa Rita Jail and called for help.
Sheriff's deputies and inmates give different accounts of what happened next, but shortly after paramedics arrived 28 minutes later, Martinez was dead.
A trail of legal trouble
Corizon currently holds a contract with Alameda County worth $237million in exchange for medical services at Santa Rita Jail and Glen E. Dyer detention facility. The Tennessee-based company, which was previously named Prison Health Services (PHS), has been operating at Santa Rita since 1998.
Martinez's death is not the first problem for Corizon at Santa Rita. In February, the company settled a lawsuit for $8.3million over the death of an inmate in 2010. It was the largest settlement of its kind in California history, according to lawyers for that inmate's family.
2 Investigates discovered that Corizon's legal troubles extend far beyond California. The company has settled lawsuits across the nation for tens of millions of dollars. And in just the last three years, Corizon has lost contracts in at least five states. Investigative reports have also been published in three states criticizing Corizon's operations and further putting the corporation under more scrutiny.
In Arizona, a report titled "Death Yards", written by the advocacy group American Friends Service Committee, condemned Corizon for having inadequate staff, delays in medical care, and "denial of specialty care and referrals," among other problems. The report came on the heels of a class-action lawsuit filed by the ACLU that accused Corizon and the Arizona Department of Corrections of causing preventable inmate deaths by failing to provide adequate medical, health, and dental care to prisoners. The lawsuit was settled with an agreement to reform a wide range of prison health operations.
In June, New York City canceled its multi-million dollar contract with Corizon for its Rikers Island jail complex. The decision came on the heels of a report by state investigators that faulted the company for negligence and substandard care, which investigators say contributed to dozens of deaths at Rikers.
And in 2011 in Maine, a state review found that Corizon (known as Correction Medical Services at the time) issued medication improperly, insufficiently trained its staff, and did not maintain its medical records adequately, among other issues. Maine canceled its contract with Corizon the following year.
Treatment of inmates isn't the only issue that has brought Corizon under fire. As recently as last month, Corizon came to a settlement with the U.S. Department of Labor after the company was cited by OSHA for failing to protect its medical staff from workplace violence. Corizon incurred a $70,000 penalty as part of that citation, but in the settlement agreed to make changes to its safety programs.
Big money, big questions
2 Investigates discovered that Alameda County's active contract with Corizon was originally put out to bid in 2008 as a three-year deal. But since then, it's been extended repeatedly without a public competitive bid. The contract is in effect until the summer of 2016.
Records from the Alameda County Board of Supervisors show that the board approved a resolution that exempted the Corizon contract extensions from the competitive bid process.
The county's administrative code requires all contracted services with Alameda County in excess of $100,000 be decided by a competitive bidding process, unless the Board of Supervisors "determined the public interest would not be served by complying with such provisions."
No further explanation was provided to clarify how the public interest was served by circumventing the bidding process in this case.
2 Investigates requested an interview with Alameda County Sheriff Greg Ahern, who was authorized by the Board of Supervisors to negotiate the contract extensions with Corizon, but was told the Sheriff was unavailable.
KTVU also reached out to Board of Supervisors Administrator Susan Muranishi to discuss whether Corizon's performance, legal troubles, or lost contracts in other states were ever examined or discussed during the time period that its contracts were being renegotiated and extended. But a response was never received.
2 Investigates also made repeated attempts to talk to a representative from Corizon about Martinez's case. Instead, KTVU was referred to Edelman Public Relations firm in Chicago, which issued the following statements regarding Mario Martinez's death:
As healthcare providers, we are deeply saddened by any negative medical outcome. Corizon Health nurses and doctors work tirelessly each and every day in an extremely difficult setting to provide the best possible medical care for hundreds of thousands of patients. While we cannot comment specifically on any individual's course of treatment, in all cases, treatment and safety protocols are informed by evidence-based medical plans.
Corizon Health regularly encounters patients with complex medical histories, many of whom have not previously received adequate -- or sometimes any -- medical treatment for their health issues. We have reviewed the care that was provided in this case, and have determined that this patient was provided medically appropriate and necessary care.

When medically necessary, he was also referred to and evaluated by an outside specialist. It is important to note that the cause of Mr. Martinez's death is yet to be determined, and it is the responsibility of the coroner's office to make that ruling. In the course of our work, negative outcomes are sometimes unavoidable but that makes them no less tragic or difficult on the patient's family or our medical staff. Our thoughts and condolences are with the patient's relatives at this time.
Calls for change
Tanti Martinez said she received a copy of her son's death certificate late Thursday night and it lists the cause of his death as "acute asthma respiratory failure." She says she hasn't received answers from jail officials or the county about the questions she still has about what happened to her son, and she isn't satisfied.
"My son mattered to me. I love him with all my heart and I have to be his voice and that's what I'm doing. I don't want any other family to suffer this way."
She has since taken her case to Oakland civil rights attorney John Burris, who has his own theory about Mario Martinez's medical care and the circumstances leading up to his death.
"When you really get down to it, that looks like an economic decision that was made. We do not want to spend the money unless we have to spend the money," he said. "Money could've solved this problem.  All they had to do was take him to the medical facility and have the surgery performed."
In the meantime, Tanti is taking her son's story to the streets of Oakland where she held a protest rally and candlelight vigil calling for change at Santa Rita jail. A crowd of family, friends, and community members gathered Wednesday night to pray and chant, and to demand a transparent investigation into Martinez's death. Tanti says she also wants Corizon's contract with the county terminated.
"It's very disturbing. It's very disturbing that something is seriously wrong here and who is monitoring Corizon? They need to be held accountable for their actions."