2 Investigates: Undercover video raises questions about garage door repair company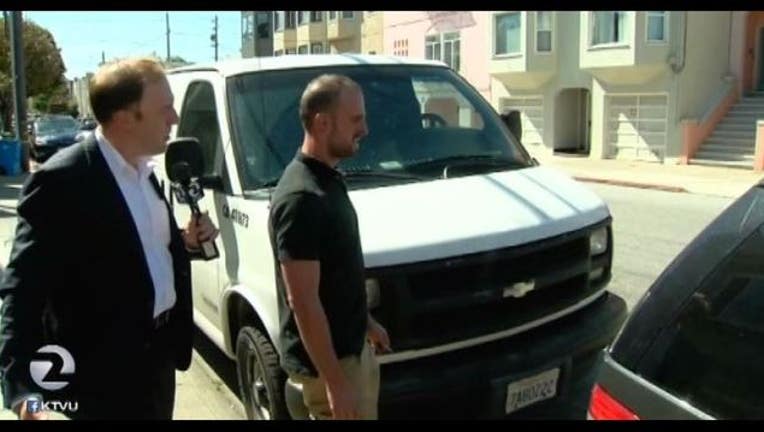 article
OAKLAND - OAKLAND, Calif (KTVU) - Unnecessary repairs, high prices, and no proof of a contractor's license are just some of the consumer complaints prompting State of California investigators to take a closer look at Best & Fast Garage Door Repair of Oakland. The state confirmed it is now expanding its inquiry after an undercover investigation by KTVU.
The Complaints
A customer first contacted 2 Investigates after calling out Best & Fast for a small garage door repair in March, attracted by the low advertised price of a service call -- just $29. The customer, who asked not to be identified, says he became suspicious when the repairman arrived in an unmarked vehicle and could not provide proof of a contractor's license. In addition to contacting KTVU, the customer filed a complaint with the Contractors State License Board.
A second consumer told 2 Investigates she called Best & Fast to repair her garage door motor, but she says the repairman insisted it needed to be replaced, at a price of $700. When the customer declined the offer, she says she was asked to write a check for $29 to the individual repairman and not the company.
2 Investigates goes Undercover
After hearing customers' complaints, 2 Investigates called out Best & Fast to a KTVU employee's garage in San Francisco. Earlier the same day, 2 Investigates hired a different company, All Bay Garage Doors, to give the garage door a full tune up. All Bay's owner, Kevin Chervatin, a licensed and bonded contractor, told KTVU disreputable repairmen are common in his industry.
"We just try to be honest and fair with everybody and you get guys ripping people off and stealing business and it's just irritating," said Chervatin.
Before Chervatin was done, 2 Investigates had him intentionally leave one small problem behind for the next repairman. Chervatin dislodged a cable, making the garage door inoperable.
"It's a very easy fix," said Chervatin. "Just as easy as I took (the cable) off, it's very easy to put back on."
His price to fix it? $89.
When Best & Fast arrived, a repairman who called himself "Daniel," had a different assessment.
While he was 90 minutes late the appointment, hidden cameras show "Daniel" found the dislodged cables soon after he arrived. However, he told a KTVU producer, posing as the customer, there were other problems with the garage door too.
"You see, the spring is getting really really old," said Daniel. "And it's going to damage also the motor... if you kind of fix just the cable."
Before Daniel would offer a quote, he had a few other questions for the undercover KTVU producer.
"You rent the house or you own the house?" he asked. "What (do) you do for a living?"
Finally, Daniel came up with a price.
"First I need to take the door down, fix the cables and everything... $220," he said.
He said replacing the springs would cost another $170.
While that's more than double the $89 quoted by Chervatin, Daniel eventually started dropping his price. State investigators are more troubled by the fact that Daniel could not provide any proof of a contractor's license or insurance when the KTVU producer asked him for it.
Confronting the Contractor
KTVU's Eric Rasmussen confronted Daniel, the Best & Fast repairman, about his exchange with the undercover producer.
"Do you expect her to pay $200 just to fix the cable?" asked Rasmussen.
"It's not just the cable," insisted Daniel. "It's the springs and everything."
When Rasmussen confronted the repairman about not having a contractor's license on file with the state, Daniel said it was "at the office." He denied customers' complaints that Best & Fast repairmen were dishonest with them.
"Why is it not honest?" asked Daniel. "I told them the price, gave them the estimate and if they don't want it, it's ok."
Investigators with the Contractors State License Board (CSLB) disagree.
"What we're seeing here is kind of a classic service and repair scam," said Rick Lopes with CSLB.
2 Investigates found Best & Fast has nearly identical websites for garage door repair in Oakland and more than 40 other cities.
"It's the exact same 1-800 number, whether you're calling from Oakland, whether you're calling from San Jose, whether you're calling from Los Angeles," said Lopes.
Another person, who would only give a first name of "Tom," claimed to be with Best & Fast and told KTVU the company only does "advertising." A disclaimer at the bottom of some of the Best & Fast websites says all work is done by "individually independent contractors," but state investigators say that's not enough.
"The laws are in place so the consumer knows who they're dealing with," said Lopes. "If I call up Best and Fast and I need somebody to come out and take a look at my garage door, I believe somebody from Best and Fast is coming out."
Sorting out Names
During 2 Investigates' undercover operation, Daniel the repairman asked the KTVU producer to make out a check to a man named "Bar Levy," who he identified as the owner of the company.
An online search of that name led to a Facebook page for Bar Levy with profile photos that were a perfect match for Daniel the repairman. KTVU's messages to the owner of that account, requesting clarification, have not been returned.
2 Investigates could find no contractors licenses belonging to anyone named Bar Levy.
A contractor's license number on the side of Daniel's van came back to a completely different company, which expired in 1989.
The other representative with Best & Fast, who called himself "Tom," told KTVU that if any customer has a problem with the service they received, he'll "get to the bottom of it."
State investigators are now asking customers of Best & Fast to call them instead.