2 iron workers injured working on Facebook building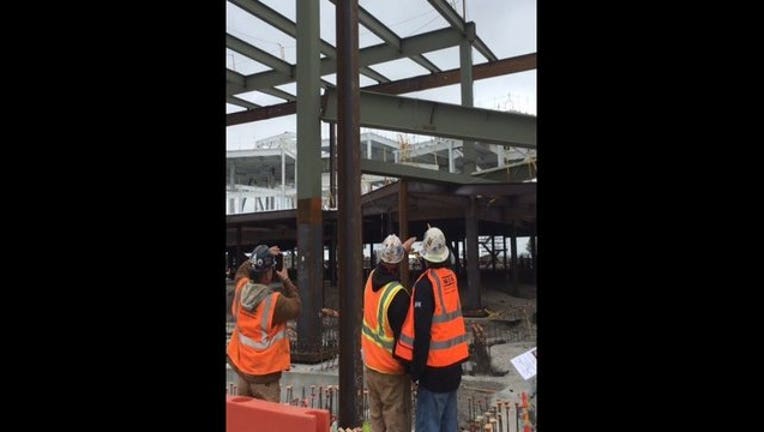 article
MENLO PARK, Calif. (KTVU) - An investigation is underway Wednesday night after a construction accident at Facebook's Menlo Park headquarters. It sent two workers to the hospital. The accident happened at an office building under construction, off Bayfront Expressway.
It happened at Building 21 that's part of Facebook's expansion where two men fell 40 feet while they were working on a horizontal cross beam.
Just after 5 p.m. Menlo Park Fire District got a call of a structure collapse with people trapped at the north end of Facebook's new building.
When firefighters arrived, they didn't find people trapped, but they found two construction workers had fallen 40 feet from the building's steel frame. The men were rushed to Stanford Hospital with significant injuries including broken bones.
"There was rebar all over the place they could have landed on so if you want to say lucky for surviving, unlucky that it happened, but lucky," said Menlo Park Fire District Battalion Chief Dan Coyle.
A preliminary investigation reveals the men were working on a beam when something shook or shifted the building, causing it to become unstable and causing the men to fall. A crane was operating with them at the time. It's unclear if a piece of steel fell off that crane and hit the building.
"I'm not sure if it was a beam failing or if something was dropped," said Coyle. "There was something that occurred with the metal framing that they were working with. What we saw it was little bit distorted."
Coyle said some beams now appear twisted and part of the building looks tipped over, five degrees out of alignment.
The men were said to be wearing full safety gear at the time and roughly 100 workers were at the site.
The area has now been cordoned off.