2 papal parades, more passes available after ticket outcry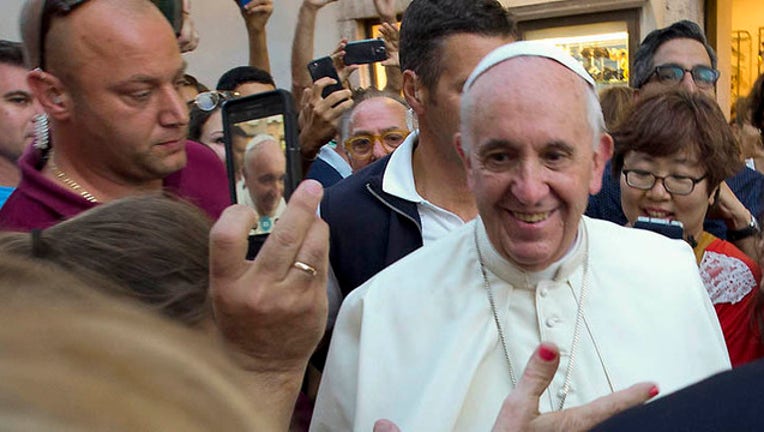 article
PHILADELPHIA (AP) — More tickets will be available for Pope Francis' trip to Philadelphia and two papal parades will be held, organizers announced Thursday following an outcry over their decision to restrict the five blocks near his two biggest events to ticketholders, mostly area parishioners.
"We heard the concerns. We're sorry people were concerned," Donna Crilley Farrell, executive director of the Vatican-sponsored World Meeting of Families, said in announcing the new plans. "Everyone wants to see the pope, and we totally, totally get that."
The pope is attending the closing ceremony of the World Meeting on Sept. 26 and will celebrate an outdoor Mass on Sept. 27, both on the Benjamin Franklin Parkway.
Papal planners had announced Wednesday that only ticketholders would be allowed within five blocks of those two appearances by Francis, which will be the biggest public events of his first trip to the U.S. Most tickets will go to parishioners in the Philadelphia Archdiocese.
But in response to a backlash over the restrictions, 10,000 tickets will now be made available to the general public for each of those events on a first-come, first-served basis online starting Sept. 9.
Papal parades will also take place both days on the parkway and will pass by those without tickets, the vast majority of the expected visitors.
Church officials also announced that they are doubling, to 10,000, the number of tickets being made available to the general public to attend Francis' speech in front of Independence Hall. They'll be available online beginning Tuesday. Further details were not disclosed.
The rest of the tickets for that event were set aside for parishes that serve mostly immigrants.
The ticketing requirement was announced just a week after a new slogan, "I'll Be There," was unveiled to encourage attendance at the papal events, driven in part by fears that months of discussions about tight security restrictions had scared many people away from attending. Officials have said hotel bookings, rail pass purchases and charter bus signups have all been running lower than expected.
Tickets for the closing ceremony of the World Meeting and the Mass are also being allotted to surrounding parishes in Pennsylvania, New Jersey and Delaware, as well as to other faith communities and church social service programs, church officials said.
Church officials have estimated that as many as 1.5 million people will attend the papal Mass.
Papal visit planners have emphasized that 40 huge TV screens will capture the events for those not close to the stage or altar.
The pope's Philadelphia visit will close out his first trip to the U.S., with his earlier stops being in Washington and New York. Church officials said all the papal events in those cities will also be ticketed, including a newly added procession through Central Park.