2 men killed, woman dead in separate shootings
OAKLAND, Calif. - Oakland police are investigating two Monday evening shootings where two men were killed in an area right around the corner from a mosque, where they had been praying just 45 minutes beforehand. 
A third person – a woman – died in a separate shooting less than an hour later in what police said looks like an unrelated event.
In the first shooting, police were called out to 31st Street and Telegraph Avenue about 7:45 p.m. after receiving a ShotSpotter activation in that area. Officer Kim Armstead said it appears as though "multiple shooters" opened fire from a car on a crowd in that area. 
At this point, police don't know if they were targeting any one person. A motive is still under investigation. No suspects have been arrested. 
"This incident is very obviously tragic, and shocking for our community to experience this over and over again," Deputy Chief James Beere said at a Tuesday news conference. "We're taking nothing off the table, but we're investigating every possible scenario that may have resulted in this violent crime." 
Oakland police said when they arrived they found the two gunshot wound victims; one was in the store and the other was inside Layalina, a Middle-Eastern pizza restaurant. The men were identified on Tuesday as, 27-year-old Asam Al-Awjri, who was originally from Yemen, and 59-year-old Belal Esa, who friends said was a fixture in the local Ethiopian community.  
Police and firefighters assisted but pronounced the men dead at the scene. A third victim, a 19-year-old, drove himself to the hospital and is expected to survive after being shot in the leg, community members and police said. 
The Oakland Islamic Center is around the corner from the shooting scene. Community members said the men had been attending their evening prayers at around sundown or 7 p.m. They said they knew the men and were very saddened by the shooting that took the lives of community members. 
Abdo Abdella, one of the board members at the Islamic Center, told KTVU that Esa had a family and was an active community member at the mosque. 
"We pray together three times a day. I see him three times today," Abdella said. "It's very sad. Very sad. It's a loss to the community, also."
Bashar Mohamed, an assistant imam at the mosque, added that many community members like to "sweeten their meal" by going to Layalina, which also offers excellent tea. 
 "Unfortunately, when they went there, it was at the wrong time, wrong place and they were among the victims," Mohamed said.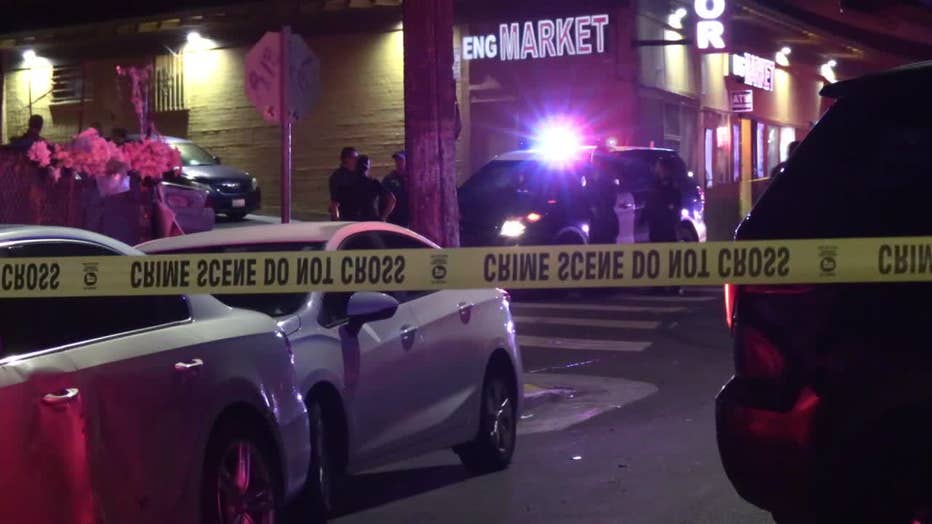 Two people died in the 3100 block of Telegraph Avenue in Oakland. Sept. 19, 2022
The imam said there is surveillance video from the store and restaurant that were involved, that shows a white vehicle, possibly a Prius, pulling up and someone started shooting into the store and restaurant. Police are reviewing that footage, but did not confirm any suspect vehicle information. 
Less than an hour after the two men were killed, Oakland police said there was a separate fatal shooting at East 20th Street and 23rd Avenue about 8:30 p.m. 
That shooting killed a 48-year-old woman who was pronounced dead at the scene, police said. Her name was being withheld until next of kin was notified. There were no other details immediately available.
Police said that in addition to the three deaths, officers were called out to four other separate shootings across the city within a 13-hour span. 
In addition, two officers conducting traffic control for the double homicide at the Middle Eastern restaurant, were injured by a suspected drunk driver as well on Monday night, police said. One officer was inside a fully marked patrol vehicle and the other officer was standing outside. Both went to the hospital and are expected to be OK. The driver was arrested for driving under the influence.
The deaths marked the 88th, 89th and 90th homicides of the year Oakland police have investigated.
Last year, there were 97 homicides at this time. 
Oakland police also stressed that all this violence taxes their staff. Patrick said they are authorized to have 726 officers right now but only have 681.