NHL executive's son among 2 charged after pushing wheelchair down stairs at Pennsylvania pub
ERIE, Penn. - Two student athletes at Mercyhurst University in Pennsylvania have been charged after footage showing them pushing a double amputee's empty wheelchair down a flight of stairs circulated online. 
According to the Erie Police Department, hockey player Carson Briere, the son of an NHL executive, has been charged with second-degree misdemeanors of criminal mischief and disorderly conduct. 
The Erie police filed the same set of charges against Patrick Carrozzi, a member of the Mercyhurst men's lacrosse team.
The video, which had nearly 40 million views on Twitter as of Tuesday, shows the students gathered at the top of a staircase at Sullivan's Pub and Eatery before playing around with a wheelchair and pushing it down the set of stairs on March 11.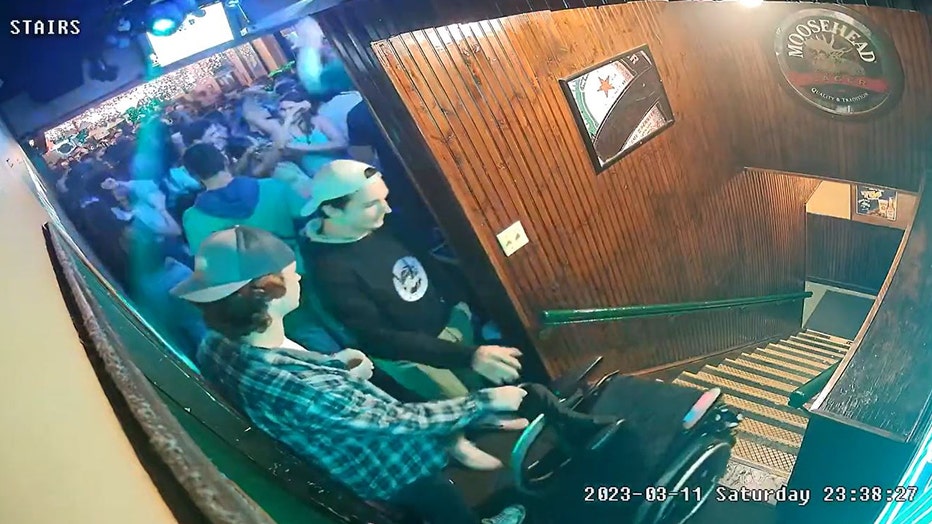 Footage shows the students gathered at the top of the staircase before pushing it down a set of stairs. The two athletes have been charged. (Credit: Sullivan's Pub and Eatery via Storyful)
The Erie Police Department received a report of criminal mischief filed by the owner of the damaged wheelchair. 
The victim, identified as Sydney Benes, told police the incident occurred when the individual was carried to the basement to utilize a restroom. 
She reported damage to the wheelchair's left side braking mechanism, part of the right arm rest, a bent rear handle and an alignment problem with the main wheels causing the chair to not move properly. Benes said the wheelchair was purchased a year ago, costing $2,000.
"We're rounding the corner and there's my chair at the bottom of the stairs, and it's all crumpled up," Benes told Philadelphia news outlet FOX 29. "Both guys set it up and then push it down, and then laughed as they were walking away. I mean, they were laughing about it like they legitimately thought it was funny."
The 22-year-old is a double amputee, who lost both of her legs in a car crash two years ago. 
"I would really appreciate if they got consequences to their actions," she continued. 
Charges were filed against Briere, 23, and Carrozzi, 21, on Monday, according to court records. They are scheduled to be arraigned at a preliminary hearing on May 22. 
In Pennsylvania, a conviction for a second-degree misdemeanor carries a prison sentence of up to two years and a fine of up to $5,000, and a conviction for a summary offense carries a maximum prison sentence of 90 days and a $300 fine.
Convictions for misdemeanor and summary offenses can also lead to probation. 
Mercyhurst University's athletics department released a statement on March 15 saying that they placed the students on "interim suspension from their athletic teams." Mercyhurst University also issued a statement saying the actions in the video make their "hearts heavy" and "fall short" of the college's beliefs. 
In a statement released through the NHL's Flyers, Carson Briere said: "I am deeply sorry for my behavior on Saturday. There is no excuse for my actions, and I will do whatever I can to make up for this serious lack of judgment."
RELATED: Carson Briere apologizes, placed on interim suspension for pushing wheelchair down stairs
His father, Daniel Briere, also issued a statement, which read: "I was shocked to see Carson's actions in the video that was shared on social media yesterday. They are inexcusable and run completely counter to our family's values on treating people with respect. Carson is very sorry and accepts full responsibility for his behavior."
Carson Briere was previously dismissed from Arizona State's hockey club in 2019 for what the school called a violation of team rules.
A GoFundMe account was set up to help Benes buy a new wheelchair, which has already been fully funded. 
This story was reported from Los Angeles.