2 teens are severely injured in shark attacks in N. Carolina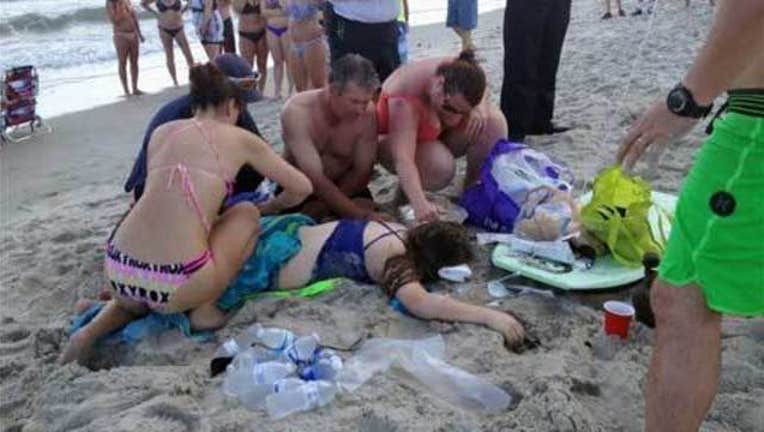 article
OAK ISLAND, N.C. (AP) — Two young people vacationing in the beach town of Oak Island were swimming in waist-deep water when they lost limbs in separate life-threatening shark attacks, town officials said Monday.
A 12-year-old girl from Asheboro lost part of her arm and suffered a leg injury, and a 16-year-old boy from Winston-Salem lost his left arm less than 90 minutes later and about 2 miles away late Sunday afternoon, officials said. The victims were each about 20 yards offshore, in waist-deep water.
Surgeons amputated the girl's left arm below her elbow, and she has tissue damage to her lower left leg. The boy's left arm was amputated below his left shoulder.
Both were in good condition Monday after being airlifted about 25 miles to New Hanover Regional Medical Center in Wilmington, said hospital spokeswoman Martha Harlan. Neither victim's name was released.
"Honestly they have a really long road ahead," said Brunswick County Emergency Services director Brian Watts.
Watts credited their survival to bystanders who helped to stanch their bleeding and the quick work of emergency personnel.
"Without that, we would have had a different outcome," he said.
The emergency call about the girl came in about 4:40 p.m., followed by a call about the boy at 5:51 p.m., local officials said.
Investigators said they didn't know whether the same shark attacked both victims, nor the size of the shark in either attack. Deputies using boats and helicopters to monitor the water after the attacks saw a 7-foot shark between where the incidents happened, Sheriff John Ingram said.
Oak Island is working with local law enforcement and the Shark Research Institute to locate the shark but wouldn't say what would happen if they find it, town manager Tim Holloman said.
"We're just monitoring right now," he said.
Sunday's attacks were the second and third in the area in less than a week. A 13-year-old girl suffered small lacerations on her foot from a shark bite Thursday in Ocean Isle Beach, about 15 miles to the west of Oak Island. Both are barrier islands just off the mainland.
There were 72 unprovoked shark attacks around the world in 2014, including 52 in the U.S., according to the International Shark Attack File at the Florida Museum of Natural History. Three of the attacks, all in other countries, were fatal.
In Oak Island, witnesses described a frightening and chaotic scene among visitors enjoying one of the first busy weekends since public schools let out for the summer.
"I saw someone carry this girl (out of the water), and people were swarming around and trying to help," Steve Bouser, who was just beginning his weeklong vacation, told The Associated Press. "It was quite terrible."
The girl was bleeding heavily, and people applied makeshift tourniquets while asking her questions to try to keep her conscious.
It was "quite nightmarish," Bouser said.
Officials sent an all-terrain-vehicle and people with megaphones to get everyone out of the water after the attacks.
Oak Island Mayor Betty Wallace told The Associated Press that the window of less than two hours between attacks didn't give workers enough time to close down the town's beaches, but they were closed after the second attack.
"Our local police ATVs and the sheriff's boat and helicopter patrolled immediately after the second one, getting everyone out of the water," Wallace said.
Wallace says that even if the beach had closed after the first attack, the order might not have reached the area where the second victim was bitten.
On Monday, the beaches were open. Officials urged caution but said they can't stop people from swimming.
"There's no way we're going to stop people from going into the water," said Watts, the county emergency manager. "There's really no way to control that."
Oak Island doesn't have lifeguards on the beach. Watts said all beaches in the county are within municipalities, which make the decision about whether to employ lifeguards.
Holloman encouraged swimmers to avoid people who are fishing, stay out of the water if they have bleeding cuts and not to swim in murky waters, or after a storm.
"Oak Island is still a safe place," Holloman said. "We're monitoring the situation. This is highly unusual."