3 Bay Area eateries among the top in 100 best burgers in America list
Three Bay Area eateries made the top 20 in Yelp's mouthwatering list of 100 best burgers in America.
The popular online review platform, headquartered in San Francisco, released its list ahead of National Burger Day on Sunday, noting that you might be surprised that many of the favorite restaurants on the list have re-imagined the traditional burger, often considered America's favorite comfort meal.
"Based on our patty-loving community's ratings and reviews, it's clear that a 'burger revolution' is underway!" Yelp said.
SEE ALSO: Black Restaurant Week offers discoveries for purveyors, positive impact for owners
SEE ALSO: DoorDash accused in lawsuit of charging iPhone users more for delivery
The eatery that ranked the highest in the Bay Area was KoJa Kitchen, in Berkeley, coming in 10th best in the country. 
"KoJa Kitchen pushes the limit of Korean-Japanese cuisine, subbing garlicky fried rice patties for traditional wheat buns on their titular KoJa Burgers," Yelp said. "The 'super-crunchy' rice buns provide the perfect vehicle for KoJa's tasty fillings—'juict shredded pork,' spicy-sweet gochujang (Korean red pepper chili paste), masago (fish roe), and pineapple," the review site noted. 
The eatery first came to the scene in 2011 as a local food truck. It now operates out of a dozen storefront locations across the Bay Area.
"Beyond delicious dishes, Yelpers laud the quick service and 'friendly staff,'" the review platform said, adding, "Seating is limited, so savvy guests order ahead and pick up from a clever hot plate that keeps orders warm till they arrive."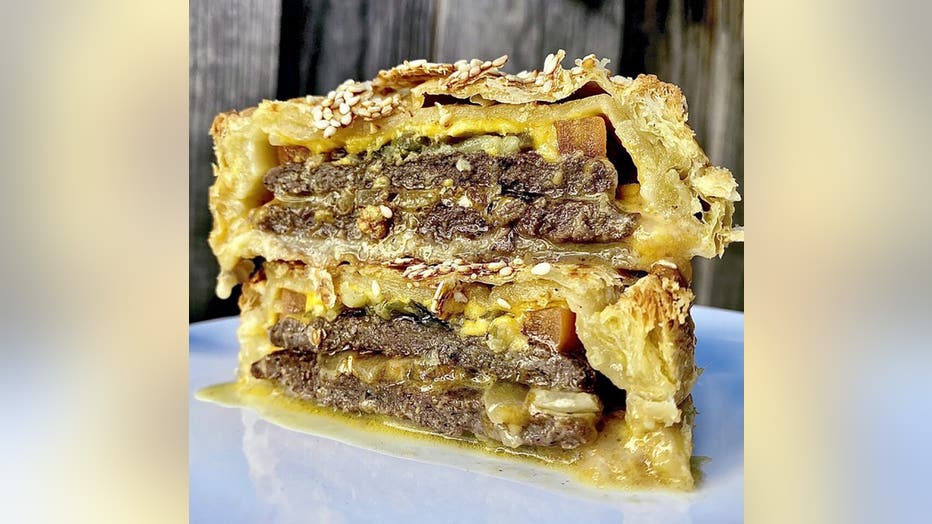 Bear Bitez came in Newark, Calif. came in 14th on Yelp's Top 100 Burgers in America list. (Photo by Merica S. via Yelp)
Ranked 14th best was Bear Bitez in Newark. The restaurant was known for its popular burger, The Beef Bear Bitez, with its double-beef patties that's topped with grilled onions, tomatoes, pickles, and cheddar cheese. Perhaps what makes Bear Bitez burgers so special is the "baked-to-perfection" French pastry dough the patties are wrapped in.
"Chef-owner Bliss Attaie wraps each double-beef patty in a golden orb of French puff pastry, rather than the traditional sesame seed bun. The result is divine," Yelp said, adding, that its reviewers call it a "'fresh and flavorful' delicacy" and a "unique take on a classic." 
Another notable Bay Area burger joint was The Counter Santana Row, in San Jose, which was listed as 16th best in the country. The eatery was described as "a fast-casual chain with endlessly customizable options."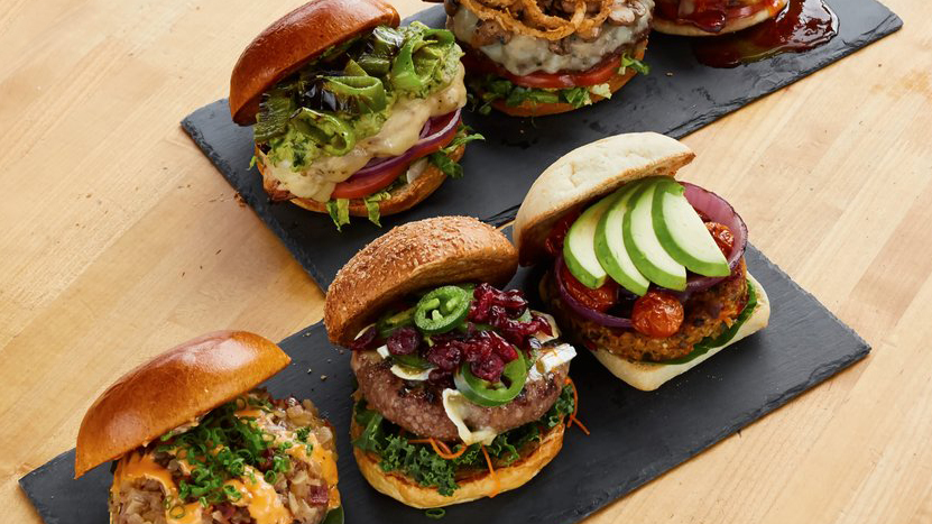 (Photo by The Counter Santana Row via Yelp)
Other highlights included a menu that boasts more than 85 ingredients, offering countless options from patty size, protein style and an assortment of toppings and condiments including hard-boiled egg, grilled pineapple and sauces as well as vegan, vegetarian, and gluten-free choices.
The joint's most popular burger was the best-selling Counter Burger featuring an Angus beef patty topped with provolone, tomatoes, lettuce, sauteed mushrooms, garlic aioli, and fried onion strings on a brioche bun.
Two other Bay Area restaurants got some recognition on the list. A San Jose location of the Five Guys chain came in at #38 and the Vinsetta Garage ranked as #95.
A restaurant in Atlanta was crowned with the title as having the best burger in America. Fox Bros. Bar-B-Q received almost 2,500 5-star reviews and was recognized for "its juicy, barbecued spin on the classic American burger."
Yelp's comprehensive best burgers list included a wide variety of burger types from fast food favorites to more sophisticated and fusion plates.  
The review site also identified some burger trends including barbeque sauce add-ons, plant-based options, larger patties, and specialty buns. 
Yelp said it created its list by identifying businesses in its "restaurants and food categories," with a large concentration of reviews mentioning "burgers." The site then ranked those locations using a variety of factors including the total volume and ratings of reviews. Businesses with multiple locations were listed by its highest ranked restaurant. 
You can find the complete list of Yelp's Top 100 Burgers in America here.