4.3 magnitude earthquake centered near Blackhawk felt throughout Bay Area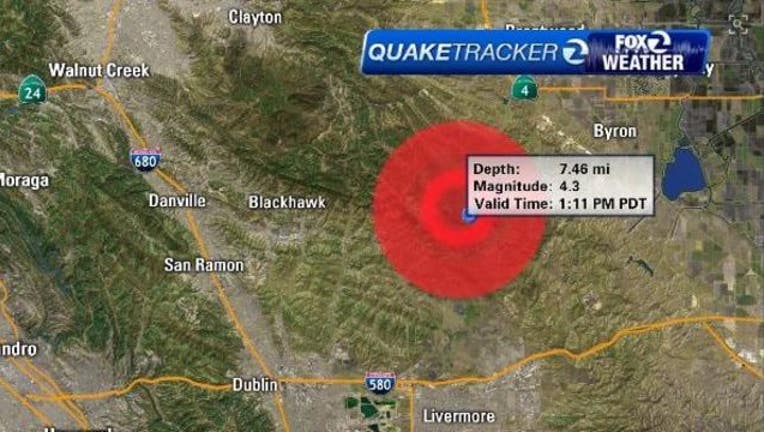 BLACKHAWK, Calif. (KTVU) - A 4.3 magnitude earthquake shook Contra Costa County at 1:11 p.m. on Tuesday afternoon. 
The earthquake's epicenter was about 7.5 miles east of Blackhawk near the Los Vaqueros Reservoir according to the USGS.
The earthquake was initially reported as a 4.4 magnitude, but was then downgraded to a 4.2. A few minutes later the USGS said it was a 4.3 magnitude. 
Many people reported feeling a strong jolt throughout the East Bay and as far as San Francisco and San Mateo County. 
"Felt it in San Mateo. On the 10th floor of a 12-story building," Dana Zuccarello wrote on KTVU's Facebook page. "We swayed for quite a few seconds. Was wondering if it was going to stop or get worse."
"I felt a little sway in SF, but initially thought it was the construction going on next door," wrote Julie Tran Vong. 
The USGS reported a second earthquake with a preliminary magnitude of 3.5 struck at 1:28 p.m. 
"San Ramon just over the hill from Blackhawk felt a nice roll and the aftershock was a tad softer," said Dana Fisher.  
There have been no reports of injuries or damage.