4 displaced after roof collapses in 2-alarm San Jose garage fire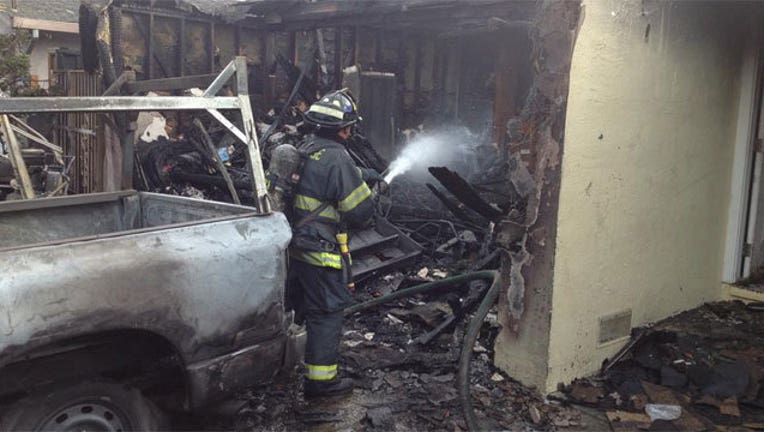 article
Fire crews responded to a report of a fire in the 900 block of Tomlinson Lane at 4:20 p.m., San Jose fire Capt. Christopher Salcido said.
Arriving crews found heavy fire and smoke coming from the garage of a one-story, single-family dwelling, Salcido said.
The occupants of the home evacuated on their own before firefighters arrived, he said.
A man who lived at the home attempted to extinguish the fire himself but ran away, according to Salcido.
He was initially unaccounted for by fire crews but later found blocks away by San Jose police, the spokesman said.
Fire investigators believe the blaze started in the garage, Salcido said.
The fire was under control about an hour later, he said.
No vehicles were inside the garage at the time of the fire, but two cars on driveway were "burned beyond use," Salcido said.
The garage was attached to a home that sustained considerable damage from the blaze, he said.
A fight between a pitbull and another dog occurred in front of the fire while crews were responding, he said.
San Jose police mitigated the incident to reduce danger to first responders, according to Salcido.
Animal control officers were called to assist the dog fighting with the pitbull, he said.
The fire threatened two neighboring structures but did not spread past the building of origin, he said.
Two adults and two children were displaced by the fire and assisted by the American Red Cross, according to Salcido.
No injuries were reported to firefighters or civilians, according to Salcido.
The cause of the fire is under investigation.