49ers' Robbie Gould surprises young cancer survivor with Super Bowl LIII tickets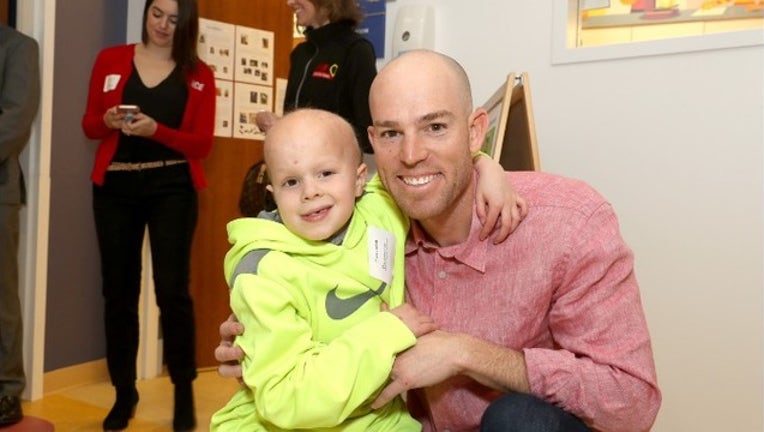 article
(KTVU) - Doctors didn't expect a Chicago boy to live past three years old. Last week, that boy celebrated his ninth birthday with a surprise from San Francisco 49ers kicker Robbie Gould. 
Chase Ewoldt and Gould met at a charity golf tournament a few years back and they've stayed in contact ever since. Chase connected with Gould because they're both bald, according to an official at Lurie Children's Hospital, where the resilient young man received treatment.  
Every year, NFL players are given two Super Bowl tickets to share with a family that had an impact on them. Gould said in a video posted to Facebook Monday that his list is long, but that when reviewing it he always returns to Chase's family. On Thursday, the 14-year veteran invited Chase and his father to join him for Super Bowl LIII in Atlanta. 
The boy, who sat with his mom, reacted preciously as he hurried to share the news with his "poppa" over the phone. Flights and two nights in a hotel will be completely covered by the 49ers.
Chase was diagnosed with an aggressive form of brain cancer in 2012 and given about six months to live. After a large, successful brain surgery in Aug 2012, and aggressive chemotherapy beginning later that month, MRIs showed the tumor was cleared from Chase's brain and spine. There were more ups and down, but Chase persevered. 
He was officially declared a cancer survivor on Jan 25, 2017.
Over the years, Chase has consistently sent Gould videos, sometimes just to say hi or wish him good luck, and other times to remind him he's following the 49ers. Chase has helped Gould at ribbon-cutting ceremonies related to the kicker's charitable efforts, too.
"Since the three or four years we've met, and this relationship we've built, I call him if he goes into the hospital," Gould said. "Or if he's going to get an MRI, I tell him I just had one."
Gould represents the 49ers as one of the NFL's 32 nominees for the 2018 Walter Payton Man of the Year Award, which recognizes a player for excellence on and off the field. He's currently third on the leaderboard with over 62,000 total mentions as of Wednesday afternoon. 
This story was reported from Oakland.