50% of California currently out of the drought
OAKLAND, Calif. - Though it's still too early to take a victory lap, the drought now has a very big and growing dent in it.  
California is paying a big price for delay and damage from all the rain and snow but, there is a bright, silver lining coming out of it for our future.  The onslaught of rain and snow is paying off in terms of the drought. 
The latest U.S. Drought Monitor map shows that fully one-half of California is now officially free of drought.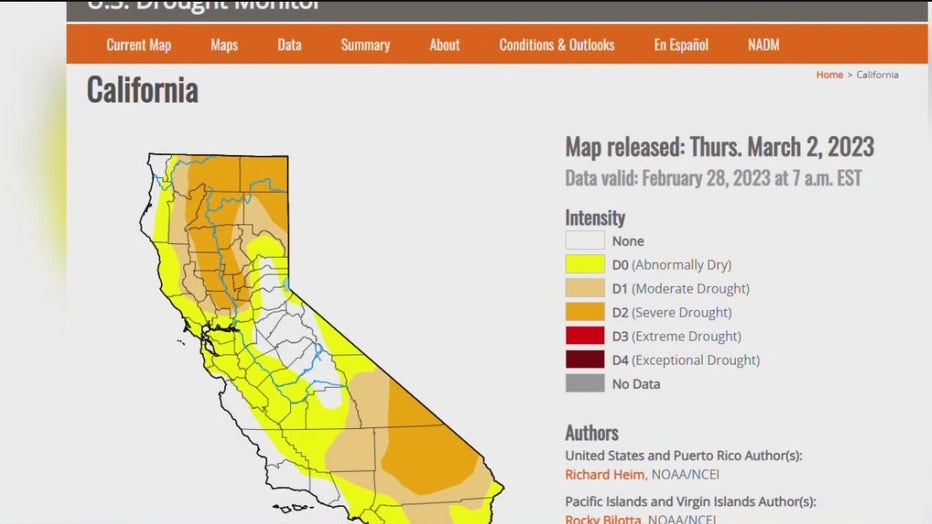 The white areas are completely 'drought-free' and the yellow areas are 'abnormally dry.' Even the beige and orange areas are in the lowest two drought levels with none of California in the highest levels of extreme or exceptional drought.
READ ALSO: State of emergency declared in parts of California
At the end of last year; the entire state was in various drought levels; much of it the highest levels: extreme or exceptional. The latest drought map shows that instead of 40 million Californians in drought, we are now under 10 million and declining.
All of this is a huge reversal, or perhaps a great head fake by Mother Nature, from previous years; something scientists call weather whiplash. 
"So, weather whiplash is something that we see here a lot in California. We see these extreme dry periods that immediately lead into very, very wet periods as well," said UC Berkeley Sierra Snow Lab Director Andrew Schwartz.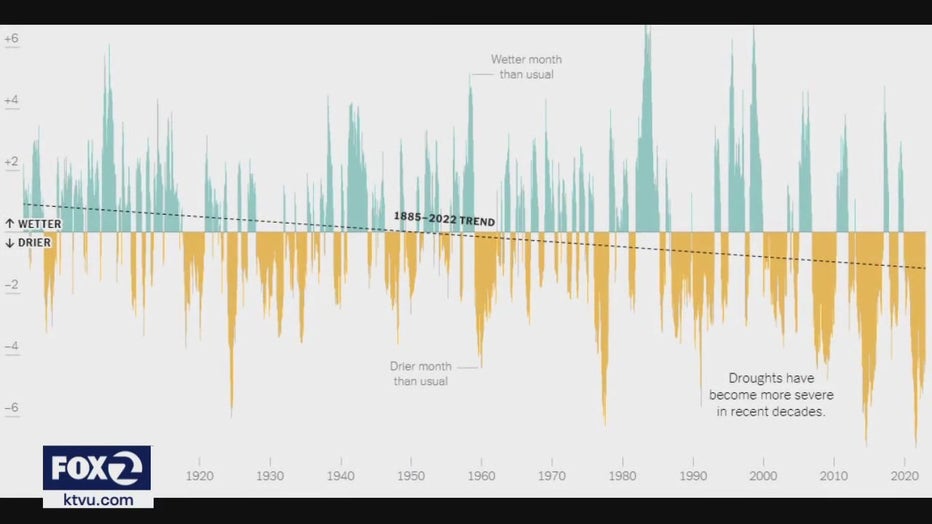 Looking back well over a century we see a rapid succession of wet periods in blue/green and dry periods in orange; slowly trending toward more and longer dries than wets. Climate change is partially responsible for big storms lining up one after another. 
"Climate changes has made this worse. That means it's making our management of water more difficult because we're going from one extreme to the next very quickly," said Schwartz.
Noah Diffenbaugh is a Stanford University climate Scientist. 
"We know that the atmospheric rivers that make landfall on the Pacific Coast in general are getting warmer. We know that the rain, snow line is overall going up in elevation," said Diffenbaugh.

The next official snow measurement takes place Friday on top already of the snowiest October through February since 1970.