96-year-old woman inspires Livermore High School softball team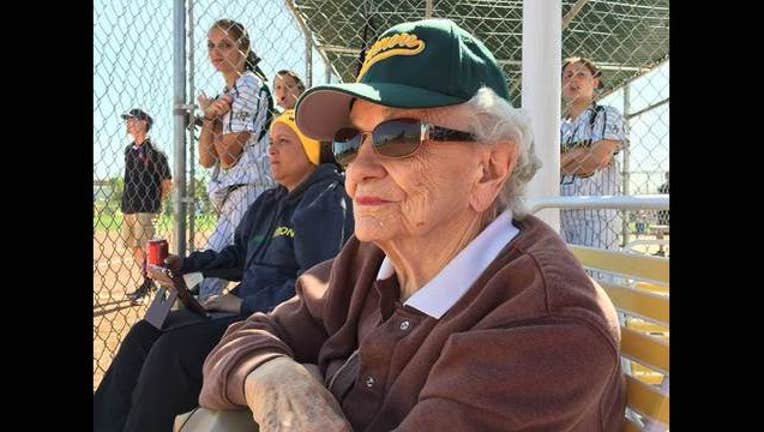 article
LIVERMORE, Calif. (KTVU) - They call her "Grandma." At almost 100-years-old, Frances Cunningham is inspiring a group of high school girls who share a common love for the sport of softball.
It began three years ago, as the varsity softball team at Livermore High School was holding a closed practice.
Along came Frances, then 93-years-old, with her daughter Sue Locke.
They asked coach Larry Bird if they could watch the girls play and explained that they've driven by numerous times during the team's practices and always wondered if they could look on.
Coach Bird welcomed the mother and daughter, who fast became honorary members of the team.
The girls made sure Frances received a team softball cap and they invited her to all of their games.
Watching the team in action brought back fond memories for Frances-- memories of when she herself was in high school some 80 years ago.
She shared these memories with the girls who expressed their fondness and warmth toward her by addressing her as "Grandma."
In her day, Frances was a talented athlete. She attended Castlemont High School in Oakland where she herself swung a bat.
Back then, Frances fed her love for the sport by playing on the girls team and even played ball with her brother and his friends.  
She recalls being better than many of the boys she played against.
Her athletic abilities went beyond baseball.
Frances was also a star basketball player. Her athleticism did not go unnoticed and even got her elected as commissioner of the school's Girls Athletic Association.
But Frances eventually had to stop playing sports, she says because she had to help out the family.
Her afterschool job at the family's grocery store prevented her from continuing to participate in school sports. 
But nearly a lifetime later, Frances has found a way to live out those moments she missed out on. 
Over the next three years after that first team practice Grandma and her daughter Sue visited, the pair made it a point to attend as many of the team's home games as possible. 
And the girls on the team always made it a point to thank them for coming.
Earlier this year, Frances fell seriously ill and was hospitalized.
Her daughter Sue considered calling coach Bird to ask if the team could come by the hospital to lift Grandma's spirits.
But Grandma is a fighter. She was able to regain her strength and was eventually released from the hospital.
A couple weeks ago, Grandma made it out to the first game in months. 
After the game, her daughter Sue sent coach Bird an email expressing her gratitude for the role the girls play in her mother's life.
"Please tell those awesome girls 'thank you' for coming over and saying hi to her. It means so much to both of us especially after what she's been through the last couple of months," Sue wrote in the email.
She explained that she almost lost her mother during the illness and expressed gratitude to be able to come out with her to watch another game. 
"You all are such a blessing to her and to me. Thank you from two of your greatest fans," said Sue. 
Coach Bird thanked Sue and her mother, saying that the two women are a blessing to him and his team.

"The girls get so excited when you guys are at our games and as you saw today, even play harder than normal.  Thanks again for being a special part of our team.  We love you both."
On May 17th Livermore is playing a home game against San Ramon's California High. You can bet Grandma plans to be there to cheer on her team.