A piece of horse racing history at local race track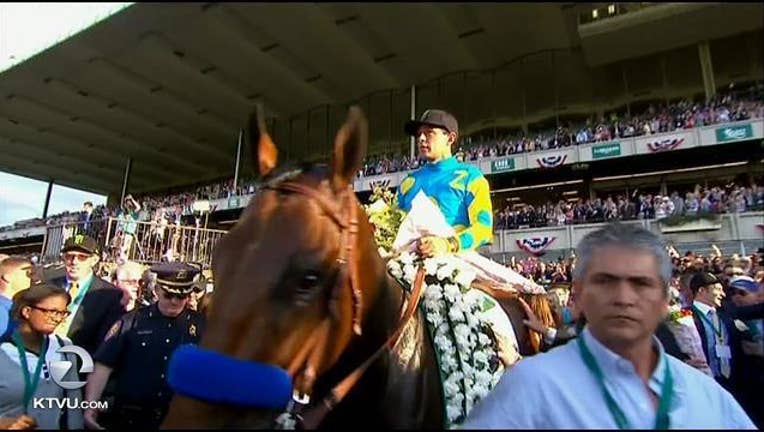 article
"Come on, five! Come on five!" race fans shouted as the three year old colt American Pharoah raced into history, winner of the Triple Crown.
As the favorite romped, never seriously challenged, the screams got louder.
"Congratulations," shouted one jubilant woman wearing an elaborate race-day hat, "I knew it would happen, after 37 years, and since I won the hat contest here on Kentucky Derby day, I knew he was going to win!"
No question American Pharoah had the speed to conquer both the Derby and the Preakness, but some wondered how he would do in the 1.5 mile Belmont.
He left doubters in the dust, finishing some five lengths ahead of his closest challenger. Jockey Victor Espinoza said it was like riding on a cloud.
"We're all from Kentucky and that was just amazing," a fan exclaimed, "we wanted to be some place where we would remember the Triple Crown winner and I'll remember this!"
"That was fun to watch," enthused her companion, "and I'm glad it finally happened. It's been too many years in the making."
During those years, twelve other horses have won two out of three of the Classic races.
Only American Pharoah joins all-time greats like Secretariat, Seattle Slew, and Affirmed.
"It's so hard to do, nobody really realizes it, " trainer Steve Sherman told KTVU, as he readied a horse for the last race of the day at Golden Gate Fields.
Sherman's father Art was in the same national spotlight last year, trainer of California Chrome, who also raced for the third leg of the Triple Crown, with jockey Espinoza aboard. Chrome faded in the long distance and finished fourth.
"It's three big races in five weeks," noted Sherman, "and good for them, I'm happy for them. It's good for the sport. Do I wish we could have got there, me and my family? Absolutely, but we were close!"
No jockey in America has raced in, or won, as many races as Russell Baze, also based in Northern California.
"Horses that are that good, they're going to run for anybody," Baze said, speaking of Pharoah, who he had predicted would win.
"We can use all the good promotion we can get, " the Hall of Fame rider told KTVU, "so it's a great thing for horse racing, it's a great thing for everyone connected to American Pharoah."
With Pharoah the favorite to win, bettors lined up after the race to collect on winning tickets.
Other fans clutched their tickets and said they would hold on to them, as souvenirs or for resale as memorabilia.
"It's priceless if you keep it," one ecstatic man told KTVU, "because this is a horse for the ages, a horse America waited a long time for!"
American Pharoah's stud rights have already been sold, reportedly for as much as $20 million, but his owners say they want to race and enjoy him for the rest of the year before he retires.
The upcoming Breeder's Cup race would be an opportunity for him to show his star power once more.