About 250 Oakland Unified school employees to receive layoff notices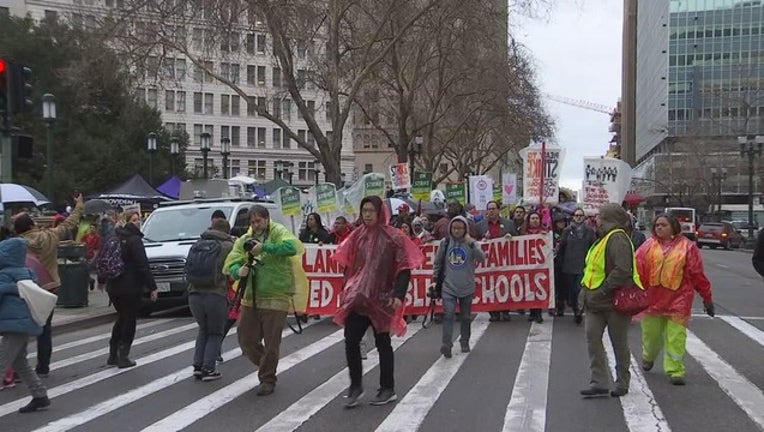 article
OAKLAND, Calif. (KTVU) - The equivalent of 250 full-time teachers, clerks, library techs and college career coaches are expected to receive pink slips by the end of April, following this week's decision by the Oakland Unified School District board to lay off these employees as part of a $21.75 million cut from next year's school budget.
All sorts of positions were on the district's list including 20 restorative justice facilitators, 11 library techs, 24 school security officers and 22 Kindergarten reading tutors, to name just a few. Receptionists, IT specialists, college career counselors and program managers for community schools were also on the layoff lists.
"All of these cuts are very painful," school board president Aimee Eng said on Friday.
What makes matters worse, she added, is that the board also had to cut $3 million to individual schools' discretionary funds. That means schools now have fewer resources to maintain their tailor-made programming and staffing choices at their campuses, Eng pointed out.
List of those on the OUSD layoff list
District spokesman John Sasaki clarified that it's very unlikely that 250 people will lose their jobs. He said about a dozen positions on the list were already vacant, and "several dozen likely will be covered by grants." Still other employees might get bumped to other positions within the district, he said. 
Trustees voted unanimously to make the layoffs, they said, not because they wanted to but because there is a severe lack of funds.
Not only do the state and federal governments not reimburse the district to cover its expenses and the costs to provide services are on the rise, the district also agreed to pay teachers more following a seven-day strike last month. Teachers will now get an 11 percent salary hike over four years with a one-time 3 percent bonus.
Eng said the cuts aren't necessarily over either. The board might have to identify more to trim from the budget next school year, which would likely take effect in 2022-23 if no more additional revenue is found.
EDITOR'S NOTE: This story was updated to reflect that the layoff notices will go out at the end of April.