After Game 2 win in NBA Finals, LeBron looks forward to home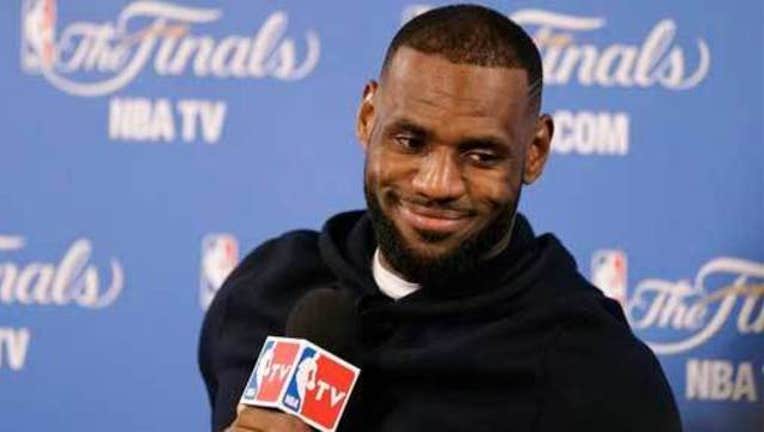 article
OAKLAND, Calif. (AP) — LeBron James is headed back home to Ohio. And if that seemed like a big deal last July, he can't wait to hear how it sounds in June.
Shortly after helping Cleveland pull out a 95-93 overtime victory over Golden State on Sunday night in Game 2 of the NBA Finals with 39 points, 16 rebounds and 11 assists, James challenged the fans in Cleveland to be as noisy as the ones at Oracle Arena.
"I've heard our fans pretty loud before," he said. "A couple instances my first postseason appearance was really loud, and me coming home against the Knicks at the start of the season was pretty good. But I know we can be much, much louder than any fan base in this league. I know they're getting ready, and I can't wait to see them."
That comes Tuesday in Game 3, with the series tied at one game apiece. The only thing certain so far is that 48 minutes may not be enough. The first two games both went to overtime, the first time that's happened in the NBA Finals.
Some things to watch as the series shifts to Quicken Loans Arena:
LEBRON'S LEGS: James played 50 minutes in Game 2 on the heels of 46 minutes in Game 1. He said he was feeling the effects after Game 2 but that he and his trainer would work on treatments throughout the off day.
"We already have started on my rehab. Already started on my session," he said. "I will get rehab on the plane. We've got a five-hour flight back home, and we've got all-around-the-clock treatment tomorrow and get ready for Game 3. I'll be ready."
CURRY'S CONFIDENCE: Stephen Curry shot just 5 for 23 in Game 2, going 2 of 15 from 3-point range. The NBA's MVP said the Warriors haven't been in a good rhythm but still believed they would win the series.
That might depend on his performance.
"I don't expect to shoot like this," he said. "I've got to play better, find better shots and be more in a rhythm throughout the course of the game for us to really assert ourselves as a team."
SLOW AND STEADY: Neither team shot 40 percent in Game 2, and the only reason both reached 100 points in Game 1 was because they went to overtime. Not surprising, since both have been among the top defensive teams in the playoffs.
"This is what we expected," Warriors coach Steve Kerr said.
"Great defensive teams. Both teams I thought defended like crazy out there. It was a grind-out, kind of old-school game. That's the style that it's going to be when you get this deep in the playoffs. It's rarely a track meet."
DELLY'S D: Curry struggled against the tough defense of Matthew Dellavedova, who moved into the starting lineup after Kyrie Irving fractured his left kneecap. Curry missed all eight shots when defended in the halfcourt by Dellavedova, according to ESPN.
"I mean, I don't think anyone can really stop Steph Curry," Dellavedova said. "He can get his shot off pretty much whenever he wants and can get hot in a second. So we'll watch the tape and see what we need to do for Game 3."
ALIVE AND WELL: The Cavaliers say they aren't concerned with what's being said, but they are aware they were being given little chance to win the series after Irving's injury.
"We don't worry about the media writing us off," guard Iman Shumpert said. "Everything is about winning. We're not here to be part of anybody's story. We're here to win."