Alameda County officials approve short-term coliseum lease for Raiders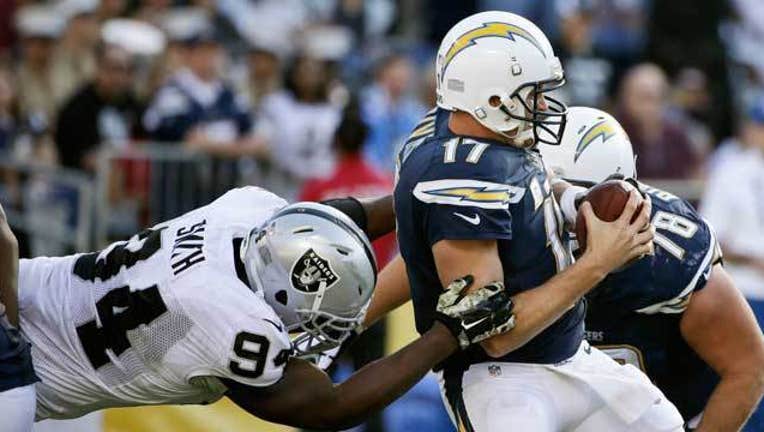 article
OAKLAND, Calif. (KTVU and wires) – Two weeks after the Oakland Raiders announced a new stadium deal in Southern California, Alameda County officials approved a one-year lease Friday to keep the NFL team at the Oakland Coliseum through the 2015-2016 football season.
Oakland City Councilmember and Joint Powers Authority Chair Larry Reid said he hoped Friday's vote to approve the lease would derail the idea of the Raiders moving to Carson.
"This is a good start and we need to maintain this momentum," Reid said. "Starting today, we can work with new urgency and take a fresh look at the opportunity ahead of us to find a solution for our teams and our community."
The deal calls for the Raiders to pay a fee of $400,000 in December 2014 with an additional fee for use of the training facility in Alameda.
Joint Powers Authority Executive Director Scott McKibben said the county "will use this lease term to continue to work on a long-term solution that works for all parties."
In February, the Raiders announced plans to share a stadium in the Los Angeles suburb of Carson with the San Diego Chargers if both NFL teams fail to find new stadium solutions in their hometowns.
In a joint statement by the two conference rivals in the AFC West, the teams said they are looking at a stadium site while still looking at options in their respective current cities.
"We have both been working in our home markets to find a stadium solution for many years, so far unsuccessfully," the teams said.
"We are pursuing this stadium option in Carson for one straightforward reason: If we cannot find a permanent solution in our home markets, we have no alternative but to preserve other options to guarantee the future economic viability of our franchises," the teams said.
The city of Oakland has granted an exclusive negotiating agreement with an investor group called New City Development LLC that's trying to build a massive development at the Coliseum site that would include a new football stadium.
In addition to a football stadium, the Coliseum City project would include housing, retail stores and hotels.
Oakland officials also hope that the project could include a new baseball stadium for the A's.
Oakland Mayor Libby Schaaf recently proposed that the agreement that be amended to also include Alameda County so the new government entities can work together because they jointly own and manage the Coliseum site.
The investor group is headed by Floyd Kephart, the chairman of the board of Renaissance Companies, a San Diego firm that advises hedge funds, private equity groups and financial institutions.
Reid said Friday, "The city and county are in discussions with Mr. Kephart about the negotiating agreement."
He said, "The Raiders are there (in terms of amending the agreement) and the city is there and I think the county will be there soon."