Alcohol and speed a factor in deadly San Jose crash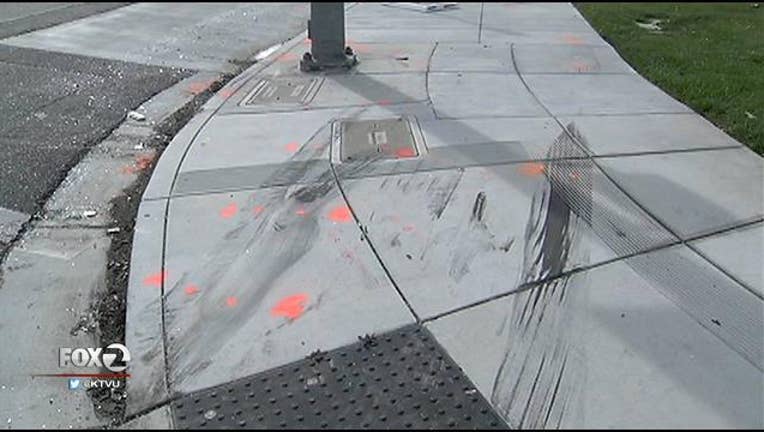 article
Both cars were traveling west at a high rate of speed on Hillsdale Avenue at about 3:15 a.m., San Jose police Sgt. Heather Randol said. When the vehicles approached Meridien Avenue, one of the drivers lost control of their vehicle, turned sideways and struck a light pole.
Of the three people ejected from the car, one was a male juvenile who was pronounced dead at the scene, she said. The other two people were a female juvenile and another male juvenile who both suffered serious injuries and were transported to a hospital, according to Randol.
Randol said the drivers of both cars fled the scene before officers arrived. The driver of the second speeding car fled in their vehicle, which has not been found.
A man who lives near the crash site said the intersection was taped off for hours until the scene was cleared.
"It's just so, so sad," Doug Berg, a resident, said.
Another neighbor, Iran Reyes, said she keeps her two boys close when they are outside because she fears for their safety due to street racers and careless drivers.
"There's a lot of speeding," Reyes said. "People coming from Capitol Expressway, they start speeding over there and they just don't stop."
Anabelle Evert said moving forward, she would like to see surveillance cameras installed on Hillsdale Avenue to deter to the problem.
"We've lived here for only three years and we have known of four racing accidents that have happened, which is one too many accidents," Evert said.
Evert said a family next door moved from the neighborhood after one such crash due to safety concerns. She plans to equip her home with cameras in just a few weeks.
"I think had we had those cameras up a little sooner, we would have been able to help in some way," she added.
Investigators have determined alcohol was a factor in the crash, Randol said.